DATE : 12TH OF MARCH 2021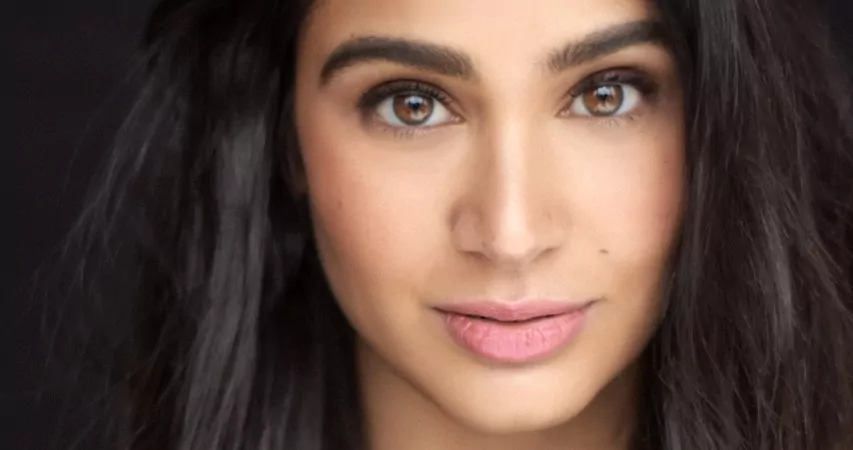 Aadila Dosani is all set to enter the universe of CW and The Movie Culture was glad enough to talk to her about her career, and her big moves. We are also able to bond over Ms. Dosani's love for Bollywood which is the same as ours. Keep reading the interview to find out which show she is currently obsessed with watching.
Hi, we at The Movie Culture are grateful to be talking to you about Nancy Drew. How are you doing?
Aadila Dosani: Hey ! I am doing really well – all things considering! Thank you for asking. How are you doing? Staying safe & healthy I hope!
Q. Nancy Drew just returned for it's Second Season. Can you tell us how you got involved with the show and who do you play?
Aadila Dosani: Yeah! Funny enough, it just got renewed for a third season, which is super exciting! I have been a massive fan of the Nancy Drew books growing up (my mom is an even bigger fan) so when I found out the show was filming in Vancouver I was stoked. I read for the role (Amanda Bobbsey) the summer of 2020 and after several stressful weeks and wonderful zoom calls with two of our incredible Producer/Directors I got the call that the role was mine. 
I play Amanda Bobbsey. One half of the infamous Bobbsey Twins from The Bobbsey Twin Book Series. 
Q. Amanda is approached differently from the source material. How important is it to appeal to new and old audiences?
Aadila Dosani: She most certainly is! Traditionally the Bobbesy Twins are portrayed as two sets of affluent Caucasian Twins (The Bobbsey Twin Book Series). In CW's Nancy Drew the twins are a brother-sister duo from the "wrong side of the tracks", who also happen to be South Asian. Obviously speaking, this is the biggest difference in comparison to the source material.  I think this is huge – especially for representation. The fact that two South Asian kids from Calgary, Alberta Canada get to represent the Bobbsey Twins without any explanation as to why they belong in the Drew Universe is massive. There is no alluding to us being South Asian (which I find happens so often happens when there is a creative choice to go this direction in Fictional Worlds), no explanation, no backstory about our heritage – that is the win. Our incredible writing team, show runners and executive producers have written such dynamic characters that deal with issues such as co-dependency within twinning relationships with Amanda & Gil that deal with issues that I believe are so relatable. Without saying too much, I truly think the audience will fall in love with their story and trajectory within the season!
Q. TV shows have larger casts and introduce new Characters every season. How was it like coming to work on the second season? Any best friends on set?
Aadila Dosani: It was and has been such an incredible, wild ride! I must say, the cast & crew on this show are one of a kind. Everyone welcomed us into the family with open arms and I have never felt so comfortable coming into such a tight circle. It has been such a treat being able to work with everyone! I joke, saying that Praneet and I (Gil) have become so reliant on each other. codependency is a thing! But everyone is simply amazing – I learn so much from all these humans/artists every day I am at work! 
Q. You are a young upcoming Talent, can you tell us what's the ideal Hollywood Project from your perspective?
Aadila Dosani: Oh man… ideal Hollywood Project. Hmmm. Well, for me, besides ALL the Bollywood films I watched (which in the 90s & 2000s were probably all of them), I never grew up watching anyone like me on a "Hollywood" screen. SO – for me – the ideal Hollywood Project would be one where I could 100% relate to the story being told on the screen. About a South Asian Family or First Generation South Asian American/Canadian Human and the trials, tribulations, adventures, heartbreaks, & jubilations they endure. ALSO – SHAKESPEARE in real time would just be IDEAL! I am such a Shakespearean Nerd and we need more classically written pros, tragedy, comedies, and romance on screen!
Q. You also have The Right One up next! What can you tell us about that project?
Aadila Dosani: YES! I legit am so LUCKY to have been given the opportunity to work on, in my opinion, THE BEST projects! Oh my word! This project was incredible! Such a raw love story with some of the comedies finest! Working with the ever so darling Ken Mock was thrilling. I have been a major fan of Ken Mock from "America's next Top Model" – I am a reality show junkie and this one was one of my favorites of all time! So I had to try really hard not to fangirl out in front of him! And then getting to work with him as a Director – what a dream! He is a dream! One of the kindest, ever so supporting and one of the most patient, Directors I have come across. 
Q. Any new exciting projects you have lined up which you can share with us?
Aadila Dosani: I can't give specifics as of yet – but I can say that there may or may not be a wonderfully charming Holiday Television Film premiering in the 2021 Holiday Season that is centered around a South Asian Family. The first of its kind and I am so honored that I … may or may not … be part of it! Stay tuned for… said updates!
Q. This is The Movie Culture staple, as we are based in India. We want to know are you big on International content or have you watched anything from Bollywood?
Aadila Dosani: YES YES YES & YES! Are you kidding! I grew up watching Bollywood! That is all I ever watched! I wanted to become an actress because of all the Bollywood Films I watched. I have to say 1942 Love Story is my favorite film of all time! I JUST LOVE IT! I cry through the whole film every time I watch! I am a forever and always Kajol fan. Kutch Kutch Hota Hai is a quarterly staple in my home (yes, I watch it at least four times a year, every year), the song "Chocolate Lime Juice" from Hum Aaple Jaom Koun is always in my head – daily! I LOVE BOLLYWOOD! Also – can we talk about Netflix's Bollywood Housewives?!?!?!?! Obsessed and in love!
Q. We often ask Talents for advice but to shake things up, would you like to tell us the best piece of advice you ever received?
Aadila Dosani: Well – first and foremost (and perhaps the most cliché) – always trust your gut, it is the only thing that is within you that has your back! 
Say YES to everything – some of the most memorable projects, projects that I have learned from the most, projects that were the most rewarding as an artists were projects that were super Indie. Passion projects really cultivate and hold space for that artistic magic we all yearn for! They are simply the best! Fall Back Down was one of my favorite projects to work on because each and every member of the cast & crew gave 200% to complete the film because they loved and believed in the story so much! It was pure magic and I honestly, a master class!
The quote "This too shall pass." Heather, the most hardworking and most giving Casting Associate I have ever worked with, had the mantra on repeat. It has now become my daily mantra. When things get tough, I'm emotional, anxious, tired & not knowing how I will get through a day I repeat this to myself. At the end of the day, me, Aadila the actor, isn't saving lives or curing cancer. A story someone sees on screen, a performance from an actor may INSPIRE someone to pursue that life changing work, but I, the actor, am not physically doing it. It is my job to know how to think on my feet and get through all the fires that are lit in the day! "This too shall pass" is what gets me through!
Q. Where and when can we find Nancy Drew? Please let our readers know about it.
Aadila Dosani: Nancy Drew airs every Wednesday on The CW at 9/8c! You can also stream it for free the next day only on The CW.
The Movie Culture Synopsis
Interesting and a very sparky personality. Aadila dosani fits right in with the cast of Nancy Drew. It'll be interesting to see her do some other mainstream projects and we can't wait for her future endeavours.
Apart from Nancy Drew she spoke about The Right One, her other project as she holds secret her other deals, fair enough. IN other news, as she mentioned Nancy Drew is available on CW.