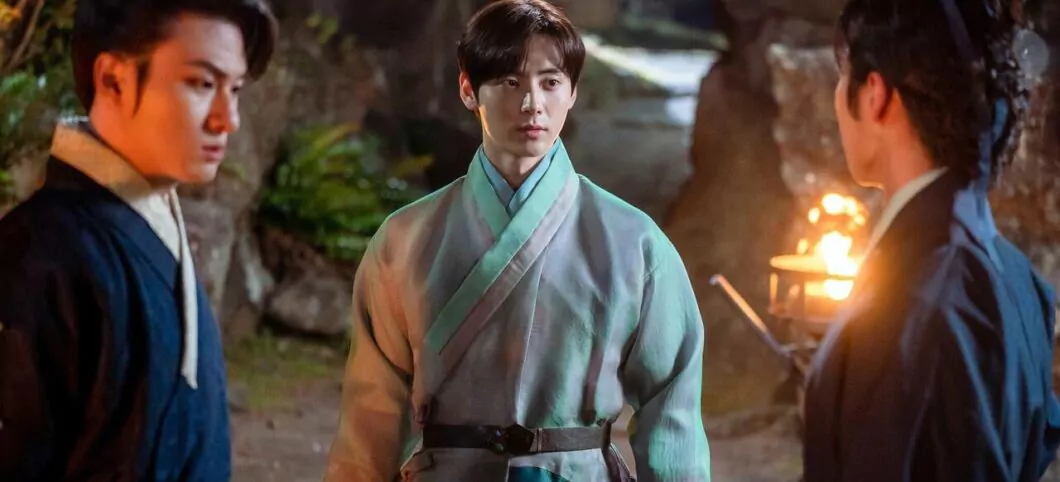 Alchemy of Souls is a 20-episode K-drama on TVN directed by Park Joon-Hwa. It aired its first episode on 18th June and ended season 1 on 28th August.
Alchemy Of Souls Cast
Jung So-Min as Mu-Deok
Lee Jae-Wook as Jung-Uk
Hwang Min-Hyung as Seo-Yul
Yo In-Soo as Park Dang-Gu
Alchemy Of Souls Plot
A sorcerer- an assassin shifts souls with a girl and gets trapped in her body with her powers lost. She finds Jang-Uk who helps her on the journey of him achieving his power and her gaining it again.
Alchemy Of Souls Review
If you are reading this, you need to open Netflix and start binging this drama right now. The title "Alchemy of Souls" gives it away to be a drama full of magic. It is quite an interesting take on the mixture of historical setting and magic, and the theme is widely matching to that of XianXia dramas.
Let's look at the cast first. The drama is full of visuals. Pretty handsome boys, beautiful girls, you name it. The cast is perfect for the roles they play. You've got a serious one, played by Min-Hyung, the goofy one by In-Soo, and the main lead is Jae-Wook. Honestly, Jae-Wook in the main lead is a sight to see, because I had been waiting for it. He has the got the charms, the looks, and the attitude for this. So-Min as Mu-Deok is a great choice. She plays the part of the tough assassin who is stuck in a weak body. The side characters play their part well, and you'll fall in love with them too.
Onto the drama, it is set in ancient historic times, when there are ruling families and one who wants control over everyone. The character Jang-Uk is portrayed as abandoned by his father, and he wants to prove the rumors around him wrong. He is determined to gain his spiritual energy and works hard throughout, even when his past 20 teachers have decided not to take him in. He crosses paths with Mu-Deok, and they both set together to fulfill each other's goals. Mu-Deok takes on to be the one that teaches Uk, and in turn, Uk helps her to regain what is lost. This takes an interesting turn as both starts getting close and realize their affection for each other.
The show starts to be a little slow, and a little uninteresting at first. But it gradually grasps a viewer's attention after the first 2-3 episodes, and soon it keeps you hooked. There is a bit of complex magical terms used like Soul shifters and Shadow assassin, which might be a task to catch upon. As the episodes go on, we can see the development of characters, and its compliments the story. The soundtrack captures each emotion of the scene perfectly, and even the lyrics are noteworthy. The visual effects of this drama are amazing. The details in it are represented point to point.
The show shows visual storytelling in a way that captures my heart. You can see how deeply the emotions resonate with the scene on the screen, which makes it easier to love the drama more. The way So-Min acts out Mu-deok, really tells you how frustrated her character is with being trapped in a body and how much she longs to get back to her old life. We are also been given a glimpse of her past, and why she is an assassin today. Moving on to the second lead, In-Soo is shown as the handsome, goofy one with a trendy hair color, which shows the interesting setup of the script. Even though he is a 'go with the flow kinda person, the last episodes capture his emotions on being separated from his best friends. I thought that Min-Hyung would play the person with the same damn expression in every scene, but as the story progresses, you can really understand the things he is thinking about, and even sympathize with him. Then enters our Crown Prince. One minute, he is rational and takes the right path, and the next, well not so much. I loved his relationship with Mu-deck, friendly banter every time on the screen, and it's very entertaining. I am glad they didn't pursue it further into a romantic one, because they suit better as friends. There is a bromance between him and Uk, which is so cute, I squeal!!! There is a fun mixture of the character in the story, and it blends well.
The soundtrack is so melodious, you literally can't stop listening to it, seriously. The composition is really fitting to the theme of the drama. It features artists like Jeong Sewoon and Gummy.
A not so happy ending
Fast forward to the near end of the series, we can hope for a perfect ending for our couples and predict that everyone is gonna be happy. Well well well, not only we don't have a happy ending, the show ends on a cliffhanger. And it's not just a regular one, it's the one where you are shocked, with your mouth agape, cliffhanger. I am not going to write any spoilers here, but that ending was not at all imaginable. Even while watching the last episode, I thought the story would have turned somewhere and we would've gotten an ending that though not satisfying, could've made a bit of sense, yeah? It's the twist that you wouldn't have thought. But to make up for it, the end shows us that there would indeed be a SEASON 2!
There are no words that could describe my love for this k-drama. This has jumped on to no.1 on my list of best dramas. The drama has acclaimed popularity not only because of its cast but because of how unique the plot is. The cinematography is truly wonderful, and no doubt we can see the effort the production team has put into it. It truly catches the slow burn between the leads, and it doesn't rush into making the leads fall in love fast. All that in 20 episodes was perfectly captured.
The Movie Culture Synopsis
Everything about this drama is perfect. From A to Z, this drama checks out all the things you need in a drama. Don't be disheartened about what I wrote about the ending, it truly makes up the story. And somehow, even though sad, the excitement of watching the drama again runs through my veins. I mean it, give this drama a chance, and you'll see the effect it has upon you.