Bad Trip is a Prank movie which is driven by Eric Andre and his ruthlessness. Its ultra-fun and ultra-ridiculous, the perfect movie you would want to watch with your best friend right now.
Bad Trip Movie Plot
Bad Trip revolves around Chris trying to go to New York with his best bud, Bud, and propose to the love of his life, Maria. But Trina, Bud's sister, is out for blood after she discovers that they stole her car.
Bad Trip Movie Cast
Eric André as Chris Carey
Lil Rel Howery as Bud Malone
Tiffany Haddish as Trina Malone
Michaela Conlin as Maria Li
Bad Trip Movie Review
Bad Trip is one rollercoaster which finds itself in the category of those prank films, which actually works fantastically. Its a narrative crafted through a never-ending series of pranks and social experiments which not only elevate the humour but surprisingly give the plot a structure. Each prank is over the top and screams Eric Andre, but at the same time they aren't trying to highlight anyone in wrong or do those kinds of social experiments. It dwells into so many, outright disgusting, moments yet it somehow feels so realistically wholesome and well-conceived.
Bad Trip Movie is Eric Andre's Masterpiece
Chris (Played by Eric Andre) is a low life, who has spent his entire life doing odd jobs and one fine day he discovers his past crush Maria (Played by Michaela Conlin). So he and his best buddy, Bud (Played by Lil Rel Howery), decide that they are gonna go to New York to meet Maria in her Art Gallery and Chris will propose and make love to her. However, Bud's evil sister, Trina (Tiffany Haddish), gets freakish and mad that the boys stole their pink "Bad Bitch" wagon to go to New York. And that's basically the plot.
A classic buddy comedy movie which works by the presence of real-life pranks. The performances are actually really enjoyable which is evident by the fact that how pranks always make you cringe in a good way. I feel like this is very understated, but Eric Andre is a genius. He can go to any length, suffer any consequences and bewilder anyone in order to get that footage on cam.
Throughout his career, whether it is the Eric Andre show or Bad Trip, his comedy has always been dependent on one thing, reaction. What he does is some of the most outrageous things a 20 year old can think of, but why it appeals us is because no one ever, in their years of existence, thought something like this will unravel in front of their eyes. The Gorilla prank in Bad Trip being one of the best examples.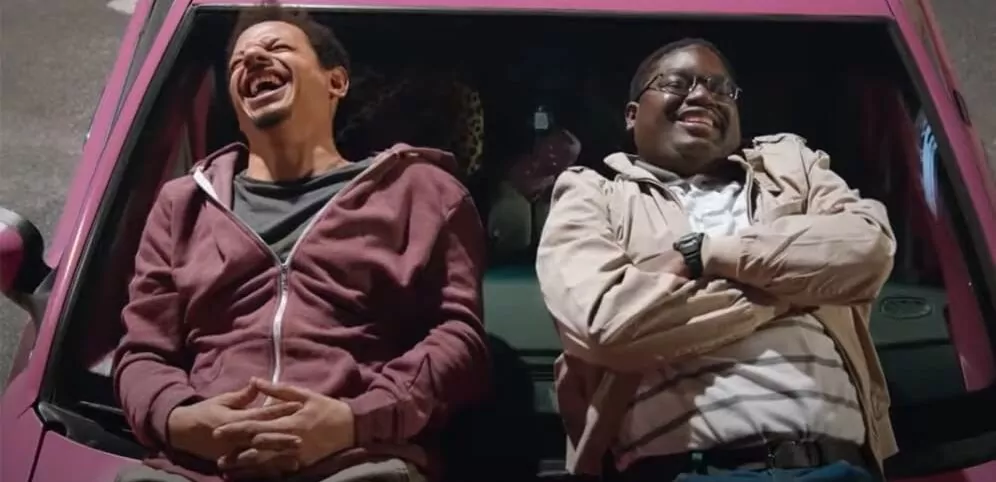 The wholesomeness of Bad Trip
Eric Andre makes this ride worthy yet the performances by Lil Rel Howery and Tiffany Haddish are also so convincing. Howery, I thought went under-utilized, but Tiffany had a solid line up of pranks and she absolutely nails it. Her anger and rage is comical enough to drive the attention and authentic enough to drive a reaction.
From going to a random police officer saying she wants to kiss him to hanging Eric from a building, every scene involving her was pure fun. Bad Trip isn't trying to make its victims feel bad and the film actually becomes undeniably wholesome. The entire sequence of how Eric apologizes to Rel in a bus screamed cliche buddy scene, yet the reactions and the claps felt genuine, because they really were genuine. This singlehandedly eliminates the pretentiousness that is present in so many buddy movies by setting the entire scene in a real thriving environment. It purposely highlights how people take active participation in the things going on around them. They convince Eric to pursue his love, not give up on his life and make amends with his best friends and they are responding, not by a script, but by their conscience. This helps bring a certain humanity in a movie which is riddled with vile and atrociously entertaining pranks.
The logistics and the filming of Bad Trip must have been one heck of a task. In the end credits, they show how many different pranks they shot before they actually got a reaction which would be suitable for the plot of the movie. This kind of dedication to realism and fiction blows my mind. I am not trying to say that this movie will work for everyone, I know it won't and it probably isn't the best Reality-Fiction movie out there (Borat takes the cake for me), but it just felt so fun to watch Eric do something with the real public rather than celebs.
The climax of this movie is the one prank which absolutely blew me away, and I felt ashamed of myself that I didn't see it coming. Bad Trip puts actors on a timeline, a timeline to produce the best reactions possible. Their job isn't done until they find something usable for the movie, so they keep doing this over and over again and it is their dedication I have give it up for. I think Bad Trip sort of makes me feel bad about staying in home for so long because the public participation of this movie is beyond amazing. Go check Bad Trip out on Netflix now if you crave a wild ride or vile pranks with a pinch of wholesomeness.  
Bad Trip Movie Critical Reception
Bad Trip stands at 73% on Rotten Tomatoes with the consensus being, "With ingeniously gross hidden-camera bits that often find their unsuspecting marks at their best, Bad Trip turns out to be a surprisingly uplifting ride." Its Metascore is 60 with Mixed or average reviews based on 17 Critic Reviews.
The Movie Culture Synopsis
Bad Trip is the most fun you will have while watching a prank movie. Its gross and unsettling yet the endgame of the movie is to make one feel good about Humanity. Eric Andre is the all out star of this film and he deserves to be seen in his full glory.