Released on 20th May 2022, Bhool Bhulaiyaa 2 is a comedy horror Hindi-language film directed by Anees Bazmee. It's the sequel to Bhool Bhulaiyaa (2007); but has no connection to it whatsoever.
Bhool Bhulaiyaa 2 Movie Cast
Kartik Aryan as Ruhaan Randhawa
Kiara Advani as Reet Thakur
Tabu in dual roles as Anjulika and Manjulika Chatterjee Thakur
Rajpal Yadav as Chhote Pandit
Bhool Bhulaiyaa 2 Movie Plot
Our story starts in a mansion in Bhawanigarh, Rajasthan where exorcists or "tantrik babas" trap a troublesome spirit Manjulika, who is fixed on attacking that family's daughter-in-law Anjulika (Tabu), into a room on the third floor. That family – the Thakurs – abandon that house for their own safety.
18 years after that, Ruhaan Randhawa (Kartik Aaryan) meets Reet (Kiara Advani) in Himachal Pradesh by sheer luck. They skip the bus they were to board to go to Chandigarh for attending a music fest. They later discover that the bus they were to get into had met with an accident with no survivors. 
Reet's family, the same Thakurs, assumed that Reet had not survived the accident. Reet tries calling her family; her sister Trisha (Mehek Manwani) picks up the phone but is unable to hear anything and in this process, the affair between Trisha and Sagar (Reet's fiancé) is revealed. Reet was reluctant about marrying Sagar from the very start. Thus, she thinks that staying 'dead' for a little while longer would help Trisha and Sagar get married.
Reet and Ruhaan then make their journey to Bhawanigarh, sneak into the old mansion of the Thakurs and decide to stay there. Ruhaan soon becomes Rooh Baba who can see and communicate with the dead. It is all a ploy to make the Thakurs and the rest of the village believe that Reet wishes for Trisha and Sagar to get married, and for the entire family to stay in the old mansion again. 
Secrets and stories unfold, Manjulika is set free, and it is revealed that Manjulika is, in fact, Anjulika's identical twin. It is also revealed to the viewers why Manjulika turned out the way she did. Being compared to her twin and always feeling jealous, she took up black magic. Both the sisters had fallen for Uday (Amar Upadhyay) when they were younger, but Uday had feelings for Anjulika, leaving Manjulika's heart broken into tiny pieces and the hatred for her twin sister reaching its peak. She then decides to use black magic to get rid of Anju once and for all.
The story progresses further and the truth is revealed; the truth being that in reality, 18 years ago, it was not Manjulika that had died but rather, Anjulika. At the end of the film, Anjulika kills the real Manjulika – in the same room Anju was trapped in for almost two decades. The Thakur family decides to abandon the mansion yet again.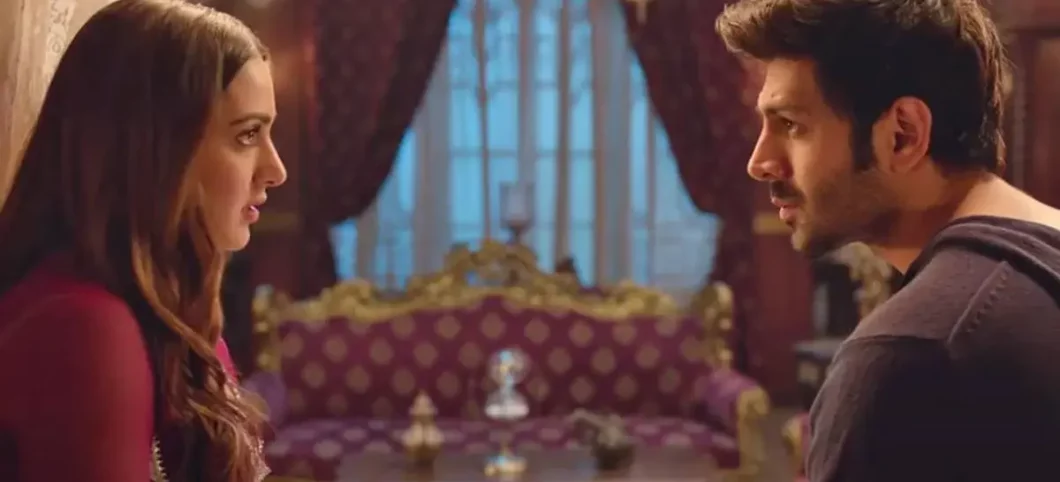 Bhool Bhulaiyaa 2 Movie Review
Bhool Bhulaiyaa 2 as a standalone movie can be fun, it's got silly characters and it knows that it's a cuckoo-horror movie. Kartik Aaryan seems to have a grasp on comedy. The movie as a whole has mass appeal and is a potential entertainer. It's got the potential to do well in the cinema and the result was seen in the form of its success at the box office.
The genre it belongs to – horror-comedy – is a tricky genre but Bazmee does a great job with the comic timing and jump scares. The movie fits well for the Indian audience. However, the inevitable comparison of this movie to its predecessor comes into play. Bhool Bhulaiyaa focused on mental illnesses and its comedy was top-notch. Bhool Bhulaiyaa 2 resorts to actual ghosts and spirits.
The visuals of Bhool Bhulaiyaa 2 were not very impressive. The cinematography could have been better. The locations, however, were wonderful. Along with Manali and Mumbai, they did shots in Lucknow and Jaipur as well. It was filmed in a real mansion.
There were two things consistent in both the movies. First being the songs, 'Bhool Bhulaiyaa Title Track', 'Ami Je Tomar', and 'Mere Dholna' that have proven to be ever-lasting. One gets instant flashbacks to the original movie. The other constant is the Chhote Pandit. Rajpal Yadav, as always, is an impressive comedy-genre actor.
Coming to the harsh truth now, Bhool Bhulaiyaa 2 was something we did not really require. The main character has no story whatsoever, the horror is almost nothing; the jump scares don't even make you twitch an eye.
Tabu is perhaps the only thing worth watching in the film. Her acting, at first, seems slightly weak. But in the end, she is the only character that slightly stands out. However, this cannot be kept at-par with her other movies; it is mediocre, at best. Although, still not the amount which makes you want to re-watch the movie.
It's got lazy and cheap jokes, re-used music, and is overall an average movie.
The Movie Culture Synopsis
The Kartik Aryaan, Tabu, and Kiara Advani starrer Bhool Bhulaiyaa 2 was a let-down.
It tried hard to be as good as the first part. Unfortunately, it failed.  Sure, the first movie is a cult classic and it takes a very good movie to break that loyalty. But Bhool Bhulaiyaa 2 didn't even reach the level of wanting to beat it.