Billie Eilish: The World's a Little Blurry is a new documentary directed by R.J Cutler on Apple TV+ revolving around the life of rising music sensation Billie Eilish. 
Billie Eilish: The World's a Little Blurry talks about her life journey from making songs with her brother in their bedroom to bagging 5 Grammy awards in her first Grammy. This documentary will surely bring her fans closer to her as it takes a deep dive into her personal life.
Billie Eilish: The World's a Little Blurry Cast
Billie Eilish as Self
Finneas O'Connell as Self (Billie's Brother)
Maggie Baird as Self (Billie's Mother)
Patrick O'Connell (Billie's Father)
Katy Perry as Self
Orlando Bloom as Self
Justin Bieber as Self
Billie Eilish: The World's a Little Blurry Plot
Billie Eilish: The World's a Little Blurry is everything a Billie Eilish fan could ask for. It takes you on a rollercoaster ride of emotions with the artist as she faces her fear and the pressure of having fame at such a young age.
She dreams of a thing and she makes her dreams come true but there is a price that comes along. This documentary is an intimate look into Billie's personal and professional life.
Mostly shot in her house at Los Angeles and her world tour it makes you feel like you are present with her and living that very moment. It is her story from being a diehard belieber to having Justin Bieber featured in her song.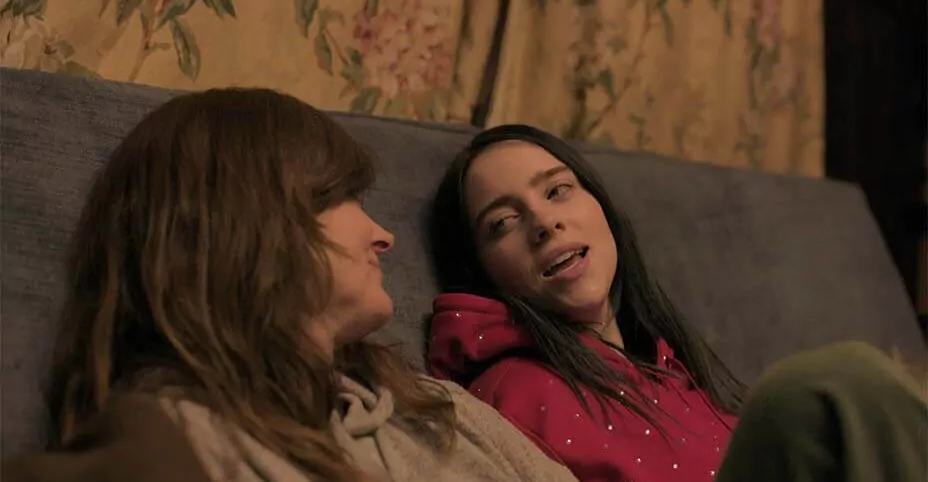 Billie Eilish: The World's a Little Blurry Review
Billie and her brother Finneas are raised by their parents, home schooled and were taught about writing songs and making music from a young age. Both the parents can be seen acting as an anchor for both the music prodigy as they provided them with an environment with the freedom to choose and chase their dreams without actually judging them. As Billie says her family is just one big f**king song.
The documentary kicks off with Billie's reaction to her song OCEAN EYES playing on the radio for the first time. You surely would be wanting to go to a Billie Eilish concert after watching this documentary film as it constitutes of so many of her powerful performances on stage. The documentary is 2 hours and 30 minutes long but it can get boring for someone who doesn't like a car ride or stage performances. It shows you what really goes into making a song from  scratch but you never really feel that way as Billie and her brother with their graceful performance ease you out to believing that music is just a piece of cake. It's the bond, the love and the pure talent that Billie and her brother have that has driven them to releasing music from their bedroom to their house being their office for all the meetings. Anything can be achieved with dedication and passion. This documentary will be able to inspire many more young artists to follow their love for music or to be more precise this documentary would any artist irrespective of what age they are to follow their passion.
Worlds a little blurry may seem uplifting and all grandeur in the beginning but as you see Billie having fun and enjoying her childhood videos and her concerts, in the later part it slaps you with the harsh reality of the show business.
''I AM NOMINATED FOR 6 GRAMMYS AND I HAVE MY DREAM CAR; FINNEAS HAS HIS DREAM CAR. I HAVE MY POOCH DOGGY IN THE CAR, I HAD DONUTS LAST NIGHT. I AM NOT IN A RELATIONSHIP THANKS TO LORD. MY RELATIONSHIP WITH MY FAMILY IS GOOD. I AM PRETTY SOMEWHAT, I AM FAMOUS AS F**K.''
After reading this Billie Eilish's world doesn't seem that blurry but after watching this documentary you would wonder for a while as to what is going on with her, you might sympathize with her and realize that what you see and read isn't always the reality.
Being so talented Billie has turned her name into a brand that has made her successful, famous and changed her life completely in both ways. Billie shares about her concerns over maintaining her public image but at the end of the day she is a human with feelings and being in a certain way all at all times isn't possible.  She talks about her Tourette syndrome and her feeling lonely all the time even after having so many people around her that care for her.
Billie Eilish: The World's a Little Blurry highlights mental health concerns as Billie truly  opens up about her childhood horrors while showing her dairy and explaining  what she had been dealing with and how she got herself out of it.
Billie Eilish: The World's a Little Blurry Critical reception
IMDb has a rating of 7.9/10 for Billie Eilish: The World's a Little Blurry.
Rotten tomatoes have received this documentary better by giving it a 97% score on the tomato meter and 90% audience score.
With 19 reviews on Metacritic this documentary has been able to get an average score of 72.
The Movie Culture Synopsis
The world's a little blurry is a love letter from Billie Eilish to her fans. Anyone who is interested in learning music making or show business this could be entertaining for them. It is a raw documentation of Billie's feelings. 
Billie Eilish: The World's a Little Blurry is an Apple TV+ original available on Apple TV+ to watch.