Black Widow is a 2021 American superhero movie based on Marvel Comics character Natasha Romanoff aka Black Widow portrayed by Scarlett Johansson. Directed by Cate Shortland, story by Jac Schaeffer & Ned Benson, screenplay by Eric Pearson, produced Marvel Studios & distributed by Walt Disney Studios Motion Pictures. Black Widow is first movie in phase 4 of the Marvel Cinematic Universe (MCU).
It majorly depicts events between Captain America: Civil War & Avengers: Infinity War.
Black Widow Movie Cast
Scarlett Johansson as Natasha Romanoff/Black Widow
Florance Pugh as Yelena Belova
David Harbour as Alexei Shostakov/Red Guardian
Rachel Weisz as Melina Vostokoff
Ray Winstone as Dreykov
Olga Kurylenko as Antonia Dreykov/Taskmaster
William Hurt as Thaddeus Ross: The United States Secretary of State and a former U.S. Army general
O.T. Fagbenle as Rick Mason
Black Widow Movie Plot
The movie starts with the Year 1995 where Russian Undercover Agents super soldier Alexei Shostakov & Black Widow Melina Vostokoff are pretending to be a family in Ohio along with Natasha & Yelena as their daughters for a mission to steal an Intel from S.H.I.E.L.D.
After completion of their mission they all escape to Cuba & part their ways. Natasha & Yelena is taken for Red Room training. Then there's a time leap.
Black Widow Movie Plot In 2016 (Post Civil War Events)
Natasha was being chased by Secretary of State Thadeus Ross (played by William Hurt), as she was on the run from government for helping Steve Rogers & violating Sokovia Accords. She flees at a safehouse in Norway provided by Rick Mason.
Then her sister Yelena Belova (played by Florence Pugh) sent her messages & antidote vials with a hope that Natasha along with other Avengers can free the other widows, but while driving with vials unknowingly she was attacked by Taskmaster, Romanoff somehow manged to escape from Taskmaster.
Then she realizes that the vials are sent from Budapest, Natasha meets Yelena in Budapest & Yelena tells her that Dreykov is still alive & the Red Room still exist & a lot of young women still go through intense training in order to turn them into Black Widow (even if it's against their will).
Natasha couldn't believe it as she thought she destroyed Red Room along with Dreykov (played by Ray Winstone) with the help of Clint Barton before joining S.H.I.E.L.D., although while doing so she also took his daughter's Antonia Dreykov's life as collateral damage this made her feel guilty & haunted her for the rest of her life.
Now that she discovered about resurgence of Red Room, she decided to destroy it completely, also free all the widows. But this time she doesn't know the exact location of Red Room, so for that she reunites with Alexei Shostakov (David Harbour) & Melina Vostokoff (played by Rachel Weisz) as they use to work closely with Dreykov previously, who were also her prenteded parents. Now Natasha along with Yelena, Alexei & Melina reunite & work together to completely destroy Red Room & Dreykov.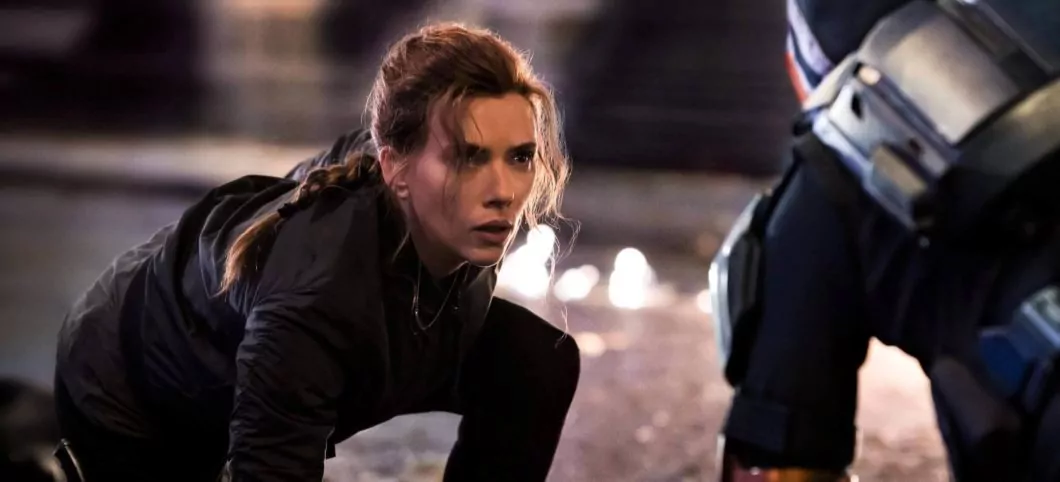 Black Widow Movie Review
The movie just gave a general idea of the main leads connection. It just gave a short explanation on how they were a pretending to be family for a mission, but they also developed a sort of connection like a real family, it was specially visible at the end when they together fought against Dreykov & destroyed Red Room.
It felt like there was a rush in the storyline to cover major events of Natasha's life, despite the rush still there were certain things that were left undiscovered & I was really curious to know about them like I wanted to see her complete journey of red room & how exactly did she escape it, her encounter with Hawkeye & her recruitment in S.H.I.E.L.D., and some action scene instead of narration & glimpse of Budapest incident.
The storyline was a bit messy but the actors were still able to pull off their roles pretty well. As a Black Widow fan myself I feel Black Widow was a good send off movie for her, but she was one of the original six avengers & her character that was loved so much deserved much more than this.
Black Widow Movie Characters & Their Arcs
Natasha Romanoff
We finally got see her side of story, her childhood, her dark past which she was running away from but now she was ready to face it. She again met rivals from her past life along with her family with whom she wasn't related to by blood but still always considered them as her real family, she always looked out for her younger sister Yelena in the past & also always remembered what Melina taught them as mother 'Pain only makes you stronger'.
Though the movie still couldn't really justify in telling Natasha's side of story still Scarlett Johansson as always nailed it with her performance. You can also check our Character Sketch of Natasha Romanoff.
Melina Vostokoff
Melina Vostokoff is a spy who was also trained in the Red Room as a Black Widow. She was also one of the lead scientists of Red Room, who does research into mind control methods for Dreykov. Her character had a dead pan personality just like a agent would have & Rachel Weisz was able to show that really well.
She was like a mother figure to Natasha & Yelena. She raised them like her own daughter.
Alexei Shostakov
Alexei Shostakov aka Red Guardian, is a Russian super soldier. He was like a father figure to Natasha & Yelena. Initially it was just a mission for him but with time even he considered them as real family, he started considering Natasha & Yelena as his real Daughters.
David Harbour's Alexei was a comedic relief in the movie. He was strong & self centered personality who wouldn't leave an opportunity to brag about himself. Though his character specifically didn't had much to do in the story still he had his own moments to shine where he can be seen in action like when they were escaping Ohio & also when he had to battle against Taskmaster.
Yelena Belova
Yelena is also a trained Black Widow just like Natasha. She was really young during the Ohio mission where Alexei, Melina & Natasha all along with her had to pretend to be family so she always believed them to be her real family. She spent her life doing missions as black widow until during a mission while killing Oksana(a former widow) she was freed from the mind control with a synthetic gas that neutralizes the Red Room's chemical mind-control agent.
Then she tried to contact Romanoff & informed her about the existence of Red Room in order to get help to free the other Widows. She also was the one who killed Dreykov by damaging his aircraft when he was trying to escape. Though this movie was like a send off movie for Scarlett Johansson's Natasha Romanoff still Florance Pugh with her performance as Yelena Belova steals the show. Yelena is strong, confident, blunt, brave & her dry humor is quite entertaining.
TaskMaster
Dreykov revealed that Taskmaster was none other than his own daughter Antonia Dreykov. She has photographic reflexes that allows her to mimic opponent's fighting style. Dreykov used her as a tool & made her do whatever he wanted to.
Originally in the comics Taskmaster is Tony Masters who is a mercenary but writers thought it won't fit the story & so they thought about Antonia being revealed as Taskmaster as it would also show a connection with Natasha's past.
The Movie Culture Synopsis
Overall despite the story the movie is a must watch for the one's who are Natasha's fan as this would be her last appearance & also due to amazing performance by all the actors.
With End Credits scene it's clear that Natasha's story as Black Widow came to an end & now the baton is passed on to Yelena as the end credit scene indicated her next appearance would be in Hawkeye it would be interesting to see what's stored for her role further in the MCU.