The season 2 of the highly successful Shondaland and Netlix production, Bridgerton will be releasing on 25th March. Based on the books by Julia Quinn, it is directed by Julie Anne Robinson.
Bridgerton Season 2 Cast
Jonathan Bailey as Anthony Bridgerton
Simone Ashley as Kate Sharma
Claudia Jessie as Eloise Bridgerton
Charithra Chandran as Edwina Sharma
Calam Lynch as Theo Sharpe
Bridgerton Season 2 Plot
Back from the last season (literally and in the series) of love and scandal, the season explores Anthony's courtship as well as the season of Eloise. The Featheringtons are still trying to gain back reputation while the Queen's hunt for Lady Whistledown is at a high. On top of that there are some new people in, The Sharmas.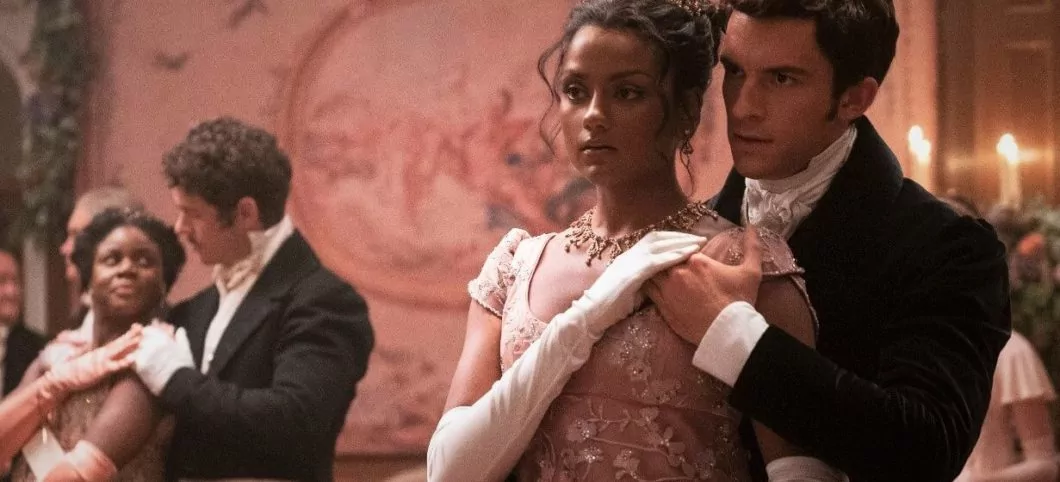 Bridgerton Season 2 Review
There is an age old tradition in the film industry called adaptations. While we are in a time when the reliance on adaptations has surpassed every other trope, cliché and tool ever used, the audience has still not been tired of it. So much so that, this time, some of the most appreciated films are adaptations itself. Which brings me to the point, what happens if you adapt a series that was written to entertain in intervals and not binged in a go.
Bridgerton by Julia Quinn is a book series about a family whose name as you can guess is Bridgerton. This family consists of enough children to be able to survive Quinn's aim of an 8 book series. Named alphabetically, each book is about a sibling's love story. The first book is about the 4th child, Daphne, the oldest daughter. The first book had been adapted into a series back in 2020 by the self-proclaimed (and well deserving) titan, Shonda Rhimes. Starring Phoebe Dynevor and Rege Jean Page, the book was almost a perfect adaptation of the book. Not one scene out of place.
Readers will know the importance of smut in a book. Quinn was catering to her readers and so had included a fair share of scenes which posed as no hindrance or reason to shy away for Shonda. The adapted series had become notoriously famous for their love scenes and had also given interesting food for thought. As the scenes are of intimate and vulnerable kind, the series had talk about intimacy directors and coordinators who helped the actors navigate through the production. The importance of describing the first season in a review about the second is to show that Bridgerton in its first season did something other Romance and chick flicks have never achieved. They have shown that romance shows are not limited to love but can also transcend to important conversations regarding perception of sex, racial hierarchy and power newsletters and media has on the readers.
The second season on the other hand, made me wince from the beginning. Eloise, the second daughter is now set to walk down her sister's footsteps and become the diamond of the season. While people from the first season will know Eloise to be head strong and determined, the initial stage of the season she was dull. She spoke about how Lady Whistledown (whose identity shall be reminded to you in the beginning of the season itself) had confined herself to meaningless shenanigans but she too has become a monotonous background sound. The season is progress in her storyline and yet she didn't live up to the love she gained in season 1. That is to say, there weren't any hearty moments but she did not disappoint in performance or plot.
Her points limit to whining about societal expectations from woman and yet she remains confined to the marital trials. Eloise was not the boss lady that she was in season 1 and this change is not boding well with me. Having read the initial few books as well, I can say it is not the fault of the foundation. Julia Quinn has consistently kept Eloise as a girl who is made to push boundaries and not just speak of doing so.
While I shall not discredit the fabulous job of Claudia Jessie who plays Eloise, I shall say that the writing felt lazy to me. Jessie can have chemistry with everyone even when she is ranting about woman's rights. It is the way she uses her body postures that shows various layers of emotions. From confidently lying her way through something to being consciously anxious, her posture will reveal all sorts of emotions going in Eloise's mind. Even with a disheartening Eloise, her friendship with Penelope Featherington was touching. Claudia and Nicola have a great presence together. The comfort their characters are supposed to be getting from each other can be felt by them simply being on the same scene as each other. Which is ironic in this season but isn't good television and acting making irony of one character, absolutely real to the other?
For everything that I can say, I will have to let you know that Bridgerton has not been a disappoint from the actor's end. Apart from Jonathan Bailey. Albeit not throughout, but there were some scenes where Anthony was doing things completely different from what he was saying. On top of that, it was evident that this disparity was not a conscious choice. He looked more confused this season, than brooding or self-possessed. Which brings me to his love story. While Bailey and Simone Ashley had chemistry that was limited to their banters, their story was a hasty mashup of Pride and Prejudice, Wuthering Heights and Taming a Shrew.
Banters are amazing. They are great chemical stimulants and some of their bantering was hilarious and thrilling, the others felt unnecessary. If not unnecessary then certainly forced. Their story is supposed to be the medley of some of the best enemies to lovers classic and yet I cringed more than swooned. They may have fallen short to their predecessors and thus the perfect ball scene of the series felt more of a agnsty remake of Anna Karenina's scene than a realization of love between the two.
Moving onto the Featherington family. With a new addition to the household, there is a change in the patriarch. As one can expect, Lady Featherington is not pleased but the ways she resorted to deserved only one reaction, why? On the other hand, costume designer, Sophie Canale did a perfect job with the outfits. The fashion of the series is enviable in a way that I could desperately want the dresses but never be able to wear it and still want it with the same craving.
Now to the best part of the series. After a lot of consideration, it is Benedict. He is the one sibling that has been consistent. Barely doing anything. I also loved Eloise's relationship with Theo but that could simply be because Jessie and Calam Lynch had the sweetest chemistry ever. The eyes chico, they never lie.
The Movie Culture Synopsis
It is a season that I would not stop you from watching. Simply because I feel that the third season will be far more interesting than this one. To gain one shall have to go through the pain.