DATE : 14TH OF JANUARY 2021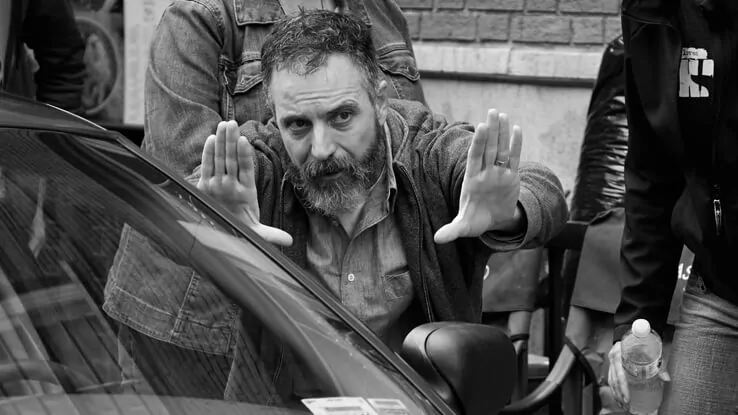 The upcoming Season 8 of Brooklyn Nine Nine is on everyone's mind and The Movie Culture is on the same train. With having Interviewed Dirk Blocker, Rick Page too who is busy shooting Season 8 of Brooklyn Nine Nine took time to reflect on what's cooking with the show and also to reflect on his career as a director of photography and future endeavors. 
Greetings Mr. Rick Page, we at The Movie Culture are thrilled to have you. We couldn't be more excited to see your work in the upcoming Season 8 of Brooklyn Nine-Nine.
Rick Page: Thanks for reaching out and for being a fan of the show!
Q. You have been working on Brooklyn Nine-Nine for a long time now, and it has been a show which has found its fan and have had a rough ride in itself, looking back how do you feel about it?
Rick Page: No question this show has been one of the biggest highlights in my career, and the cast and crew are among some of the finest artisans I've ever had the privilege of working with. This show fosters a camaraderie that most seek in our business – there's a real family-spirit that is often difficult to find on just any show, and one that I value greatly in my day-to-day. Our little show became a big show because we were the "little engine that could." In the beginning, we only had 13 episodes to get our momentum going in the ratings. Like most TV series, we weren't sure we'd last after 3 weeks. But then the ratings improved, and by Christmas we were picked up for 9 more episodes during Season 1. That was capped with the a pair of Golden Globes (Best Television Series and Best Actor for Andy Samberg) – and we were on our way to Season 2. At the end of Season 3 none of us knew if we'd be back or not, it was a difficult reality and an anxious waiting period. But we made it over the bubble, and then Season 4, Season 5, and then at the tail end before making it to 6th season, we were cancelled. It was devastating – there was no closure for us, and we loved working with one another so much, it was hard to fathom not being around these people anymore. It helped cushion the blow when (to our pleasant surprise) the fandom expressed their dismay worldwide on social media – we felt so appreciated. About 36 hours later when we were picked up by NBC, we couldn't have been more thrilled, more thankful and excited for the chance to continue telling these stories. It was like a rebirth. Now here we are in Season 8 and still at it, it's a wonderful place to be. How do I feel about it? Grateful.
Q. Creator Dan Goor said he wanted a Gina Episode which wasn't possible in the 7th season. So is there a Gina Moment that we might get in the 8th season?
Rick Page: I don't know what the writers have in store for Season 8, but I'm sure whatever they come up with will be fantastic!
Q. To focus on Chelsea Peretti who plays Gina. She released a new song this year called LATE. How was it working on the project with Chelsea Peretti?
Rick Page: This was a terrific project! I've always been a fan of Chelsea's comedy and working with her (as Director) on this project was a real treat. Her sense of humor and ingenuity can be wonderfully creative – a real gift actually, so I knew going in that collaborating and translating her vision through the lens was going to be a fun experience, and it was – of course we laughed the entire time. She's a delight to work with.
Q. Harold and Kumar, Grudge Match and many other A List Projects have been under your belt, is there a fun story you have working on them?
Rick Page: I've had the fortune of working on a vast range of films in different genres and budget levels throughout my career, and every project has been invaluable. No matter what the scale or genre is, whether it's television or features – filmmaking at its core is always the same: show up, work hard, create, and (hopefully) have some fun along the way. The A-list projects generally have better catering, bigger sets, more bells and whistles to shoot with – and those things certainly provide more options and affect the overall scope, but the experience is what you make of it, and the relationships you build over time are the greatest benefit. I've been lucky to amass a ton of fun stories and I've worked with some really incredible people from all over the word, a lot of talented and inspiring actors, directors, producers and crew alike.
Q. As a Cinematographer, is there a specific Genre you'd wanna work on in the future?
Rick Page: There's an artistic, soulful approach to each project no matter the genre, and I'm relentless in my pursuit of good storytelling. While I really enjoy shooting comedy, I'd also like to work on a drama series or large-scale features – getting to shoot biopics or big period pieces is another dream I'd like to fulfill. I'm a fan of WWII stories, and anything about NASA in the 1960s. As a Cinematographer, you want the best glass, the largest format, a lofty budget, and all the time in the world to create. The trick is puling that off when you don't have all those luxuries. You have to keep it simple, you have to move fast and use your resources to achieve that number one priority, which is always serving the story. The narrative drives everything, and you need to find that approach and create a visual language to support it, to elevate the director's decisions and captivate your audience. You do that by surrounding yourself with a solid team who will bring their very best to help you turn out a great show. It's an incredibly collaborative art form.
Q. It's safe to say, Brooklyn Nine-Nine is a pretty funny show has there ever been an instance, while shooting a scene that it was so funny that everyone behind the camera could not control the laughter and it was nearly impossible to shoot the scene for a moment?
Rick Page: This happens more often than you'd think. When you're on a set with as many talented (and hilarious) cast members like ours on B99, it's human nature to lose it after a joke or a punch line, or especially when someone improves a response with a look or an action – it happens a lot. Particularly with Andy. And Melissa. And Joe. And…well all of them really! They're a funny bunch to be around. Chelsea Peretti would crack me up on a regular basis, and also Jason Mantzoukas. You have to learn to control yourself and not spoil the scene – if you ruin the take, then the audience won't get to experience the richness of that moment – so  you really have to control your own reactions and laugh about it after they say 'cut.'
Q. What can we expect from Season 8 of Brooklyn Nine-Nine?
Rick Page: Ha, no spoilers here! But I will say you can expect some incredibly fun episodes that pack a punch and look amazing…(wink).
Q. What was the inspiration behind taking up Cinematography? Is there an Individual who inspired you or a Film?
Rick Page: There were many signs that pointed me into this field very early on – as far back as high school in the late 80s when I first started picking up cameras. My dad loved dabbling in still photography, so there was some early influence there as a child. But somewhere along the way, I became the guy in school "who knew how to run the camera" so friends (and teachers) would ask me to shoot events and projects. Before long, I'd figured out editing and learned how to tell stories visually. I discovered that moving images could produce emotional reactions in an audience with the way you composed shots and built sequences in a film – that using the tools of lighting, framing and camera movement could create endless possibilities. As a kid, I was in love with anything Steven Spielberg did. And Superman. And Star Wars. But one of the first films I fell in love with cinematically was Dean Semler's work in Dances With Wolves. Then I discovered Vittorio Storaro's visual approach in The Last Emperor and it completely blew me away the way he achieved brilliant imagery using color and light. When I started to work as a Camera Assistant, I trained under some amazing DPs – George Griner, Matthew Williams, Gordon Lonsdale, ASC and TC Christensen, ASC to name a few. And Frank E. Johnson, ASC too. All of them taught me different tricks of the trade, whether in lighting, composition, camera movement, collaboration, even time management. Frank would often say to me "count the lights – if you have 6 it's too many, take away 2 or 3. The trick is using less and going fast." TC would compose based on feeling.
Matt was super smart in knowing how to light with the understanding of where he needed to be 2 or 3 setups later to stay ahead of the clock. And George was excellent with technical prowess and collaboration, teaching me the value of having a strong team. These individuals all fed my insatiable appetite to learn, and hopefully emulate – they really ignited and reinforced my desire to become a DP. It's a constant education. Every day I'm learning something new, and every lighting set up I'm drawing from those mentors. Today my inspiration is the great Roger Deakins. I had a chance to meet him at last year's ASC Awards when he won for 1917. His work is undeniably genius – that film, along with The Shawshank Redemption and Skyfall are among my favorites.
Q. The Movie Culture is situated in India and since Bollywood is a hub of producing major films, we'd like to know have you watched any Bollywood film?
Rick Page: Danny Boyle's nod to Bollywood Slumdog Millionaire is a remarkable film, a real master class in cinema. I'm inspired by the subjective approach he and DP Anthony Dod Mantle used to capture the essence  of that story. The way scenes play out in wide-angle lenses and sometimes off level, motivated hand-held camera, and a very specific color spectrum – it's some of the best work I've ever seen. These (and other) elements engage the audience from the very first frame and then you're right there – you're in it with Jamal until the very end. Those guys really nailed it, it's no wonder it's so revered and earned so many accolades.
I'm also very moved by The Hundred-Foot Journey, which was directed by Lasse Hallstrom and photographed by Linus Sandgren, who then went on to shoot La La Land and First Man. Hundred-Foot is shot like the journey itself – it's beautiful the way Sandgren moves his lens and mixes warm tones and cool contrast within the different landscapes and characters. Another cinematic masterpiece in my opinion.
Q. Do you have any future projects lined up which you'd like to share with us and your fans?
Rick Page: I'm gearing up to shoot a feature sometime this year called Hot Fruit with award-winning writer- director Rick Gomez and actor-producer Steve Zahn. The script is incredible – Rick also wrote it. It's about a grieving winemaker and a rag tag group of criminals who attempt a vineyard heist as he's reconciling the memory of his lost love. It'll also star Judy Greer and Ann Dowd, among others. Rick is a consummate pro – Hollywood veteran (Band of Brothers, Justified) and he, Steve, and producer Coby Toland and I have collaborated several times before and share a very symbiotic relationship.
Q. There's a whole lot of competition in the industry, do you have any piece of advice which you'd like to share with talents reading this interview?
Rick Page: You just have to keep going – keep feeding that desire and don't stop at the roadblocks – and there will be many. No matter what your goals are, and even if they change, this industry is a marathon – a very long marathon. It takes time, experience, tenacity…but most importantly, a good attitude. Treat everyone with kindness and respect, because you get lifted up by the people you work with and your team is everything. If  you keep going after it and learning every step of the way, never giving up, you'll be successful. And if you stay humble, stay grateful, then the light that is your motivation will never dim.
With this we would like to wrap up with the interview questions. The Movie Culture would indeed like to thank Mr. Rick Page for agreeing to this wonderful interview.
The Movie Culture Synopsis
It certainly cracked us up when we came to know about the behind the scenes shenanigans and laugh riot which goes along.
Rick Page has certainly been successful in making us more interested in Season 8 of Brooklyn Nine Nine, well which is oblivious but we can't help but notice his future project Called Hot Fruit. You can find his work on Brooklyn Nine Nine Season 8, follow this space to be updated.