Cherry is a portrayal of a PTSD victim, directed by The Russo Brothers. It follows a person through love, war and addiction and tries to bring out the reality of it all. It is streaming on Apple TV+.
Cherry Movie Cast
Tom Holland as Nico Walker
Ciara Bravo as Emily
Jack Reynor as Coke
Forrest Goodluck as James Lightfoot
Cherry Movie Plot
Nico, a young adult, falls in love with Emily. Yet when he learns that she is leaving him to pursue her education, he takes an impulsive decision and joins the army. From then, his life takes a U turn and he is dumped into the ditch of Drug Abuse and Debt. 
Cherry Movie Review
Cherry is a crime thriller by Anthony and Joe Russo. It follows a War victim and his troubles with drugs, money and violence. Tom Holland is the person who solely carries this film into what it becomes. Not even the Russo Brothers, the duo behind Avengers Endgame, could keep this boat afloat. It's all about character progression yet there are some real continuity issues with the movie which are hard to ignore.
It begins with Nico, who is a normal teenager with minor drug issues and no future goals. He sets his eyes on this girl, Emily (Played by Ciara Bravo), and falls for her in an instant. Cut to some days later, he talks to her and finally develops a bond. Nico is often angry at times. His, usually level headed state, goes haywire when things start to collapse around him. One such instance takes place when Emily tells him that she is leaving for Montreal to pursue her studies. Absolutely devastated and left with nothing keeping him in Cleveland, Nico joins the army. And from there on, begins his collapse. 
Cherry Movie: Oozing with style yet not so much with substance
Let's first talk about the aspects of this movie which were actually done very well, Cinematography being one of them. The Russo Brothers have a very unique and sublime point of view for this movie. The scenes ooze with grim, eerily realistic colors. Character conversations block all the other population present in the scene. When I see Nico and Emily talking in the college premises, the camera straight up blurs the people walking behind them.
The makers, in a way, depict that they are trying to tell a deeply personal story (also loosely based on real life). It's filled with references and names which are Meta in nature. The banks are called, well, "The Bank". With each setback in the story, the bank keeps getting messier in nature, denoted by its name "Sh*ty Bank". Even the doctors are complete strangers with names like "Mr Whomever", playing in on the fact that the viewer needn't worry about anyone who isn't integral to the main progression of the story. Its hazy, colorful and surprisingly different from anything The Russo Brothers have done before in the near past.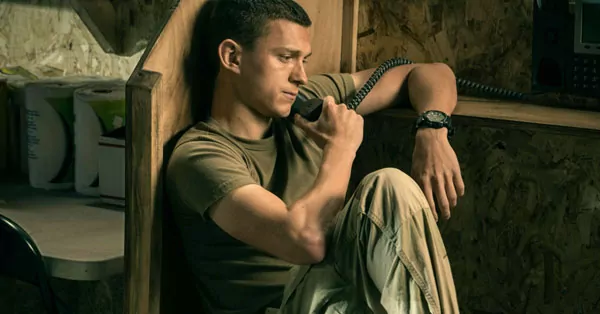 Cherry Movie: Tom Holland and his capabilities as an Actor
Tom Holland is the breakthrough star of Cherry. After having worked with Russo Brothers as Spiderman, we all were somewhat curious about the acting capabilities of this guy who, out of nowhere, put on that spandex suit. He sure gives everything that he has got into this film. If I were to summarize this movie in three words, I would essentially put it as "A Tom Holland Film".
Well 4 words but you get the gist. He has this profound and varied range of emotions and expressions for each scene which justify his success in the MCU and in the industry in general. His angry boyish phase switches into a deranged PTSD phase who just went through war, pretty quickly. Yet I only felt the utmost empathy for this character. He has got so much to do and he doesn't shy away from the fact that this role is miles away from how people perceive him as an actor. His thirst for branching out and trying new stuff is, however, overshadowed by elements which should be gripping, but they unfortunately aren't.
Cherry Movie: A drug abuse story, disguised as PTSD
Even with a person who has essentially lived through some of the most trying times in his life, this movie feels ridiculously bland, especially in its later stages. The romance between Nico and Emily which takes too long to develop in the first place, is brought to a halt when she suddenly desires to get away from him. Her intentions behind this decision are never fully explored and the viewers are mostly left wondering about these certain decisions which are plentiful during the runtime. The entire depiction of the war and Nico's involvement in it was one of the most well done aspects of this film. Its expansive and glorious in its setting and I think it should be safe to assume that a lot of the budget went into filming that sequence, and it was well worth the spend. However, after that the plot takes a wild turn, shuffling from PTSD to Drug addiction in no time at all. Nico's struggles with war and PTSD are never given time to breath, and he almost quickly switches to drugs for relief. The term PTSD is frequently mentioned throughout the script to remind viewers that Nico is a victim, but other than that, Cherry feels more like a depiction of a drug addict than of a war victim. 
The Robberies take place in a series of convenient banks, throwing money at Nico, for which the repercussions couldn't be anymore delayed. The romance, which started off slow, also takes a funky turn in no time when Emily decides to hop on the "dope train" as well. This again is something which felt freakishly sudden. Cherry, still manages to portray the aspect of deterioration and decline in a fair manner. It, while never openly being a satire, brings out the horrors faced by army men who have been through so much, only to go through so much more. It is a mix of aspects which are done right, overshadowed by weak and under-developed side characters and plot. Pacing issues are persistent through the run time, yet the climax and the epilogue, somehow, still binds the entire premise together. Its a fairly nice watch, yet I feel like Tom Holland deserved a far better outcome for all the hard work and dedication he put into Cherry.
Cherry Movie Critical Reception
Cherry stands at a mere 37% on Rotten Tomatoes with the consensus being "It's certainly stylish and it offers Tom Holland a welcome opportunity to branch out, but Cherry's woes stem from a story that's too formulaic to bowl anyone over." The Metascore is at 44 with mixed or average reviews based on 43 critic reviews.
The Movie Culture Synopsis
Cherry is a vibrant visual spectacle, while simultaneously filled with glaring pacing issues and derivative crime sequences. It doesn't have anything new to offer, yet it shines solely by the presence of Tom Holland. It might be a good one time watch for many, but a second viewing would be far too dozy. 
Cherry is an Apple original film available on Apple TV+ to watch.