Chilling Adventures of Sabrina is an American supernatural horror television series developed by Roberto Aguirre-Sacasa for Netflix, based on the Archie comic book series of the same name. The series is produced by Warner Bros. Television, in association with Berlanti Productions and Archie Comics.
Aguirre-Sacasa and Greg Berlanti serve as executive producers, alongside Sarah Schechter, Jon Goldwater, and Lee Toland Krieger. The series is centered on the Archie Comics character Sabrina Spellman, portrayed by Kiernan Shipka, and also stars Ross Lynch, Lucy Davis, Chance Perdomo, Michelle Gomez, Jaz Sinclair, Tati Gabrielle, Adeline Rudolph, Lachlan Watson, Gavin Leatherwood, Richard Coyle, and Miranda Otto.
Originally in development during September 2017 at The CW, the series was intended to be a companion series to Riverdale; however, in December 2017, the project was moved to Netflix with a straight-to-series order, consisting of twenty episodes. Filming took place in Vancouver, British Columbia.
Chilling Adventures of Sabrina Plot
Chilling Adventures of Sabrina is set in the fictional town of Greendale. It is a dark coming-of-age story that includes horror and witchcraft.
Sabrina Spellman must reconcile her dual nature as a half-Witch, half-mortal while fighting the evil forces that threaten her, her family and the daylight world humans inhabit.
Chilling Adventures of Sabrina PART 4 Characters Ranked
Kiernan Shipka as Sabrina Spellman: A half-human, half-witch teenager attending Baxter High, who is just beginning her dark education, while trying to maintain a normal life.
Ross Lynch as Harvey Kinkle: Sabrina's charming, dreamy boyfriend in part 1. He later dates her best friend, Roz in part 2.
Lucy Davis as Hildegarde Antoinette "Hilda" Spellman: One of Sabrina's two witch aunts, who has a motherly nature and warm sense of humor, and is skilled at brewing potions.
Miranda Otto as Zelda Phiona Spellman: One of Sabrina's two witch aunts, who is sterner than Hilda and very protective of Sabrina. She is also a member of the Church of Night.
Chance Perdomo as Ambrose Spellman: Sabrina's warlock cousin from England, who is her partner in crime.
Michelle Gomez as Mary Wardwell and Lilith / Madam Satan: The first wife of Adam from the Garden of Eden, who steals the identity of Mary Wardwell, Sabrina's favorite teacher and mentor at Baxter High.
Jaz Sinclair as Rosalind "Roz" Walker: The brash, empowered and outspoken daughter of Greendale's minister and Sabrina's best friend.
Tati Gabrielle as Prudence Blackwood (née Night): A student at the Academy of the Unseen Arts, with a personal grudge against Sabrina.
Gavin Leatherwood as Nicholas "Nick" Scratch (part 3-present; recurring parts 1–2): A warlock and student at the Academy of the Unseen Arts who eventually becomes romantically involved with Sabrina in season 2 and later the host of Satan.
Lachlan Watson as Theodore "Theo" Putnam (part 3–present; recurring parts 1–2): Sabrina's close friend at Baxter High. Theo is a trans boy whose birth name was Susie.
And many more returning for part 4. 
Caos Part 4 Teaser-Trailer Breakdown
'Sup Witches and Warlocks?! CAOS finally released the teaser trailer for its 4th part which Is going to be released on THURSDAY DECEMBER 31st and as from the continuation of part 3 , the teaser for part 4, it looks like Sabrina has taken a lot of responsibilities, I mean living like a normal student at Baxter High?? And at the same time being the friggin' Queen of Hell?? 
The trailer is yet to be released but as from the teaser we get to know that "we have faced a peril such as this, there is another war brewing." And Sabrina Spellman's reply to her cousin's "Are you enjoying this?" by saying "Being back in action? Yeah." Seems like she's gonna come stronger and more WITHCHIER for the final chapter!! We're excited for Netflix's most adorable yet horror show's final chapter.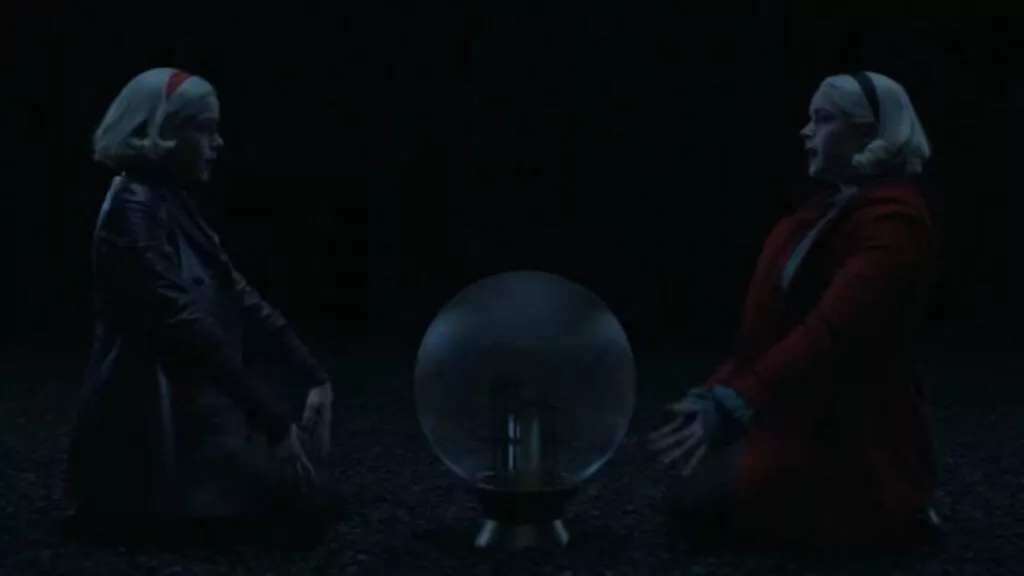 Chilling Adventures of Sabrina Critical Reception Till Now
For the first part of the first season, the review aggregator Rotten Tomatoes reported a 91% approval rating with an average rating of 7.77/10 based on 103 reviews. The website's consensus reads, "Bewitchingly beautiful and wickedly macabre, Chilling Adventures of Sabrina casts an intoxicating spell and provides a perfect showcase for Kiernan Shipka's magical talents."
The second part of the first season received an average of 6.88 out of 10 on Rotten Tomatoes, with an overall 81% approval based on 43 reviews. The website's consensus reads, "With a stronger mystery steeped in witchy world-building, Chilling Adventures remains a deliciously dark, delightfully campy romp that pushes Sabrina deeper down the path of night — if only she would get there a little faster."
Rotten Tomatoes reports that 90% of 29 critic ratings are positive for the part three, with an average rating of 7.36/10. The website's critical consensus reads, "A deliciously hellish thrill ride from start to finish, Chilling Adventures of Sabrina just keeps getting better."
The Movie Culture Synopsis
Chilling Adventures of Sabrina Part 4 : Chilling Adventures of Sabrina reimagines the origin and adventures of Sabrina the Teenage Witch as a dark coming-of-age story that traffics in horror, the occult, and, of course, witchcraft. Over the course of Part 4's eight episodes, The Eldritch Terrors will descend upon Greendale. The coven must fight each terrifying threat one-by-one (The Weird, The Returned, The Darkness to name a few), all leading up to…The Void, which is the End of All Things. As the witches wage war, with the help of The Fright Club, Nick begins to slowly earn his way back into Sabrina's heart, but will it be too late?
Chilling Adventure of Sabrina part 4 will consist of eight, 1-hour episodes as mentioned. Which will be released on the 31st of December on Netflix. Part 1-3 are available to watch on Netflix, so go check them out before part 4 releases.