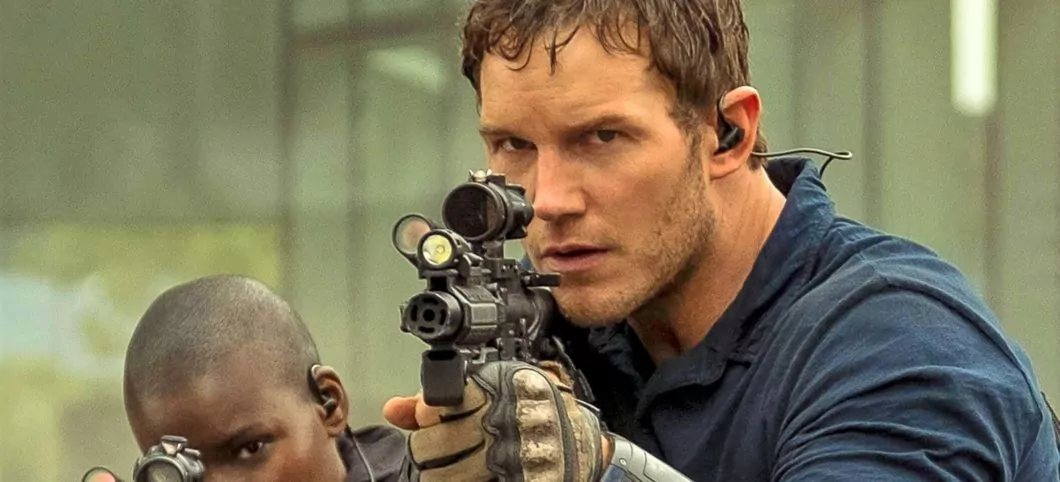 The Tomorrow War is just around the corner and during the press conference, the entire cast dived deeper into the lore of the movie. Chris Pratt, who plays the role of Dan Forester in The Tomorrow War, has had a long experience of working with CGI and visual effects. 
Acting with CGI and Animation
With franchises like Guardians of the Galaxy and Jurassic World, he has had more than enough experience of fighting and running away from creatures that don't exist in reality. When asked about the freedom that comes with working without actual prop, he says,
"It's true that it's more liberating when you don't have a prop to work with because you basically force the animators to do whatever they have to do to make your choices work. If you have a real tentacle, you're moving it around like this, you're limited to how you can move it, but if you have a fake one, you can be like, "Oh, whoa, whoa, whoa," like that. Then you just imagine an animator pulling their hair out being like, "Oh, great. I have to make that work somehow." It's pretty fun. I've had my fair share of experience of running from and fighting against creatures that aren't there. Yes, there's certainly a craft to it."
He then goes on about how the monsters in The Tomorrow War were actually brought to life and how he managed to maintain his composure on screen. 
"You could have a whole podcast episode about the way to achieve it, but it's a combination of various things you're going to look at, whether it will be a tennis ball or the guy named Troy who's seven feet tall, a mountain of a man, and very scary. You look at Troy and you think, "That's certainly a person who could lift me up and break me in half." He becomes significantly less scary when he's put in a giant gray leotard. Still, he's scary. Then you've got the prosthetic and then you're sometimes in the big wide shots, you may have nothing. It really depends on the angle that you're in because, of course, these big sequences consist of so many shots and sizes. If you're doing a close-up and it needs to be really scary, you might have- or, in this case, it's mostly going to be really scary. You're not trying to have an emotional relationship with one of these creatures, but in a close-up, you might be looking into the eyes of an actor. You have something you can pull from, you can draw- they can draw something out of you. It really depends on what the shot is. It's the most embarrassing acting you'll ever do. Acting opposite something that's not there and fighting something that's not there is particularly embarrassing."
The Philosophy of The Tomorrow War
Chris Pratt also reflected upon the drastic change in norms that the movie tries to establish wherein we have all seen real stories of kids getting thrown in wars, but that dynamic is reversed in the movie where it's the adults who have to save their younger generations. 
"It's interesting. In terms of our history of conscription, if it's World War II or Vietnam, we've seen these movies where it is 18, 19-year-old kids getting thrown into the throws, you're getting thrown into battle. They're just kids forced to become men. It is a different relationship when it is an adult."
He goes through the major motivation for his character, Dan, to do what he does in the movie.
"You are dealing with people who are making life decisions based not on the life that they could lead, but rather the world that they're leaving for their children. My character, Dan, is doing this because if he doesn't go, they're going to take his wife in his place. This is something he has to do to protect his family and to protect his daughter and leave her with a home life of having her mother there. It's a different theme to think about someone being drafted away from their children rather than children being drafted away from their parents."
Coming on as a Producer and Working with the Director of The Tomorrow War, Chris McKay
This is one of the first films that Chris Pratt is helming as a producer, so he divulges into the challenges that come with producing a film which is so large scale and humongous in scale. Along with that he also shares his experience of working with Chris McKay again.
"To the point of working with McKay, I've been able to work with him before, it's so awesome to see this is like — He's been making films for years, and this is a big live-action movie, it was a massive step for him and for me coming on as a producer. I had so much to learn. I was grateful to be surrounded by really smart people. I was grateful to be working with Chris. He's the kind of guy that is open to collaboration but also has a very clear vision. This is 100% his baby. I've worked with people who have transitioned from a writer into a director."
He Talks About How Chris McKay Transformed himself from Directing Animation to Directing Live Action 
"Chris had cut his teeth mostly in the post-production process, if I'm correct, and then is working in being a director of animation and then a director of live-action. I think the best directors come from that side because you know what you need to give yourself in the room. He gave himself a lot of amazing options for the edit. He's got this thing, this personality, a great knowledge of film, but also just a really vibrant personality, an exciting aura about him when he's on set. It's really contagious. I remember being up on top of a glacier in Iceland. He's walking with sticks and a camera on his shoulder, trudging through the snow and looking at me, he's like, "This is what I f*****g got into this for, man. This is what I f*****g got into this for." He does say the F-word a lot. I'm quoting him. He says, "We're up on a f*****g glacier making a f*****g movie right now."
The Movie Culture Synopsis
The Tomorrow War releases on 2nd July 2021, exclusively on Amazon Prime Video. It stars Chris Pratt, J.K. Simmons, Yvonne Strahovski, Sam Richardson & Betty Gilpin and it is directed by Chris McKay.