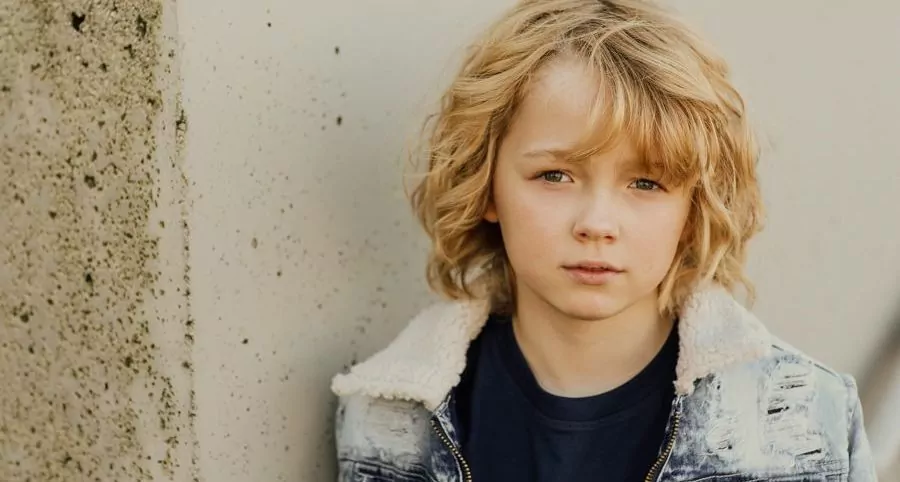 Christian Convery is a wonderfully talented young actor who has already played integral parts in in highly popular movies like Venom, Beautiful Boy and Playing with Fire. In the TV scene too, he has appeared in iconic shows like Supernatural, Lucifer and Legion. Now he is all set for his lead role in the adventurous Netflix show, "Sweet Tooth". It's an exciting mystical world that Christian is stepping in, and we spoke to him about the show and his other interests and challenges. Check it out below!
Q. Hello Christian, I am Hardik Agrawal from The Movie Culture. How are you doing today?
Christian Convery: I'm great thank you!
Q. I saw the trailer of Sweet Tooth and it just looks incredible. How exited are you for the release of this adventure ride of a series?
Christian Convery: I'm so excited for the release of our TV show "Sweet Tooth" because I finally get to see all the hard work everyone put into the show and I'm so proud of how well it's turned out and how me and my fellow cast mates and the crew got to bring Jeff Lemire's comic to life.
Q. Your past track record is beaming, to say the least. And now you are in the lead of a movie which is produced by Robert Downey Jr. himself. What led to all of this?
Christian Convery: What led to me filming Sweet Tooth was getting the audition, reading what the role and TV show was about, learning where it was filming and, with lots of excitement, doing a self-tape! I know they were looking around the world for Gus and it was by far the most difficult audition process I have ever done. It took about three months of auditioning while being flown to LA and back, meeting the directors, studio executives, executive producers, casting, and finally after all that, here I am talking to you!
Q. Speaking of Robert Downey Jr., is Iron Man your favourite MCU character, or do you tend to tip towards someone like Thor or Cap?
Christian Convery: Iron Man is definitely my favourite MCU character because he's awesome, has an amazing suit and he has insane powers. But do you know who my favourite superhero is that's in a different universe?   It's Gus in "Sweet Tooth."
Q. You have starred with so many renowned actors like John Cena, Timothée Chalamet and Steve Carell. Is your relationship with them, that of a mentor, or does it often transcend into friendship?
Christian Convery: I've been lucky to work with amazing talented actors who are amazing people too! I just basically become instant friends with them, we have a great connection, great chemistry in our scenes and I really love acting because of all the incredible experiences! Acting allows me to meet new people, travel the world and make new friendships.
Q. Sorry about that segway, coming back to Sweet Tooth, could you enlighten us on what it means to be a hybrid in this fictional world?
Christian Convery: What it means to be a hybrid in the world of "Sweet Tooth" means that you're the most amazing thing ever but at the same time you're always being hunted down and in danger.
Q. Did you get a chance to read the source comic before you got into the show? If yes, what do you feel about it? 
Christian Convery: I did in fact read all of Jeff Lemire's comic books many times over and I love the comic book and really think it helped me develop and play the role of Gus. I also really loved how our director Jim Mickle and everyone else who helped write episodes on our show made the scripts more family friendly versus the comic book which was darker.  The reason I love it so much is so that the whole entire family can watch it.  That means they can bond and have more conversations and I really feel that's important for families. The take away from "Sweet Tooth" is hope and positivity and when there are dark times like Covid for example that we are currently going through, is to take that hope and positivity to get through it.
Q. We learnt that you did your own stunts in movies like Playing with Fire. By the looks of it Sweet Tooth screams high octane action. What were some of the most challenging stunts you attempted in this movie?
Christian Convery: Some of the most challenging and super fun stunts was probably when I had to run, jump onto a hook, swing around into a train and land into a pile of toilet paper! That was really challenging to have to practice and rehearse, but it was definitely worth it because I had such a blast doing it and it looks so amazing on camera! But there were so many other awesome stunts I got to do as well!
Q. You being such an adventurous person yourself, what are some of your pass time adventure activities that inspire you to do your own stunts? 
Christian Convery: I definitely have a passion for adventures and activities which is inspiring in itself. From running, jumping, rafting, parkour, scuba diving, abseiling, ziplining etc. I truly love all the outdoors and using the elements, man made or by nature, to explore. It's because of all of this, and my confidence in my abilities in the outdoors that enabled me to have the desire to do my own stunts and to train with the stunt team!
Q. How do you balance work with your social and school life at such a young age? 
Christian Convery: Now that is by far the biggest challenge and is extremely demanding on me. Work is my social time but being onset is also my school time and it's important for me to get Straight A's so it's a lot of hard work. Not only for acting, but ensuring to find the extra time to excel.  This means I usually do school on the weekends too but at the same time, I ALWAYS make and take the time to getaway and do lots of great adventures and activities! It takes a lot of stress out by seeing my friends and hanging with them and really relaxes me while getting a shot of adrenaline when doing awesome adventures!
Q. What are some of the franchises that you are into these days? I mean everyone is into Marvel and DC, but is there something else you watch or read, that moves you? 
Christian Convery: I'm really into the Sweet Tooth Universe now and want to continue playing the role of Gus in Jeff Lemire's comic book Sweet Tooth!! And I look forward to season 2 hopefully and many more seasons for the future!
Q. You are only looking up and forward from here, and it shows by the caliber of projects you keep choosing. What's next for the insanely talented Christian Convery? 
Christian Convery: More acting, more training, more travelling, more adventuring and hopefully, more Sweet Tooth!
Q. It was super fun interacting with you, Cristian, and I am sure you are going to be phenomenal in Sweet Tooth.
Christian Convery: Thanks for speaking with me!!
The Movie Culture Synopsis
Sweet Tooth is currently streaming on Netflix. Be sure to watch the show and get amazed by the glorious action and worldbuilding it carries, and obviously, the breathtaking performance by Christian Convery.