Cobra Kai told quite a story when it comes to continuing 80s franchise and Cobra Kai Season 3 had some expectations going in. This martial arts comedy-drama streaming television series based on The Karate Kid film series was created by Robert Mark Kamen which stars Ralph Macchio and William Zabka (both of whom are reprising their roles from The Karate Kid, and who also serve as co-executive producers of the series) along with Xolo Maridueña, Jacob Bertrand, Courtney Henggeler, Tanner Buchanan, Mary Mouser and Peyton List.
Cobra Kai is set 34 years after the original Karate Kid film, re-examining the narrative from Johnny Lawrence's point of view, and his decision to reopen the Cobra Kai karate dojo leading to the rekindling of his old rivalry with Daniel LaRusso.
Cobra Kai Season 3 Cast
Ralph Macchio as Daniel LaRusso
William Zabka as Johnny Lawrence
Courtney Henggeler as Amanda LaRusso
Xolo Maridueña as Miguel Diaz
Tanner Buchanan as Robby Keene
Mary Mouser as Samantha LaRusso
Jacob Bertrand as Eli "Hawk" Moskowitz (recurring season 1, main seasons 2–3)
Gianni Decenzo as Demetri (recurring season 1, main seasons 2–3)
Peyton List as Tory Nichols (seasons 2–3)
Martin Kove as John Kreese (guest season 1, main seasons 2–3)
Recurring
Nichole Brown as Aisha Robinson (seasons 1–2)
Vanessa Rubio as Carmen Diaz
Rose Bianco as Rosa Diaz
Hannah Kepple as Moon
Griffin Santopietro as Anthony LaRusso
Diora Baird as Shannon Keene
Randee Heller as Lucille LaRusso
Ed Asner as Sid Weinberg (seasons 1 and 3)
Dan Ahdoot as Anoush Norouzi
Bret Ernst as Louie LaRusso Jr. (season 1 and 3)
Joe Seo as Kyler (seasons 1 and 3)
Annalisa Cochrane as Yasmine (seasons 1 and 3)
Bo Mitchell as Brucks (seasons 1 and 3)
Owen Morgan as Bert
Ken Davitian as Armand Zarkarian
Candace Moon as Laura
Aedin Mincks as Mitch (seasons 2–3)
Khalil Everage as Chris (seasons 2–3)
Nathaniel Oh as Nathaniel (seasons 2–3)
Cobra Kai Season 3 Plot
In Cobra Kai season 3 we get to see that Miguel's fighting for his life, Robby's missing and Daniel and Johnny's are in tatters as the community reacts to the West Valley brawl. Then Daniel and Johnny team up to find Robby. Miguel faces an uncertain future Kreese tries to being tory back to Cobra Kai.
Daniel's tarnished public image takes a toll on his sales leading to a takeover offer. Johnny tries to raise money for Miguel's surgery. Following an important meeting in Japan , Daniel revisits Mr. Miyagi's hometown on Okinawa. Johnny attempts to reconnect with Robby.
In Okinawa, Daniel spends time with an old friend and an old enemy, who has much to teach him. The dueling dojos' rivalry comes to a nasty head. 
Miguel helps Johnny craft the perfect social media message.
Kreese scouts new recruits while Daniel and Amanda try to shut down Cobra Kai. Daniel spends some father-daughter time with a traumatized Sam.
Johnny plans to form a new karate dojo but struggles to come up with a cool name. Informed that this year's All Valley Karate Tournament is being cancelled so the three competing sensei attend a city council meeting to save it. 
It's Christmas time in the Valley and romance is in the air. Daniel and Miguel find unexpected common ground, and the Cobra Kai recruits go on a mission. Old wounds begin to heal at country club holiday party, but a brutal assault by Kreese's students leads to new betrayal and alliances. 
Cobra Kai Season 3 Review
Cobra Kai season 3 is all about the aftermath of what happened in the school with Miguel and his recovery. It also takes a trip down memory lane, season 3 is really very nostalgic. Johnny tries hard to get things he want and give people around him what they need from him. 
Daniel LaRusso is trying real hard to clean up the mess and needs someone from time to time to drag him back into reality like his wife and Mr. Miyagi. Sam is really working on how to do the right thing in the right way but she is sometimes scared or sometimes really angry.
Miguel is recovering well and things are complicated in his life but he's making it work. Cobra Kai is at it again, with all that rage and strength they just never stop and never rest. 
Johnny, Kreese and Daniel are trying to save the All Valley Karate Tournament. Johnny also is opening his own new dojo now that Kreese has completely  taken over Cobra Kai.
We also get to see Tory and Robby again, Robby is also going through things , he disappeared after the fight and then he was arrested after being found and Daniel is working on making Robby feel better again. Johnny also tried to reach his son Robby. 
Cobra Kai season 3 has a lot to bring and it's really nostalgic, we love the way of its storytelling and the honoring of the Karate Kid. It's absolutely stunning and a must watch season!!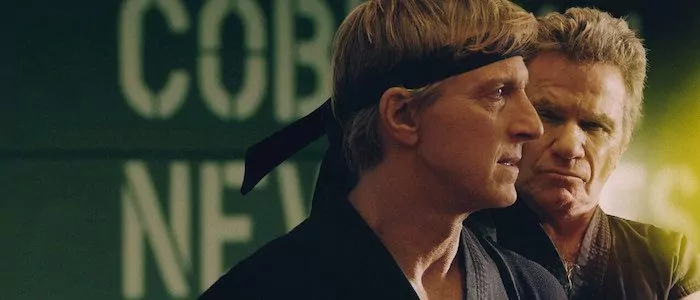 Cobra Kai Season 3 Episodes
"Aftermath" Jon Hurwitz & Hayden Schlossberg, Josh Heald.
"Nature Vs. Nurture" Jon Hurwitz & Hayden Schlossberg.
"Now You're Gonna Pay"  Story by : Josh Heald & Jon Hurwitz & Hayden Schlossberg & Stacey Harman.
"The Right Path" Lin Oeding.
"Miyagi-Do" Steven Tsuchida.
"King Cobra" Steven Tsuchida.
"Obstáculos" Story by : Josh Heald & Jon Hurwitz & Hayden Schlossberg & Alyssa Forleiter.
"The Good, The Bad, and the Badass" Josh Heald & Jon Hurwitz & Hayden Schlossberg & Mattea Greene 
"Feel The Night" Robert Mark Kamen.
"December 19" Robert Mark Kamen.
Cobra Kai Season 3 Critical Reception
Cobra Kai Season 3 up until now had a positive response from critics. According to the review aggregator website Rotten Tomatoes, Cobra Kai Season 3 holds a 97% approval rating, with an average score of 7.98 out of 10 based on 29 reviews. The website's critical consensus reads: "By pairing its emotional punches with stronger humor, Cobra Kai's third season finds itself in fine fighting form."
The Movie Culture Synopsis
Cobra Kai is a must recommend show, we know it did really good in the first two seasons and now that we have the 3rd season here we can say that yess! It's done it again!
It has a great way of storytelling and it has worked well on every character from LaRusso , Johnny and Kreese to Miguel, Robby, Tory and Samantha it was very really stunning. 
The good news is that Cobra Kai has been renewed for another season!
Cobra Kai season 3 is now streaming on Netflix.