Concrete Cowboy is a 2021 film based on the novel Ghetto Cowboy by Greg Neri, directed by Ricky Staub, produced by Idris Elba, Lee Daniels, and Tucker Tooly starring Idris Elba, Caleb McLaughlin, Jharrel Jerome,  Lorraine Toussaint, and Method Man.
Concrete Cowboy Movie Cast
Caleb McLaughlin as Cole
Idris Elba as Harp
Jharrel Jerome as Smush
Lorraine Toussaint as Nessie
Method Man as Leroy
Concrete Cowboy Movie Plot
Due to Cole's constant lousy behavior of persistently getting into trouble Cole's mother Amahle played by Liz Priestley has to leave her son to live with his estranged father Harp played by Idris Alba to save her son from drowning and ruining his life. Cole, an unruly teenager forced to live in Philadelphia's community of Black cowboys, learns the hardships, positives & negatives of life through various incidents and interactions with certain people of the community and region. 
Concrete Cowboy Movie Review
Concrete Cowboy is a pretty good film with an intriguing cast, a good storyline, and amazing cinematography. The director of the film Ricky Staub who previously worked as an assistant in movies like 'Snow White and the Huntsman' and 'The Last Airbender' did a pretty good job as well. Also, Concrete Cowboy is Ricky Staub's directorial debut for a feature film. 
The film talks about various current issues faced by the community of Black cowboys in the North Philadelphia region. The film also showcases the living conditions of the riders, their stables, what they do for a living and how do they survive. There are various problems that these communities face such as the dominance of real estate and the constant fear of losing their lands. The film additionally talks about the deletion of Black People from being the cowboys and their traditions from history. Concrete Cowboy portrays the hardships, the dark-light aspects of life from a teenager's point of view. The film walks us through how one should overcome the difficulties of life without complaining about one's fate, how one should not be following the wrong path as a shortcut to achieve their goals, and how geographical locations or where one lives should not influence an individual's success or failure in life. The film is able to convey the messages with its amazing story and acting performances.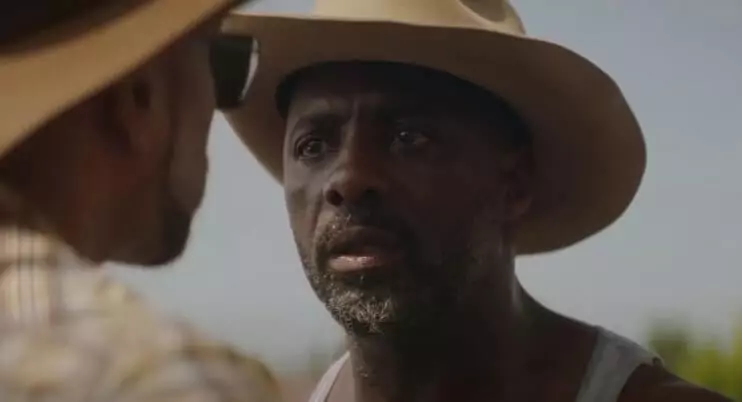 Talking about acting accomplishments, the whole cast was stunning and their character portrayals keep us invested in the entire film. Idris Elba once again was astounding with his wondrous performance and accent. Caleb McLaughlin delivered a wonderful performance and it's really delightful to see him in this film apart from his popular Stranger Things role as Lucas. Furthermore, the chemistry between Idris Alba and Caleb McLaughlin was a delight to watch as their Father-Son portrayal was spectacular. 
The character Smush played by Jharrel Jerome was the representation of some negative aspects of life in the film. Smush and Cole who are cousins and childhood friends seem to have that like-mindedness and the same level of ambitions. Cole, at first, does not like his father's company and the county they are living in and thus forth he sees Smush as a relief and tries to follow his path. Smush used to be a rider and used to be a part of the riding club with Cole's father Harp and others. But Smush had bigger dreams and ambitions and wasn't happy about his living conditions. Apparently, he started working for a dealer and stole profits from the dealer. The issue was that the people who have horses and stables were staying on rent which had expired already and the people did not have a permanent and proper place to live in or run their club forever. All these were not ideal living conditions and due to such situations, Smush tries to achieve his goals but chooses the wrong path to do so. As a result of his wrong choices, he eventually faces the consequences, and the film had been leading up to this since the very beginning.
Other note-worthy characters were Nessie played by Lorraine Toussaint and Leroy played by Method Man. Also for authenticity, the film has involved actual natives and riders from Philadelphia who are in real life facing these unfortunate situations. Concrete Cowboy is also a message from their community about how hard it is for them to survive with such tough conditions.
Although the film has this amazing cast and stunning performances, it somewhere lacks storytelling and is not completely conclusive. The movie seems to have not reached its full potential and seems like it has more to tell and the messages they want to convey could be more cohesive and effective. As I said before the film does manage to convey the messages that it wants to, yet, somehow lacks to deliver it in a more captivating and efficient manner.
Overall, Concrete Cowboy is pretty good and if not for anything else, you can watch it for the astounding acting performances. The film might not interest you if you are a fan of popcorn action movies and are only attracted to this film due to its title of 'Cowboy' because the film does not showcase any kind of action sequence nor the story intends to showcase anything as such. The film mainly revolves around the characters, their emotions, the relationships between them, and their day-to-day struggle. It's a dramatic, emotional journey that is told with finesse, for the most part.
Concrete Cowboy Movie Critical Reception
Concrete Cowboy has a 78% on Rotten Tomatoes. Letterboxd gave the film a 3.2/5 rating. It has 6/10 on IMDb and has a MetaCritic score of 67.
The Movie Culture Synopsis
Concrete Cowboy is a film that one must watch, as it has a lot of things to convey about the very existence & living circumstances of a certain community. It is crucial to understand these Black Cowboy communities, their culture, and tradition and preserve their existence. 
Idris Elba and Caleb McLaughlin did a marvelous job and it was very pleasing to see them together on screen. The other cast members also justified their characters. Director Ricky Staub should be appreciated for making this film and exploring this idea.
Concrete Cowboy is available to watch on Netflix and I would definitely recommend this movie to you guys if you are a fan of films focusing on characters and their developments.