Dickinson show is something of its kind, a show on Emily Dickinson's life but isn't completely factual, soo keep an open mind when you watch it. The creator and writer of the Dickinson series Alena Smith has kept a lot of room for creative freedom and let the imagination transcend the boundaries of a biography. Set in the 19th century in Amherst, Massachusetts. It's a comedy with coming of age drama in the life of famous poet Emily Dickinson.
Dickinson Series Season 2 Cast
Hailee Steinfeld as Emily Dickinson,
Toby Huss as Edward Dickinson
Adrian Blake Enscoe as Austin Dickinson
Anna Baryshnikov as Lavinia "Vinnie" Dickinson,
Ella Hunt as Sue Gilbert
Jane Krakowski as Emily Norcross Dickinson,
Wiz Khalifa as Death
Finn Jones as Samuel Bowles
Dickinson Series Season 1 Recap
Being an artist was never easy nor will be easy. An artist performs his/her art even when they don't get support or acknowledgment from anyone because it's the art that fuels them and makes them feel alive.
In this case for Emily Dickinson it's poetry. A Young girl who mused all day long. Putting her emotions and love for nature, death and Sue on pieces of paper but keeps them in the dark of her closet because her father or the society didn't  approve of women publishing.
In the first season Emily Dickinson is about Emily Dickinson writing her poems and keeping them to herself and Sue her best friend who she is In love with. Emily fights the odds and publishes her poem in a paper even though her father strongly disapproves of it. She constantly struggles and argues  with her mother and sister related to household chores and her mother wanting to get her married off pisses her off. Emily disappoints her father a couple of times but the father daughter duo always end up having a better bond after each fight. Emily realises she has fallen in love with a man but joyful moments are short lived. During the whole season Emily keeps meeting her favourite person DEATH who takes her on a carriage ride every night. The comedy drama continues for a long time till  Sue decides to marry her brother Austin. The first season ends with Emily being locked in her room and watching her own funeral while Sue and Austin are getting married downstairs.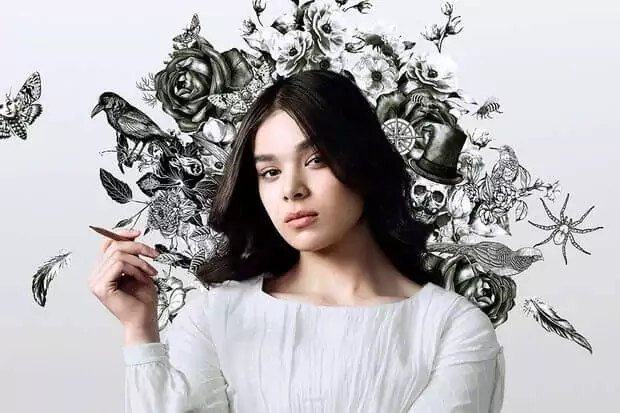 Dickinson Series Season 2 Plot
Everyone gets a taste of fame, Sue enjoying her Lavish lifestyle and hosting parties at her residence, Edward returns back to Amherst leaving politics behind, Austin gets to be Associated with his father's Business and  Emily Dickinson Finally gets her poem printed In the Springfield Republican but she shares a complicated relationship with the editor. Things take a steep turn when Emily loses her ability to think and write poems as she faces Writers block and falls into depression.
She tastes the bitterness of fame that she got and starts to question the choices she made. For season 1 it was Death in her imaginations now it is NOBODY who comes to haunt her.
Dickinson Series Season 2 Review
The season 2 for Dickinson show manages to reach the benchmark set by the first season with a well crafted storyline and keeping the right balance of comedy, drama and past historical events interwoven with the intriguing thoughts and imaginations of the poet herself.
As Emily Dickinson gets older, she gets out in the real world looking to shine bright with her majestic and beautiful poems that are soon to be published In the Springfield republican newspaper of Amherst. As she gets into the limelight she realises that this isn't for her. All the fame and people talking about her. She starts to lose her mind. Instead of having poetic thoughts she gets depressed and Meets NOBODY(her delusion) that warns her about her future if she seeks fame. As the story progresses and some plots to be unraveled which you'll have to discover for yourself. She pulls herself together. Sue has a similar character arc as Emily Dickinson who both feel departed with reality and pretend to be someone they are not. But their love for eachother gets them together at the end with a happy ending.
Along with the life story of Emily Dickinson this season builds a side story of the Civil War that happens around the same time. This surely has built some anticipation for the coming season as the Civil War movements had begun at the end of the second season.
Dickson show tries to stay relatable with today's audience by including contemporary upbeat music and dialogues that go in sync with the scenes. Though it has been highly fictionalized the episodes mainly revolve around Emily Dickinson's poem and the titles have been taken from the poems itself. The writers haven't made any changes with poems, they are , as they were written by her and are displayed as subtitles as Emily constructs them in her head.
 This season definitely has more spice than the first one, more romance, love scenes, drama. Some characters do their job of being silly and making us laugh like Lavinia and Shipley's interestingly funny and romantic story. Maggie the maid still manages to bring smiles on our faces. Hailee does a great job of making cute and adorable facial expressions and you can feel her agony. The acting performances were great by every character.
Dickinson Series Season 2 Critical reception
Dickinson has a rating of 7.3/10 on IMDB.
Rotten Tomatoes gives it a 100% on Tomatometer while the average audience score is 86%. critical consensus reads" With stronger writing and a never-better Hailee Steinfeld, Dickinson finds surer footing in its second season without losing any of its strange delights." The show gets it well deserved appreciation and the audience surely seem to love everything about it.
The Movie Culture Synopsis
Worth every minute to watch. Breaks the stereotypes for making a biography. Doesn't make you think much but surely makes you feel stuff inside your heart. The casting and the writing go hand in hand.
I would definitely recommend watching Dickinson but don't rely for facts about her on this series. It's a beautiful depiction of Emily Dickinson's thoughts. Dickinson is available on Apple Tv+ to watch.