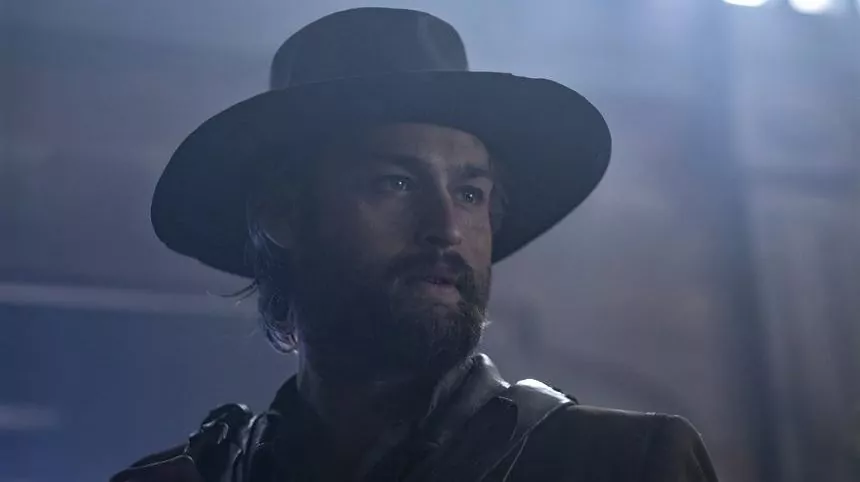 Douglas Booth is an English actor who has worked on several great award-winning projects like Loving Vincent and Romeo Juliet. He is also a major personality in the Fashion Industry. He is now starring in the latest Spaghetti Western show called That Dirty Black Bag alongside Travis Fimmel, Rose Williams and Dominic Cooper. 
Q. Having done projects like Loving Vincent, and now you're doing That Dirty Black Bag. What is the biggest difference that you felt in terms of the production and what kind of different project are you looking forward to working on in the future?
Douglas Booth: I've never done a Western. I think this role is completely different to anything I've done before. I have never played anyone this, aggressive or masculine, I guess. It was, yeah, it was great fun. I mean, we shot it in three different countries and we had a fantastic time. You mentioned, Loving Vincent, the difference is huge. Loving Vincent was a movie that we shot completely in the studio and then artists painted over every single frame of the movie to bring Van Gogh's work to life. 
My next film is going to be a very intimate, and Indie romantic comedy along with a bit of drama, set in New York in the modern-day, I think that's going to be very different from the wild west. So covering all basis. 
Q. Talking about Western, what are your opinions on Spaghetti Western as a genre? Because it has been a very long time since a project in Spaghetti Western has been released. What do you expect the reaction to be?
Douglas Booth: What I love about Spaghetti Westerns, is that there's, especially in our show and in the spirit of us as a business, not always just the obvious good guy and the obvious, bad guy. Every character in this show is struggling with something.
No one is happy in the situation. No one is happy. Everyone is struggling towards or against something. I think that's interesting, especially for the next plays. You don't quite know who is good and who is bad and I find that interesting. I can't wait to see how that develops as we have episodes come out. 
Q. What is a fond memory that you have with your co-stars while shooting That Dirty Black Bag?
Douglas Booth:  We were very fortunate to shoot in all these beautiful, beautiful locations during the pandemic. So a lot of us had been, stuck at home. The fact that we even managed to leave our living rooms and go out and work, we felt very lucky. I cherished many memories. I love my costars. I think often the memories involve a bottle of red wine and sitting around an open fire. After a long hot day, just getting to spend a good quality time together by the beach. We got to eat great food and sit until late at night and on the beach, pretty cool for sitting and chatting. That was fun. And in Italy, we were all staying in the same hotel in the middle of a Masseria, which is like a farm in Italy. we couldn't escape each other, but then we got to know each other very well. It sounds absolutely magical.
Q. If you could go to a particular region at a particular time, where, and when would you go to
Douglas Booth: I live in London, but weirdly, I'd be so curious just to see in London, in the past and what period, I don't know. Maybe. I think maybe the 18 hundred Regency period could be quite fun. And also the same with New York. I think maybe the city, cause it's just there's more to see. There's more, you know, I think it's been fascinating to see that those cities with time turned back. I think I'd go to a big city. My hometown London or maybe wander the streets of New York. 
Q. Fashion is a big part of life. How did it feel having this completely different wardrobe in terms of fashion for this show and everything else that you have done before comparatively?
Douglas Booth: The big difference is that it was very hot. I mean, when we were shooting in this harsh desert, it was almost 50 degrees centigrade. It was 48, I think, almost like touching 49/50. We were shooting in these big, heavy leather jackets. It was very hot. When I do my first costume fitting on, I really start to feel the physicality of the character. You can really kind of come alive. I have played everything from boy George to Nikki six in the Motley crew and I have had all these outlandish, outrageous outfits from the eighties. This was very different for me but since I was a kid, I dreamed of putting on a cowboy hat and riding a horse. It was perfect for me. 
Luckily, on this job, we had brilliant heads of hair and makeup and costume, and you know, some of them won academy awards. We had an amazing, amazing team there that was very helpful.
Q. What was your inspiration behind the character when you were preparing for that? 
Douglas Booth: For a character like Red Bill that's lost his mother there is a lot to unravel. I started there. I started with this boy that lost his mum in a very violent and in front of him at the age of eight. 
That's an easy place to emotionally tap in. I'm very close with my mother. That was somewhere I started. The man he is, when we meet at the beginning of the story, he's sort of lost and he's so damaged and he's so full of revenge and he's so unhappy, but, um, I just wanted to really investigate that. Then I kind of just worked on physicality. I'm quite fidgety so I just try to make him very still, which was kind of a challenge but it was fun.
Q. How do you separate yourself from your characters?
Douglas Booth: Part of it is very much trying to lean into the character of who we are on set. When I'm at work, I try and embody them as none. I'm not a method actor but I try and embody them as much as possible and adapt themselves to me. I try and sit in it as heavily as I can, without it crossing the line.
But then I think as soon as I got home, especially with this group of actors, we very much enjoyed it. We would be cooking dinner together and drinking wine and listening to music and letting our hair down.
The Movie Culture Synopsis
You can stream the episode of That Dirty Black Bag on AMC+. It is a 7 episode long series that is about an eight-day long clash between Red Bill (Douglas Booth) and Arthur McCoy (Dominic Cooper).