Season 2 of Emily in Paris released on Netflix on the 22nd of December. Created by Darren Star the show first released in 2020 and had been a hit on Netflix for long. Due to its immense success it was soon renewed.  
Emily In Paris Season 2 Cast
Lily Collins as Emily Cooper
Lucas Bravo as Gabriel
Camille Razat as Camille
Ashley Park as Mindy Chen
Philippine Leroy-Beaulieu as Sylvie Grateau
Emily In Paris 2 Plot
Emily in Paris Season 2 dives into the various relationship issues that tie Emily to Paris along with introducing several new ones. She is also tackling marketing matters all the while juggling her various identities.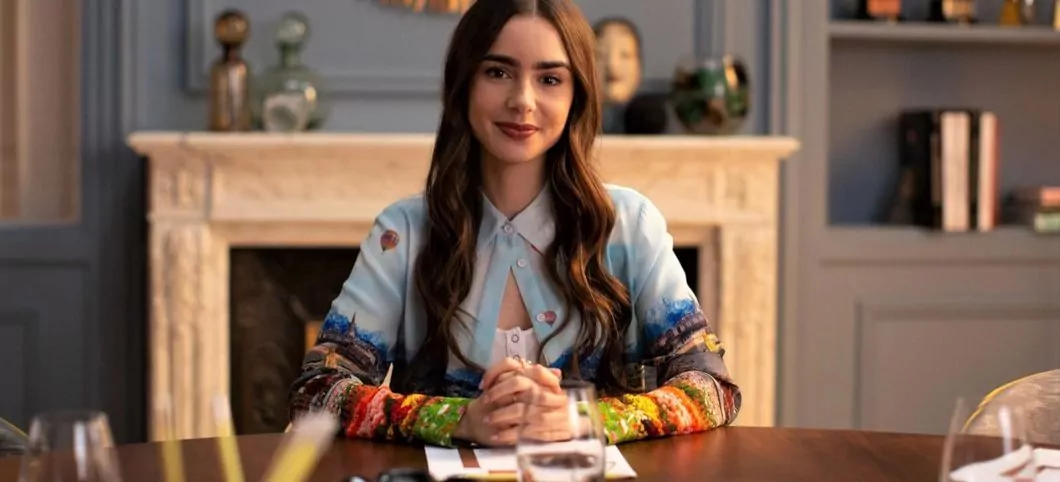 Emily In Paris Season 2 Review
Identities are fragile and extremely sacred. It is the reason why humans are in the rat race that they so thoroughly despise. The painful chase for success is what gives them a purpose which they then make their identity. It is more than the person itself as communities, countries and companies too have identities. Strong and powerful ones. They will do anything to maintain them and thus when a country's identity becomes the brunt of the jokes, it is often displeasing.
Emily in Paris is a lot about identity. Emily's identity as an American in Paris who does not know the language. Saviour's identity as a luxury brand. Even the identity of all the French people who are being criticised in the show. Lilly Collin's plays a character who has come from Chicago to Paris to work as a marketing executive in a firm that handles Luxury brands. Her entire motive is to elevate the working which may come off as highly snooty because it is pretty snooty.
Emily has some interesting ideas but rather than accommodating with how the French work, she almost always forces them to work around her. This was a point raised in Season 1 too and many commented on how, she was portrayed in such a manner that her actions seemed to be right while the French seemed to be the one on fault. With the comments raised, there was a rightful expectation that this would be kept in mind while season 2 would be made but that was not the case.
The season 2 was not much different from season 1. Apart from the controversial nature of the character itself, Emily didn't progress any further. She had the same problems and had the same way to resolve them. If I had to see Emily struggling between 2 men, Gabriel and another eye candy, I would have just seen Season 1 again. Seeing her trying to gain the respect of her boss or commenting on her boss's life took me back to Season 1.
Most of the characters showed absolutely no progress from the first season. It is reasonable to expect a story to move ahead considerably in one season. There was nothing more that happened even though there were many new character additions. As appalling as the possibility is, one of the few characters that was actually pretty interesting didn't even last in Season 2 for more than 10 mins. I am talking about Mathieu who is played by the dreamy Charles Martin. He along with Mindy and Sylvie are the few saving graces of the show.
Both the main protagonists, Gabriel and Emily seem isolated from all even though they are intricately woven into the plot. The disconnection is because there story is beating around the same bush. It is common to find the story line of an affair to end up with one of the parties making it their personal mission to fix the earlier relationship. A boring and run down arc. This cliché gives a redemption arc to the affair which is wrong. It is unfair to think that an entire affair comes to an end with an apology and a display of good faith. There should be something more.
On the same note, season 1 and 2 shared the element of amazing fashion. Sylvie's wardrobe is something I would very gladly like to rob. Her entire life philosophy is something I would like to rob. She isn't as uptight as Emily wants her to believe. She is free, independent and at the same time insecure which makes her human. Her life has progress. So does Mindy's. From her confronting past problems to moving ahead romantically. These two women are the only saving grace's of the series now.
Alfie who is latest addition to Emily's thriving romantic life also is somewhat in the grey area. His personality before meeting Emily was intriguing but after that he made her his whole personality. Disappointing as Lucien Laviscount was promising and stole the scenes multiple times.
With an end that was supposed to be shocking, I was left with nothing with gratefulness as my mindless binging could now finally come to an end. The show needs to understand the importance of identities. Identity of the French people and not make it mockery or even villainous. Emily tries to learn French and I feel I have learnt more of the language by watching the show than she has learnt in 8 or 9 months.
The Movie Culture Synopsis
An extremely underwhelming season 2 where very few characters made the binge worthwhile. I am rooting for Sylvie and not caring for any others. The fashion and the cinematography is completely on point and definitely a step above from Season 1. Hopefully the next season is much better and does not remove any of the loveable characters.