Highly acclaimed series, Euphoria released the first episode of their season 2 on the 9th of January 2022. A season that has been anticipated for quite a while is returning with 8 episodes, with each episode released weekly. 
Euphoria Season 2 Cast
Zendaya as Rue
Hunter Schafer as Jules
Jacob Elordi as Nate 
Sydney Sweeney as Cassie
Alexa Demie as Maddy 
Angus Cloud as Fez
Euphoria Season 2 Plot
Taking a trip down Fez's life, the first episode is set right around New Year. It reinstates old dynamics, shows new bad decisions and interesting new romance. 
Euphoria Season 2 Episode 1 Review
There are many instances when I desperately want to relate and often do end up relating to movies and series. I am the kind of person who proudly announces that Fleabag is a series that I relate to. This proves that I will exaggerate a lot of my life to relate to a beloved series. So, when I say that I don't relate to Euphoria at all, know that the series did something that no one has ever done.  
Since the first season was released, the series has created a buzz that will never die down. It has impacted viewers in an irreversible way that was very much needed. Creator and writer, Sam Levison has resurrected every teenage life in the darkest and most graphic way possible without belittling the experiences. More often than not, stories start antagonising painful experiences. The viewer does not need the additional help in distinguishing positive and negative events of the world; a woman being raped on a date is not something anyone wishes to happen to them and neither does one pray to die of a drug overdose. Or at least hopes to never be in a position for that to happen. Levison gave the audience a hard truth and the cast aided him in communicating this harsh reality. 
Season 2 started off with the vision and promise that the season made to the audience. Though every fan was hoping for a good run for their favourite characters, they all had already been prepared for the worst. While none of the characters makes the best decision, they all have managed to be loved by their viewers. There are always discussions ripe about each character where they dissect mannerisms, actions, looks and possible future plotlines. Common to all is the fright and anger that Nate incites in them. Jacob Elordi was the perfect cast for Nate. With merely his presence, he is able to unsettle the audience. A fight response. Everyone knows that he is never up to any good and yet he leaves us shocked; with his chilling performance. In the first episode, he was even better. I could feel myself screaming and asking Cassie to run. They need to give him an Emmy for his performance. There is deep anticipation for his episode.
The first episode was Fez's story.  Given his background, it became pertinent that this season, I will be rooting for him. Angus Cloud has the voice of a boy that I want to protect from the whole world but a story that makes me apprehensive but also curious. The episode gives us uncharacteristic chemistry between Lexi and Fez. Uncharacteristic because unlike their "friends" their first step in the chemistry is a conversation and not outright lust. A tangent I didn't expect in the series but pleasant and unforced. 
What did feel forced though was Ethan. In season 1 the only person I minutely related to was Kat. She was a confident fat girl who was confused about her own confidence and personality. Body positive but insecure when her love interest talks to a skinnier girl. It is painful. Then her love interest, Ethan said something that has set all bars for love pretty high.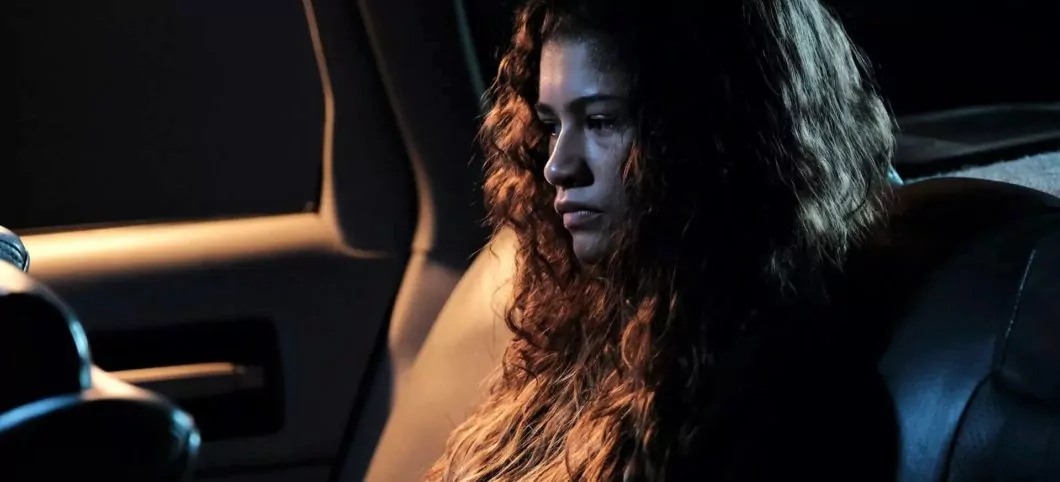 "Is one of us gonna get hurt? Yeah. Probably. But I'll do my best to make sure that it's me." 
Naturally, he became my favourite in the show. Waiting eagerly for his appearance, I sat for 47 mins with goosebumps only to see him for less than 15 secs. While I am grateful for Lexi (Maude Apatow) to get a possible storyline, I also desperately want Ethan to get one too. From the trailer there are hopes for him to be in the rest of the episodes for longer than 15 secs, I have learnt to expect the worst in Euphoria. Quoting Zendaya from one of her other works "Expect disappointment and you won't get disappointed. 
Talking about Zendaya, she is the executive producer as well as the person every fan prayers for, Rue in Euphoria. She had one of the most amazing scenes in the episode; lip-syncing to Hit 'Em Up by 2PAC while driving to a drug deal with Fez and Ash. Things go south, obviously, but Twitter makes it even worse. She is in the middle of a heated debate where many accuse her of not being nude for the show because of a superiority complex. As euphoria is a show that does not shy away from graphic content like nude scenes, this episode has its fair share of them. They also cast an adult movie star, Chloe Cherry as a girlfriend of a drug dealer who gets nude along with the others in the scene along with Zendaya who didn't. Similarly, Sydney Sweeney also has her nude scene so accusations rose to say that why did Zendaya get special treatment. It is scary how the mind of our kind works. Not focusing on the relevant details of the show, they would rather focus on the body of an actor. There are many reasons why such a decision is made including, Rue being an underage girl who was being forced to strip in front of drug dealers who were checking her for wire. 
This reaction of the viewers furthers the relevance of the series. Fortunately, the series is about the heinous reactions of society to harmful events and their implications on teenagers. This entire episode and the reaction it got only increased the respect I have for the series. There is a lot of delicacies and thought by the people working on the series to make it possible and display the reality of teenage life now. Jules returns to Rue's life who also meets the newest addition to the group, Elliot. Played by Dominique Fike, Elliot and Rue get high together and till now all we know is that he knows how to check a pulse. 
Expectations for the season was sky high before the release. The episode showed that the creators were able to exceed all the expectations which bring me to hope that the rest of the season is able to continue this fire. 
Euphoria Season 2 Episode 2 Review
Set after the hectic New Year's Eve party, episode 2 is about ripples caused from the events of the celebration. Each character continues losing their personal battles and inviting new foes.
The first episode of this season was chaotic; a lot of was happening in the same party. There was a mess that was deliberate in the sense of the celebration being themed around it. An entire foundation was laid down for the other episodes to disrupt and break it down because that is what the show is about; pain. Every character has their share and some actually crave it. Maddy is a person who was in the centre of everything. If the series wasn't narrated by Rue, she would have been the centre of the show because if it is not her character then it is Alexa Demie who knows how to steal the show. Morally grey decisions are the driving force of the show so for Maddy to almost always border toxic, it was certain that her mode to fight racism and bullying would be through debatable actions. Did I gasp out it in surprise? Yes. Having started rooting for her slightly more in this episode, Maddy needs to go to therapy. Her growing friendship with Jules, made her reveal that the only reason she wants to get back with Nate was for thrill even though it wasn't good. She has mentioned that she envies Kat and Ethan's relationship but at the same time she would never be satisfied with a sweet love. This is a hard reality of the time. People has set the bar so low for each other that people get dragged into toxic relationship which they can't and don't want to get out of.
Speaking of Kat and Ethan, they may not be as happy as Maddy thinks. For Ethan the sweet, lovely and slightly cringe love was ideal, Kat is not on board. The show does an amazing job of making the audience also dislike the only "non-toxic" relationship. It feels foreign and almost out of place. Kat is torn between not loving the most perfect person ever so much so that she dreams about the forbidden. The dreams get darker and more cornering as she is screamed at by societally accepted gorgeous people. In a very picturesque manner, Levison has depicted the screaming mind of an overthinker. The thing that fell off place in this scene was the lack of space that Kat got to silence it. An overthinking bout does not die away with a text. It felt afoot.
Ethan was given no dialogue apart from being mushy about his love so giving him no dialogue when things weren't as lovely is the most perfect way to convey his unhappiness. Euphoria is known for various things like the perfect makeup, high budgeted great sound score or the fantastic performances of each actor but in this episode, I was mystified by the cinematography. In sync with their hopes of Levison, this episode did give the effect of being at a party long after it was over. Everyone moved on but these characters were drowning in unhappiness.
Lexi who was the one character that was passively present in everything in a way that in the first season she seemed almost aloof to the other's agony in this season is aware. She realises that she was always too scared to do anything. While I prayed that this realisation would lead to her debating in class or running for president, she had other plans. Giving us a small look into her past where her passivity was the cause of loss, the scene cut to her having changed herself. Her fashion colour palette changed to a darker, less innocent. The wardrobe change was still in sync with her style, preventing an overlap of storyline with that of Kat in season 1.
With one storyline overlap being missed, another one was explored. The ghastly CD from season 1 has been mentioned again. Nate and Cal finally have the "talk," the one that would have made the most toxic character of the show become a child again in front of the scariest one. The episode leaves us hanging with the outcome of the much-awaited conversation. The tension of the entire reveal was at its all-time high because Cal had almost done something that would have switched him to be the most hated character. Let's just say, it wasn't conclusive if the weary cloud had passed because there was someone who would always lookout.
Cassie is someone who desperately needs someone to look out for her. At least the viewers need someone to look out for her so that she doesn't jeopardize her whole life. Through her, we are given clues to what Nate Jacobs might be planning now. His comment about Maddy and Cassie's friendship shows us that even with the near-death experience his personality remains the same. The small glimmer of the hope of Nate being a romantic and moving on from being controlling or the cliché "American white heterosexual real man" was also gone. He is vested in his father's actions even though he thinks that he was nothing to do with him.
With all this mess, the one Rue has dug for herself is on a lighter note. She is doing what she always does, lying about using drugs. To her mother and to Jules but now she has Elliot with whom she doesn't lie and does drugs. This episode was a clarification that even with Jules and Rue having a romantic relationship, Elliot would be Rue's friend. Levison wants to give them a relationship but he is also depicted that with both their world's being smaller and only revolving around each other in the first season, this time with both of them making friends, there might be issues of insecurity and jealousy. It wouldn't be Euphoria without realistic but highly overwhelming bad relationships.
There will never be enough Fez and Lexi scenes. The mind wants what it wants even if it isn't really favourable. Euphoria managed to make me not like Ethan and Kat's relationship so at least I can confirm that this episode is persuasive. Beautiful scenes and an even better sound score but the music is something we all know Euphoria does well.
Euphoria Season 2 Complete Review & Summary
Lexi who was the one character that was passively present in everything in a way that in the first season she seemed almost aloof to the other's agony in this season is aware. She realises that she was always too scared to do anything. While I prayed that this realisation would lead to her debating in class or running for president, she had other plans. Giving us a small look into her past where her passivity was the cause of loss, the scene cut to her having changed herself. Her fashion colour palette changed to a darker, less innocent tone. The wardrobe change was still in sync with her style, preventing an overlap of the storyline with that of Kat in season 1. Her change is given far more time. Her innocence is peaking even if her self confidence is rising. The play was the best part of the series and I can say that the wait for the last two episodes was worth it. 
On one hand, Zendaya is a goddess, whose every step on this planet is divine, on the other hand, is Rue Bennet, who might not know the word "grace." Episode 5 is about Rue. I am grateful to Euphoria for giving an entire episode of almost 55 minutes only to Zendaya's Rue. She was running through the town and materialising the chaos of her life onto the world. Remember how she is MJ in Spider-man, well, she is the one pulling off stunts in this episode. Spider-man, who? Mentioning everything Zendaya has done is important because this episode showed that she can do everything. She is a professional dancer, yet in this episode, she had walked, ran and flail around in the most haphazard manner. 
She is so in touch with Rue Bennet that all through the episode one cannot question about a teenager going through drug withdrawal is able to move like that. Even in the scenes where she is jumping over fences or down through a window, she is committed to not letting the dancer peak out for even a millisecond. Zendaya deserves all the hype that she gets. In the first season, we could point to her scene outside Fez's house where she was begging for drugs as the scene that got her the Emmy. This time too we know that this episode as a whole is going to get her the Emmy. 
Through the first 4 episodes, we have seen Rue sinking. Lying to everyone she loves and hurting them as much as she can, the viewers know that nothing good is going to happen. Hope is a cruel thing. The episode unlike all others starts off on an aggressive note. Rue's mother confronts her about relapsing and after a heated argument, her mother reveals that she knows Rue has started using hard stuff through Jules. Something clicks in Rue's head and she starts searching for the suitcase where she staked all her drugs. This scene's chaos didn't get communicated to me as fictional and something happening on a screen but as a pain, I am feeling first-hand. Nika King, Zendaya and Storm Reid did a chilling job in showing the pain of relapse and withdrawal of a drug addict to the addict and to the family so well. Goosebumps. 
Zendaya gives a performance that is mixed with active emotions and suppressed ones. The way her face crashes on realising that her breakdown was heard by Jules and still is panicked about the suitcase was just top-level acting. Hunter Schafer as Jules too did such a great performance. When Rue was saying horrible things up at Jules's face, Jules as a character who has grown up with an addict was suppressing all the tears that were pooling up. She stuck to her point of loving Rue and Hunter conveyed all these emotions perfectly. 
Moving on from the performances, which is going to be hard, I love the name for this episode. Stand Still Like a Hummingbird is a perfect name for this episode because after running everywhere and being a force of destruction, Rue has done nothing. She has fluttered around and ended up in the same place. Helpless. Though, we don't know if it was Rue who opened the door to her home, seeing her mother's relief we can say it was. If after running away, stealing and getting almost kidnapped by Laurie, she returns back home, then the title could not have been more apt.
Finally, let's talk about Cassie. Sydney Sweeny deserves all the praise she is getting. She has made the show hers. Her scenes are iconic and her acting is perfect. Her story has made us hate her but her performance still guilty makes us want her life to get better. Far from Nate at least. Sam did want Cassie to shock all, which she admittedly did multiple times (puking in a pool filled with people, come on) but it was the complete self-sacrifice to the devil (read Nate Jacobs) that has blown our mind. It is in her character to do so and yet one couldn't believe this to be true. Just the way the ending of every single character's story was, shocking. The last thing I want to say is Elliot is a great addition. Labrinth is a music genius and he gave a beautiful song to Dominic Fike to sing. I can't compare the two seasons but truthfully, I loved Euphoria's second season 2. I will be waiting for the third season as eagerly as I did season 2.
The Movie Culture Synopsis
Zendaya showed us yet again that she is versatile but it was Jacob who left the most impacting performances. Fez made me fall into a rather problematic love and Lexi is the one soul in the series that I want to protect forever. It is a series that I would force everyone to watch because there is so much to talk and know about.