Fatherhood is a 2021 American comedy-drama film directed by Paul Weitz & screenplay written by Weitz and Dana Stevens.
Fatherhood Movie Cast
Kevin Hart as Matthew Logelin
Deborah Ayorinde as Liz Logelin
Melody Hurd as Maddy Logelin
DeWanda Wise as Swan
Alfre Woodard as Marian
Frankie Faison as Mike
Lil Rey Howrey as Jordan
Anthony Carrigan as Oscar
Paul Reiser as Howard
Some Facts Related to Fatherhood Movie
The movie was released on around the time of Father's Day. It was released on 18th June just 2 days before Father's Day.
Fatherhood movie is based on Real life story of Matthew Logelin (American Author). It is based on his memoir Two Kisses for Maddy: A Memoir of Loss and Love.
There are few changes in the story of movie as compared to the book. Like,
I: The movie portrays that Matt has his job & lives in Boston & even raised Maddy there but actually the real-life Matt raised his daughter in California & India.
II: In the film, the Kevin Hart's character Matt faces a difficulty from his mother-in-law, played by Alfree Woodard. She initially uses to doubt & nag at Logelin for his poor parenting skills. But in reality, Matthew's real-life mother-in-law wasn't like that she was way more supportive than the version shown in the film.
III: In the film it was shown that Matthew Logelin & Lizzie Molyneux (his ultimate love interest) were set up by their friends, but in reality, Matt & Lizzie met on a flight.
Fatherhood Movie Plot
The movie starts with the funeral scene, later on explaining what & how exactly did everything happen. Matt Logelin (Kevin Hart), was happy & excited to start parenthood life along with his wife Liz (Deborah Ayorinde), but his life drastically changes. His wife dies from a pulmonary embolism day after giving birth to their daughter (Maddy). He couldn't even grief properly as he now has to look after their daughter.
Though his mother-in-law & his mother both were ready to help him to raise Maddy, they (specially his mother-in-law) tried to convince him to move to Minnesota as they lived there & it would be easier for them to help Matt. But he refused to go to with them & to stay back here in Boston itself because of job & the fact that the house they were staying had memories with his wife.
So, he decided to stay back in Boston & raise Maddy there by himself. He resumed to work immediately & even took Maddy along with him, his friends & coworkers were really supportive & helped him to take care of her. Initially People around him, even he himself were doubtful about him raising Maddy but along with time he learned it.
As he was a single parent his friends always tried to set him up with someone but he couldn't move on & forget his beloved wife who was no more until he met Lizzie / Swan , after her (Swan's) entry in his life he sort not completely neglected but couldn't give his complete attention to Maddy, Later when Maddy accidentally injured her head & needed him he was a bit late to be with her, he thought he could've lost her, he was feeling guilty & started blaming & questioning his parenting, He even left Swan after that.
Further he thought leaving her with his in laws is the best thing as she was also happy being with her grandparents, around same time he got a huge opportunity in his job he got the offer to take over his boss's position but due to new position he also had to travel so he left Maddy along with his in laws & left to airport for Croatia along with Oscar for work but at the airport certain surrounding incidents gave him flashbacks of Maddy & her childhood like when she first time stood on her feet & took few steps by her own that made him feel happy & proud, so he decided to return to Maddy as even he couldn't stay apart from her for a long time.
By end of movie everything was fine. Matt & Maddy reunite with Swan & there was an adorable moment among these three hinting the new beginnings for Matt & Maddy.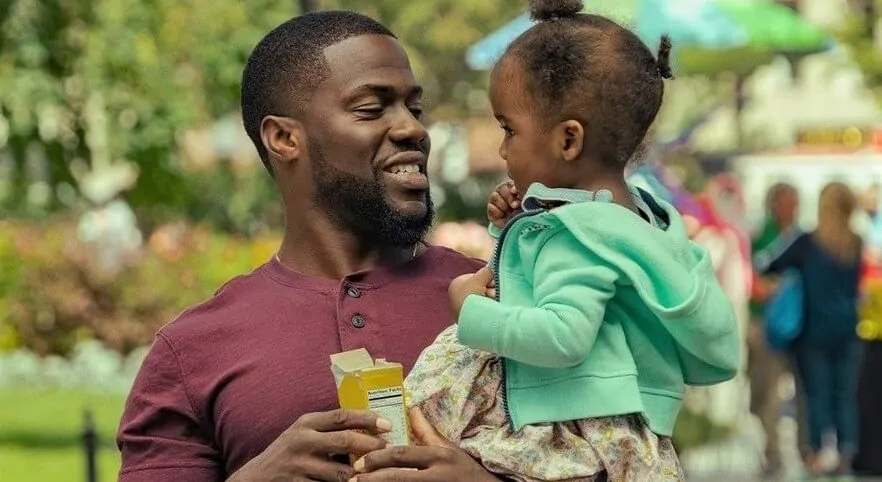 Fatherhood Movie: Characters and Their Highlights
By taking up such emotional role Kevin Hart proved that he can't be defined as just a comedian. He finely showcased the love, care & worries of a father.
Melody Hurd as Maddy Logelin was adorable. Her character Maddy was bold & smart. She kind of steals hearts with her fine performance. Both Kevin's & Melody's portrayal of father & daughter duo was amazing. They made me laugh & cry. Their performance sort of builds a connection.
Although movie focuses on Matt's & Maddy's relation & their story but other characters also did an amazing job. Each & every character did their part well. Marian's concern for her grand daughter & bitter arguments with Matt related to it, Matt's mother who was worried for him & his daughter but at the same time she believed in him, Jordan's & Oscar's unique character & their unique humor, Lizzie's / Swan's chemistry with Matt & the way she was trying to make a connection with Maddy all these were kind of plus points to the story.
Fatherhood Movie review
This movie showcases challenges, love & care of parenting (specially of a single parent). Watching this movie was like experiencing lots of emotions. Certain scenes definitely got my eyes teary.
There was light & subtle humor to give a break from the emotional aspect & make us laugh a little. The movie exhibited the challenges & tender side of a single dad pretty well
I like that Fatherhood narrates Matt's story without dramatizing it way too much as it would make the story to lose its essence, also adequate amount of humor was also there to balance emotional scenes. With time Matt matured as a father along with his daughter.
He went from being skeptical about him raising Maddy alone to taking a really good care of her in his own way. At first, he wished if Maddy had only one parent then it should have been Liz (her mother) & not him as she would've taken better care of Maddy as compared to him. But he also took a good care of her & raised her pretty well
At few points jokes felt a bit pointless. But Fatherhood felt simple and not too bland, although movie's main focus was on depict Matt's & Maddy's story but I wish they would have shown more of Liz (played by Deborah Ayorinde) & Matt's (played by Kevin Hart) story.
Overall, it's a good tender & heartwarming movie to watch along with family at weekend. I think single parents & even children who have only one parent might like & also sort of connect with the movie. If you're into real life & family content related movies then this movie is definitely worth watching.
Fatherhood Movie Critical Reception
Fatherhood stands at 66% on Rotten Tomatoes with the consensus being,  "Fatherhood offers few surprises, but strong work from a smartly assembled cast gives this fact-based story real emotional resonance." It has a Metascore of 53.
The Movie Culture Synopsis
Fatherhood takes us through the journey of a single father. Everyone around him at first doubted whether Matt will be able to take proper care of his daughter (Maddy), Even he himself was skeptical about it but still decided to take the responsibility & raise his daughter without his mom's or In Laws help.
With time he got used to it, people around him who first doubted him were now proud that he managed to take good care of Maddy. He had his own ways to raise Maddy, no matter what at the end he tried his best to keep her healthy & happy & do what's best for her.
So, all in all, it's a film which really strikes a lot of emotional chords and it was really pleasant experience which deserves to be seen. Fatherhood is available to watch on Netflix.