Guardian: The Lonely and Great God also called Goblin was an immensely popular South Korean TV drama in 2017. It was authored by the most popular drama scriptwriter Kim Eun sook. It had 16 episodes total on tvN cable network. It was the fifth highest-rated drama in Korean cable television history. It received critical acclaim and was a cultural phenomenon at the time of its release in South Korea. It swept away many awards including a Grand Prize Desand for the writer Kim Eun Sook as well as a Best Actor Daesang for Gong YooYoo at the prestigious 53rd Baeksang Arts Awards, which is a prominent award show in South Korea. It was also quite popular in other countries and especially contributed to the beginning of the Hallyu wave in India and is still watched by K-Drama fanatics. 
Guardian: The Lonely and Great God Cast
Kim Go Eun as Ji Eun tak
Gong Yoo as Kim Shin
Yoo In ah as Sunny
Lee Dong wook as Wang Yeo or the grim reaper
Yook Sung jae as Yoo Deok hwa
Jung Hae in as Choi Tae her
Kim Byun cheol as Park Joong cheon
Guardian: The Lonely and Great God Plot
The main crux of the story takes place in present-day Korea but it originally starts in ancient times. Kim Shin (Gong Yoo) is an unbeatable general in wars that he fights for the king who grows jealous of Shin. After killing everyone Kim Shin holds dear, the king proceeds to end Shin's life in a fit of rage. However, Shin comes back to life as a dokkaebi (a goblin – one of the Korean mythical creatures) that is immortal. 900 years have passed and he is waiting for his bride who has the power to remove a sword wedged in his chest. Doing that can bring an end to his endless existence. Once Shin saves a pregnant woman who is destined to die interfering with the balance of fate with a disgruntled grim reaper.
The woman goes on to give birth to a girl who is called Ji Eun tak (Kim Go eun). She grows up with the ability to see ghosts and is called 'Miscellaneously omitted person' by the reaper who is also Kim Shin's close friend. Later she gets tangled with Kim Shin, the reaper, a mysterious lady called Sunny and Deal hwa whose family serves the goblin for generations as he is indebted to him. She believes she is the Goblin's bride and gets whisked up into a journey of love, friendship and happiness throughout the series.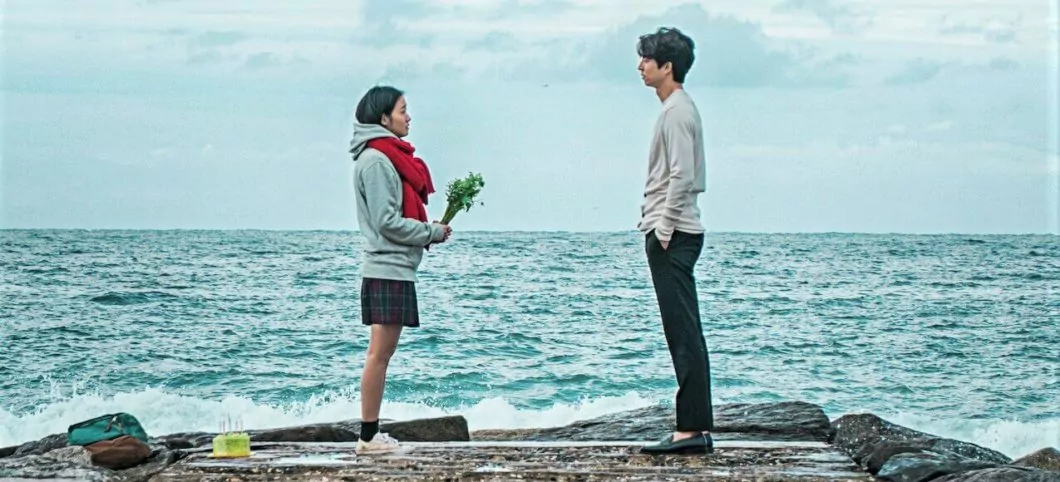 Guardian: The Lonely and Great God Review
Guardian is really one of the most memorable dramas I have watched. It had some amazing cinematography and great chemistry among the cast. The soundtracks and OSTs were mind-blowingly good and I would still listen to them on repeat. It is a wonderful watch from start to finish and a must-watch for fantasy genre fans. The chemistry between the actors is absolutely off the charts and so it is easy to look past the slow pacing during the middle portion of the drama. It was dragged out a little in the middle part before they got into the main crux of the drama. Mostly showing flashbacks to pad out the run time.
All the relationship dynamics of the main cast, that is the budding bromance between Shin and the reaper as well as the romantic pairings of Sunny with the reaper and Shin with Euntak, were given enough time to develop over the course of the show. I liked the romance to a certain degree but there was something that was a turn-off. I didn't like the age gap factor of the Kim Shin and Eun tak couple. I felt that maybe if the writers had changed Eun Tak from a high schooler to maybe a little bit older it would have been better. Either this or maybe cast an actor who looked less mature than Gong Yoo. I felt Sunny and the reapers romance more natural and realistic as both are adults and somewhat look closer in age.
I tried to overlook the age and height difference between Euntak and Shin but it still made me cringe when I felt they looked like a father and daughter duo. But apart from that I quite like all the other aspects of the series. It really had some beautiful cinematography moments throughout that I couldn't look away from. The drama was a great aesthetic pleasure and had great dialogue too. There were also many funny interactions among the characters that I couldn't stop laughing at. Especially between Shin and the reaper when their personalities compliment each other as they are forced to live together at one point in the series. Their reactions and banter were really entertaining.
The K-Drama had one of the best endings in the history of K-Dramas as it was quite satisfying to watch. It gave a good closure to the story and didn't leave me unhappy at all. The series has soundtracks that were masterpieces in their own right. Many people loved the intro song that they even made a special recording to turn it into a full-length song. 'Beautiful' by Crush and 'Stay with me' by Punch and Chanyeol were amazing too. The show was well written and had great direction thanks to Kim Eun sook.  Goblin is something that's entirely new and refreshing. The story does a good job of exploring the fascinating and rich mythology in a story destined to stay in the memories of the audience long after its completion. No one has explored the Dokkaebi folklore to the extent that writer Eun Sook has in this medium.
The Movie Culture Synopsis
If you are fond of love, fantasy and supernatural series but feel fatigued by the overpopulated vampires, zombies, werewolf and witch stories put there. You should try out this K-Drama for its unique take on supernatural folklore and immortal characters. It can be streamed on Netflix and Viki Rakuten as well.