Hanna is an American action-drama series, based on the 2011 film of the same name. The series was created and written by David Farr and stars Esme Creed-Miles and Mireille Enos. The first episode was made available on Amazon Prime Video as a time-limited preview on February 3, 2019. The full eight-episode first season was released on March 29, 2019, and the second season was released on July 3, 2020. In July 2020, the series was renewed for a third and final season. 
Hanna Season 3 Plot
Hanna begins her journey to take down the sinister organization Utrax by destroying it from the inside. With help from her previous nemesis and former-CIA agent Marissa Wiegler as well as agent John Carmichael, Hanna hopes to succeed with her plans.
But as new foes begin to suspect her plot, including the mysterious Gordon Evans, could everything she's worked for be undone?
Hanna Season 3 Cast and Characters
Main Cast
Esme Creed Miles as Hanna, a girl who was part of the original UTRAX program as an infant but was rescued by Erik Heller, who raised and trained her on his own
Mireille Enos as Marissa Wiegler, the CIA operative put in charge of the original UTRAX program, who has an obsessive interest in Hanna but who turns from a foe to an ally of Hanna
Joel Kinnaman as Erik Heller , a former CIA operative who worked for UTRAX but rescued Hanna after falling in love with Johanna, her mother
Noah Taylor as Dr. Roland Kunek , a scientist who designed the regimen for the young agents in the second UTRAX program
Dermot Mulroney as John Carmichael , the CIA operative at the helm of both UTRAX programs
Ray Liotta as Gordon Evans, a shadowy figure who seems to be the spider at the centre of Ultrax.
Hanna Season 3: Recurring Cast
CIA
Khalid Abdalla as Jerome Sawyer (season 1)
Justin Salinger as Carl Meisner (season 1)
Andy Nyman as Jacobs (season 1)
Anthony Welsh as Leo Garner (season 2), a supervisor at The Meadows who is responsible for indoctrinating the trainees
Cherrelle Skeete as Terri Miller (season 2), a new transfer who is in charge of using social media interaction to cultivate trainees at The Meadows
Katie Clarkson Hill as Joanne McCoy (season 2), a CIA officer who works under Carmichael at The Meadows.
England
Rhianne Barreto as Sophie (season 1), Hanna's new friend whose family Hanna meets in Morocco
Germany
Stefan Rudolf as Rudi (season 1)
Katharina Heyer as Elsa (season 1)
Peter Ferdinando as Lucas (season 1)
Benno Furmann as Dieter (season 1)
Poland
Joanna Kulig as Johanna Petrescu (season 1), Hanna's mother
UTRAX
Yasmin Monet Prince as Girl 249 / Clara Mahan, a trainee at the UTRAX facility who is rescued and escapes with Hanna
Áine Rose Daly as Girl 242 / Sandy Phillips, a trainee at the UTRAX facility who is transferred to the Meadows
Gianna Kiehl as Jules Allen (season 2), a trainee at the Meadows facility whom Sandy befriends
Guest
CIA and UTRAX
Michelle Dunan as False Marissa (season 1)
Varada Sethu as CIA Analyst McArthur (season 1)
Andrea Deck as Carlsson (season 1)
Emma D'Arcy as Sonia Richter (season 2), a new addition to Marissa's Paris office, but she is actually working for Carmichael
England
Lyndsey Marshal as Rachel (season 1), Sophie's mother
Phaldut Sharma as Tom (season 1), Sophie's father
Germany
Ursula Werner as Sara Heller (season 1), Erik Heller's mother
Narges Rashidi as Sima (season 1), Dieter's wife
Hanna Season 1 Flashback
15 years after Erik Heller rescues baby Hanna from a covert Romanian facility, the two live deep in the Polish forest where Erik trains Hanna to be an incredible killer and hunter. Despite that Hanna is keen to grow beyond her isolated world and explore. So she decides to venture away from home. This attracts the attention of CIA agent Marissa Wiegler, who has hunted Hanna since birth. When she is captured by Marissa's men, Hanna fights to escape from the Moroccan CIA facility and join Erik in Berlin. Along the way, she meets Sophie, a British teenager on holiday with her family, who gives Hanna her first proper taste of the real world and the thrill of adolescence. After reuniting with Erik in Berlin, they hide out with his old army friends and she learns more about her father's past. However, Hanna continues her desire for the normal life she glimpsed with Sophie and becomes increasingly frustrated at the restrictions her own father imposes on her. Sensing Marissa is closing in on them, Erik and his friends begin to prepare for an attack.
While Erik is holding Marissa prisoner, in order to negotiate a deal to get him and Hanna safely out of Berlin, Hanna hides out with Dieter and his family. Desperate to know more about what her father is up to, Hanna discovers a huge secret in her own past. Still suffering from her revelations about Erik, Hanna hides out in London with Sophie, who is keeping her a secret from her parents. Here, Sophie persuades Hanna to attend a school party where Hanna experiences the thrill of a teenage crush for the first time.
Meanwhile, a captured Erik is brutally interrogated by Sawyer and his men. Realizing that Hanna will no longer accept anything but the full truth, Erik takes her back to Romania so she can finally learn more about her past. Meanwhile, Marissa begins to sense that Sawyer has not been telling her the full truth about UTRAX. When Erik reveals to Hanna the truth about UTRAX, she is determined to take action. Meanwhile, Marissa attempts to find out from Sawyer what has really been going on at the facility. Erik and Hanna attempt to rescue trainees from UTRAX facility, however, they manage to convince only one trainee, Clara, to escape with them. They managed to escape the facility with help from Clara, but Erik succumbs to his injuries.
Hanna Season 2 Flashback
Hanna hides Clara in the vast forest of Northern Romania as the remaining trainees are transferred to an educational facility called The Meadows. Here they are assigned new identities and encouraged to socialize with each other. Meanwhile Marissa sets about finding Clara by posing as her mother online. She lures her to a hotel in Bucharest, where she is ambushed and captured by Utrax. Hanna follows but is reunited with Marissa. Marissa and Hanna return to Paris, and Clara is re-introduced to the group at The Meadows. Pursuing Clara, Hanna finds the pharmaceutical company behind the Utrax medical implants and takes part in a drug trial. She discovers that the drugs are bound for the trainees at The Meadows.
Hanna returns to Pharmaceuticals and follows the drugs out of the city, aware that this will lead her to The Meadows. Hanna arrives at The Meadows, ready to save Clara, but is shocked to discover that Clara appears to have settled in. Marissa joins Hanna at The Meadows, assuring her that she is on her side by arranging an escape plan for that evening. Hanna convinces Clara to join them, but the familial community of The Meadows proves too comforting for her, and she betrays Hanna.
Marissa is imprisoned in The Meadows while Hanna is encouraged to embrace her new identity as Mia Wolff. Hanna and Jules are then sent on their first mission where they are to kill a journalist in London who is planning to meet with a military lawyer intent on exposing Utrax's secrets. Meanwhile, Sandy and Clara fly to Barcelona to recover the evidence. Hanna arrives in Barcelona, intent on saving Gelder and persuading Clara to leave Utrax while Marissa is tasked with finding Hanna by Mannion's colleague, Grant. Carmichael arrives in Barcelona and Hanna, Clara and Kat hide in a hillside villa. Hanna returns to the hotel and recovers Gelder's target list. She is helped by Marissa, who follows Carmichael to the villa and blackmails him into bringing his fellow Utrax leaders to justice. Hanna allows Clara to reunite with her mother before returning to Marissa to help destroy Utrax.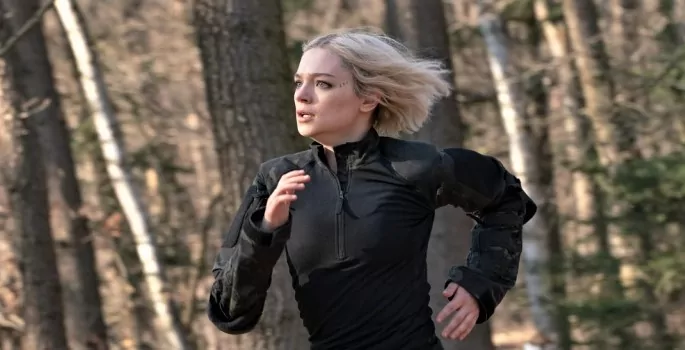 Hanna Season 3 Review
The final season begins with Hanna returning to The Meadows with her cover as a loyal Utrax trainee intact. This is due to Carmichael who leads the trainee program but instead has been persuaded by Marissa to help them. This fun fact does indeed bring a sense of excitement to the beginning of the final season of Hanna.
All the major characters that we have been following from the first season have been build up so perfectly that this final season brings out all their potential out in the open in an epic finale. The unique relationship between Marissa and Hanna and their team up to destroy Ultrax is portrayed in a very solemn yet majestic way. The character development of Hanna from a teen who just wants to go beyond her isolated world to a person doing what she thinks is right truly gives out an appealing charm to her. The mystery of the character Gordon Evans is also an eye catching part of the third season which brings out a shadowy vibe to the story. As the only person who can scare the calm, cool and collected Marissa, the dark veil surrounding Evans brings out a very strong sense of anticipation and curiosity to the story.
Every scene in the final season is one full package of curiosity where each moment keeps you on the edge of your seats. It is so filled with unpredictability that it makes watching the final season so much more fun.
The genre of an action drama TV series based on secret agents is very common now but Hanna truly made an impact on this unique world. Every scene is full of moments that are very understandable and relatable once seen. This makes Hanna a very special series of this genre. The final season truly does justice to the story of Hanna and makes the entire trilogy an amazing saga.
The Movie Culture Synopsis
The final season of Hanna brings out the best conclusion to the entire series of three seasons. It has the right amount of action, drama, mystery and unpredictability that it makes the story of Hanna one hell of a TV series. Hanna Season 3 is available to stream on Amazon Prime Video.