Hotel Del Luna is one of those rare K-Dramas that strikes you at the right moment and leaves a deep emotional crater in its wake. This Korean Drama with 16 episodes expertly blends romance, drama, horror, and lots of twists and turns through its dual narrative split between the past and present time before converging concisely in a satisfying finale.
Combining the talents of IU and Jin-goo,  Hotel Del luna successfully delivered one of the best K-Dramas of the year 2020 in style. It can be called a dark fantasy and romantic comedy genre series and was directed by Oh Choong Hwang. It is one of the most viewed tvN dramas of 2019, making it one of the highest-rated Korean dramas in cable television history.
Hotel Del Luna K-Drama Cast
Yeo Jin goo as Gu Chan sung
IU (Lee Ji eun) as Jang Man wol
Kang Mi na as Kim Yu na
P.O as Kim Hyun joong
Lee Tae soon as Yeon woo
Lee Do Hyun as Go Chung myung
Jung Dong hwan as manager Noh
Hotel Del Luna K-Drama Plot
Hotel Del luna is not like any ordinary hotel; rather it is a gateway to the realm of the living and the dead. A supernatural place that is not visible in its real form during daytime and humans can only come across the place under special circumstances. Its staff and clients are all ghosts except for Gu Chan sung the new manager. As he was given the power to see the ghosts by Man wol the owner of the Hotel. Man wol's soul is bound to the hotel due to a huge sin she committed a millennium ago. The clients wait at the hotel while coming to terms with unfinished business in their former life before they pass to the afterlife and continue in the cycle of reincarnation. Hence Gu Chan sung meets a lot of ghosts with unfinished business who refuse to leave.
The staff in particular have not left the hotel for decades or centuries as they have some unsettled grudges that tie them to the place in waiting. Hence Gu Chan sung, a human, was recruited as they need to interact with the normal world in certain instances like paying bills or fulfilling the ghost requests involving still living relatives or friends. As a result of manipulation by the deity, Mago Jang Man wol meets Gu Chan sung's father and makes a deal with him that his son has to work for the hotel after he turns 20 years old in exchange for his life. He agrees in order to save his son and we see that Gu Chan sung grows up to be a fine, level-headed young man with a soft heart. Through Gu Chan sung the mysteries and secrets behind the hotel and its owner are revealed.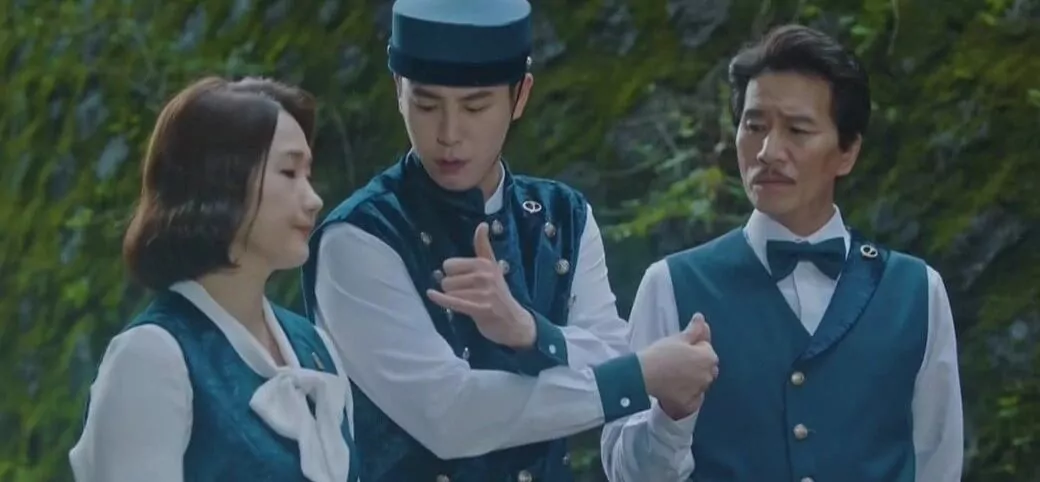 Hotel Del Luna K-Drama Review
The series twists and turns around plenty of subplots throughout the series, the heart of it lies in the tortured and grief-stricken soul of Man wol. As a way of atoning for her sins she was forced to become the owner of Hotel Del luna, a gateway between the living and spiritual realms, her world is turned upside down when hotelier Chan sung arrives to become the new manager. As Chan sung learns more about the hotel and the staff Hyun Joong, Mr. Kim, and Ms. Choi, what follows is an unlikely love story woven around elements of horror and supernatural drama. It is really impressive to witness how Del luna manages its different genres. It is not uncommon to see the episodes effortlessly change between intense horror and supernatural frights over to genuine laugh-out-loud comedy in the next scenes without it feeling forced or contrived.
It is all thanks to the great script writing but also because of IU who steals the show here. Due to her award-winning performance,  her portrayal of Man wol steals all the spotlight. Even Jin goo given his magnificent performance of The Crowned clown earlier that year, it is impressive that he doesn't share most of the spotlight with IU. All thanks to IU having top-notch charisma and acting in Del luna. As each episode clocks in at about 70 minutes, there is a consistency to Hotel Del luna that allows each episode to weave an individual tale while progressing the main narrative,  especially midway through the series more stand-alone segments come to the foreground. The exploration of Man wol's painful past is nicely implemented and adds an element of mystery to the proceedings this helps keep the show unpredictable and thorough.  Along with Man wol's meaningful character arcs, we are presented with other characters with their own arcs exploring their pasts, wishes, and growth. To be honest I find Chan sung as the weakest character out of all as he doesn't show much growth or development in character over the weeks except for his increasing fondness of Man wol.
By comparison, witnessing the various new Hotel guests fulfilling their desires and getting over their fears makes for a much more satisfying watch. It is particularly interesting to watch the side characters of the father and son involved in the hit and run getting solid attention to have a satisfying and proper send-off. Aesthetically speaking Hotel Del luna looks fantastic too and the visual cues in the series, with the use of neon colors and interesting scene composition, make this K-Drama visually pleasing to watch. Complementing this we have the best K-Pop soundtracks of the year combined with the visuals Hotel Del luna makes a powerhouse series.
The Movie Culture Synopsis
Hotel Del luna is a must-watch for romantic and comedy Korean drama lovers. The series is surprising and has ample amounts of twists and turns to keep you hooked right to the last episode.  Although a few subplots like the Ji won ghost angle may drag a bit too long, for the most part, Hotel Del luna makes a worthy watch.
It is available to stream on Netflix as well as Viki Rakuten. I recommend streaming it for all IU fans and lovers of strong female K-Drama leads. It has a protagonist similar to It's Ok To Not Be Ok so its fans should definitely check out Hotel Del luna too.