I Care a Lot is a 2020 American dark comedy thriller film which involves a greed driven businesswoman and her troubles with a Russian Gangster seeking his mom. It is fast paced, adrenaline inducing ride which always keeps the viewer on the edge of their seat. Driven by spectacular performances, it is wild treat for everyone who loves a good antagonist story. 
I Care a Lot Movie Cast
Rosamund Pike as Marla Grayson
Peter Dinklage as Roman Lunyov
Dianne Weist as Jennifer Peterson
Eiza González as Fran
I Care a Lot Movie Plot
Marla Grayson is a professional, court-appointed guardian for dozens of elderly wards whose assets she seizes and cunningly bilks through dubious but legal means. It's a well-oiled racket that Marla and her business-partner and lover, Fran use with brutal efficiency on their latest "cherry," Jennifer Peterson – a wealthy retiree with no living heirs or family. But when their mark turns out to have an equally shady secret of her own and connections to a volatile gangster, Marla is forced to level up in a game only predators can play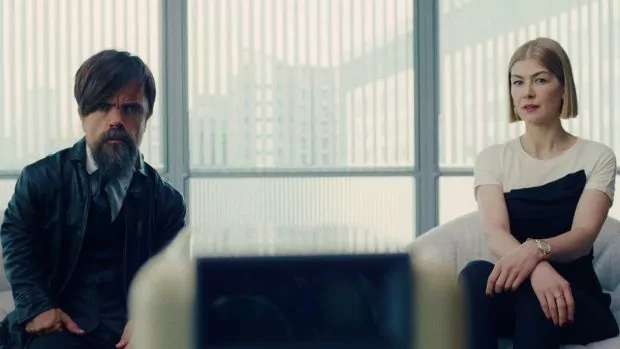 I Care a Lot Movie Review
I care a lot is a story of an antihero trying to earn a fortune for herself. It starts off with a businesswoman whose earnings depend on the assets of the elderly people in her care. By taking advantage of the emergency care provision of the law, she can effectively acquire any adult and confiscate all of their belongings, by subtly implying that all of this is for their own good. And like every good business story, her luck takes a wild turn when she stumbles upon a jackpot in the guise of an old woman with ample riches and no one to take care of it. 
The story deeply emphasizes on the morality of this process. Every performance in this movie is compelling, but it's the women which bring this movie to life. Rosamund is back again to play the negative role, and at this point, this genre feels almost homely for her. Her grace and determination in bringing out the ruthlessness of this woman, while still caring tons for those who actually matter, is something to make a note of. With each progression we see her desires and her thirst for money unravel. She is as intelligent as the script allows her to be and as callous as her enthralling portrayal pushes her to be. The fact that the old people are more or less being trapped involuntarily, is highlighted vigorously throughout the story, especially by the presence of Jennifer Peterson played by Dianne Wiest. We see this character go from a jolly, well to do woman to a constrained, suffocated inmate who is now surrounded by 50 strangers in a cage. She makes the viewer feel for herself along with the countless other elders facing the same imprisonment with her. 
J Blakeson brilliantly conceives the screenplay into an all out adrenaline pumping ride. Even with an ample amount of glaring plot holes (which I will come back to), the movie hardly feels dull in any frame. The shots feel lively and vibrant and the editing truly compliments the tone and style of the movie. It is one hell of a stylish movie, with synth and electro wave flowing harmoniously in every thrilling sequence. The pacing takes a short while to establish the atmosphere and then takes a full pedal while cruising through the war between Rosamund and Peter's characters. Peter Dinklage is an actor for whom my admiration has always been through the roof, yet in this, his portrayal of a deranged Russian mafia felt subtle, too toned down to a point where it was sort of comical watching him and his crew make rash decisions and then pay for it. Maybe that was the intention of the script and it did bring out a lot of dark humor, even if it made the movie feel unconvincing at times. 
This also brings me to the most obtrusive issue I had with I Care A Lot, the plot holes. Or rather the plot conveniences, because this movie is full of it. The courtroom sequences, interrogation sequences and botched murder attempts developed a strong plot armor which seriously undermined the potential intellect of the screenplay. There were numerous times where I felt that script oversimplified court hearings which are supposed to be a lot more complex and convoluted. And while keeping in mind that the plot is allowed a certain liberty, these issues were too noticeable to pass off as mere conveniences. If you are willing to look past these, this movie is bound to be a fun and thrilling ride. 
In the end it's all about who wins and I suppose it's everyone. Blakeson keeps us following these characters who are gnarly and difficult to root for. Watching the protagonists hack the system and fulfil her quest guided by self-interest, is excruciating and all the more fun. The climax which seemingly brings everything together, makes for a very unanticipated and abrupt ending which is evident by so many viewers being divided in their opinions. My jaw was wide open when I witnessed it and I was in love with every second of it. I Care A Lot is a fresh take on thrillers driven by an antagonist which, even after all of its inconsistencies, manages to be a wild and satisfying ride. 
I Care a Lot Movie Critical Reception
With 186 reviews, the Rotten Tomatoes tomatometer stands at a solid 80%. The consensus states "A searing swipe at late-stage capitalism, I Care A Lot is an exhilarating pitch black comedy with a wicked performance from Rosamund Pike."
The Metascore stands at 66 with generally favourable reviews based on 66 Critic Reviews.
The Movie Culture Synopsis
I Care a Lot is an exhilarating thriller which is carried entirely by its strong lead and the terrific performance of Rosamund Pike. It tosses morality and makes the audience come to terms with an ugly antagonist who can cross any border to reach her personal goals.
While the Plot Holes and Conveniences hamper the experience to an extent, it somehow doesn't affect its engaging pace and keeps the viewer on the edge throughout the runtime.
I Care a Lot Movie is available on Netflix to watch.