Instant Family is a 2018 American family comedy-drama starring Mark Wahlberg and Rose Byrne as parents who adopt three young children, played by Isabela Moner, Gustavo Escobar (Gustavo Quiroz), and Julianna Gamiz. Also starring Margo Martindale, Julie Hagerty, Tig Notaro, and Octavia Spencer, the film is directed by Sean Anders, who wrote the screenplay with John Morris, based in part on Anders' own experiences.
Instant Family Movie Cast
Mark Wahlberg as Peter "Pete" Wagner.
Rose Byrne as Elinore "Ellie" Wagner.
Isabela Moner as Elizabeth "Lizzy" Wagner, 15-years old and the oldest sibling.
Tig Notaro as Sharon, one of the social workers who guide the parents-to-be through the foster care process.
Margo Martindale as Sandy Wagner, Pete's overbearing and goodhearted mother.
Julie Hagerty as Jan, Ellie's soft spoken and naive mother.
Michael O'Keefe as Jerry, Ellie's father.
Octavia Spencer as Karen, the other social worker who guides the parents to-be through the foster care process.
Tom Segura as Russ, Kim's husband.
Gustavo Escobar as Juan Wagner, 10-years old and the middle sibling.
Julianna Gamiz as Lita Wagner, 6-years old and the youngest sibling.
Allyn Rachel as Kim, Ellie's sister.
Charlie McDermott as Stewart, Pete's co-worker.
Valente Rodriguez as Judge Martin T. Rivas, the Adoption Court Judge.
Carson Holmes as Charlie.
Nicholas Logan as Jacob.
Joselin Reyes as Carla.
Eve Harlow as Brenda.
Iliza Shlesinger as October.
Andrea Anders as Jessie.
Gary Weeks as Dirk.
Joan Cusack as Mrs. Howard.
Instant Family Movie Plot
Husband and wife Pete and Ellie Wagner, derided by relatives who think they will never have children, consider adoption. They enroll in foster care, led by social workers Karen and Sharon.
At a fair to meet foster children, Ellie voices her reluctance to adopt a teen, and is confronted by 15-year-old Lizzy, who impresses Pete and Ellie.
Karen and Sharon reveal that Lizzy has two siblings, 10-year-old Juan and 6-year-old Lita, and their mother is a drug addict currently in prison. The Wagners' meeting with Lizzy and her siblings does not result in an immediate "cosmic connection," leading them to reconsider.
At Thanksgiving dinner with Ellie's family, Pete and Ellie explain they have decided not to adopt. The family admits that no one really believed they should adopt, which spurs Ellie to go through with fostering the siblings.
Instant Family Film Review
This film has a strong and powerful message within it and has alot of emotions. Mark Walhberg, Rose Byrne, Octavia Spencer, Isabela Moner did an excellent job in their performances, the emotions and the comedic moments will just enlighten you!
The plot goes something like this , A married couple, Pete and Ellie Wagner decides to adopt and they enroll in a foster care system led by social workers Karen and Sharon, they get confronted by a teenager who also has two siblings to bring with, they adopt all three of them and well there's a heck of a chaos in their lives.
Lizzy, Juan, and Lita move in with the Wagners, whose lives become hectic – Lita refuses to eat anything but potato chips, Juan is overly emotional, and Lizzy resents Ellie's attempts to parent her.
The Wagners turn to a support group of their fellow foster parents. Pete's mother Sandy wins the siblings over by taking the family to Six Flags, but Lizzy disappears with friends and returns late, prompting Pete to ground her. 
Pete and Ellie meet Carla, the siblings' mother, who has been released from prison and wants to reunite with her children. The Wagners express their feelings to the support group, but the social workers explain the system's main goal is to keep families together, and the children might return to their biological mother.
Carla's meetings with her children disrupt the Wagner household; the children become more unruly, leaving Pete and Ellie demotivated and frustrated.
At the children's court hearing, the judge reads a statement from Lizzy, detailing Pete and Ellie's actions in a negative light. He refuses to let Ellie read her own statement, and the children are returned to Carla's care.
Juan and Lita do not want to leave the Wagners, but Lizzy is ready. The next day, Karen and Sharon arrive to inform Lizzy that Carla is not coming to get them, having failed to appear that morning.
They also reveal that, after going to her home to see her, it appears that Carla is using drugs again and claimed Lizzy was the one who signed all her paperwork. Heartbroken, Lizzy runs away, but Pete and Ellie chase after her. They re-assure her that they love her, and the trio reconcile.
Four months later, the family attends a new court hearing, where the judge finalizes Pete and Ellie's adoption of Lizzy, Juan, and Lita. They all pose for a picture, joined by their families and fellow foster families. It's a great film to watch with your family, leave you with a great message and lots of emotions it's a must watch. 
Mark Wahlberg From Music To Acting
Wahlberg first came to fame as the younger brother of Donnie Wahlberg of the successful boy band, New Kids on the Block. Mark, at the age of 13, was one of the group's original members, along with Donnie, but quit after a few months. Danny Wood, Jordan Knight, Jonathan Knight and Joey McIntyre all joined the group after Mark had left.
In 1990, Wahlberg began recording with dancers/rappers Scott Ross (Scottie Gee), Hector Barros (Hector the Booty Inspector), Anthony Thomas (Ashley Ace), and Terry Yancey (DJ-T) as Marky Mark and the Funky Bunch, earning a hit with "Good Vibrations" from their debut album Music for the People. The record, produced by brother Donnie, hit number one on the Billboard Hot 100, later becoming certified as a platinum single. The second single, "Wildside", peaked at number five on Billboard's Hot Singles Sales chart and at number 10 on the Billboard Hot 100.
Wahlberg transitioned from music to acting, with his screen debut in Renaissance Man and his first starring role in Fear. He received critical praise for his performance as porn actor Dirk Diggler in Boogie Nights. In the early 2000s, he ventured into big budget action-oriented movies, such as The Perfect Storm, Planet of the Apes, and The Italian Job.
He was nominated for the Academy Award for Best Supporting Actor for playing a police officer in the crime drama The Departed. He was nominated for the Golden Globe Award for Best Actor for the biographical sports drama The Fighter, in which he starred as Micky Ward. In the 2010s, he landed successful comedy roles with The Other Guys, Ted, its 2015 sequel, Daddy's Home, and its 2017 sequel. He also became the protagonist in the Transformers live-action film franchise. He was the world's best-paid actor in 2017.
Wahlberg also served as executive producer of five HBO series: the comedy-drama Entourage, the period crime drama Boardwalk Empire, the comedy-dramas How to Make It in America and Ballers, and the documentary McMillions. He is co-owner of the Wahlburgers chain and co-starred in the reality TV series about it. He received a star on the Hollywood Walk of Fame in 2010.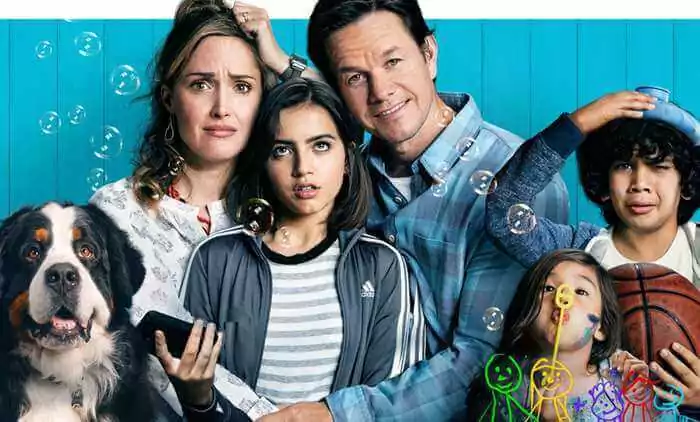 Instant Family Movie Critical Reception
On review aggregator Rotten Tomatoes, the film holds an approval rating of 81% based on 145 reviews and an average rating of 6.56/10. The website's critical consensus reads, "Instant Family may not quite capture the complexity of real-life adoption, but fittingly for the unconditional bond it honors, this flawed yet well-intentioned dramedy is ultimately worth the investment."
On Metacritic, the film has a weighted average score of 57 out of 100, based on 28 critics, indicating "mixed or average reviews".  Audiences polled by CinemaScore gave the film an average grade of "A" on an A+ to F scale, while PostTrak reported filmgoers gave it an 83% overall positive score and a 61% "definite recommend."
The Movie Culture Synopsis
Isabela Moner co-stars alongside Mark Wahlberg for a second time, after previously working together on Transformers: The Last Knight in 2017.
Great performance by Isabela Moner alongside Mark Walhberg.  We loved this film and it's a great family movie , got a powerful message in it.
Anybody would love and enjoy a dramedy like this film. We're hundred percent sure this film won't disappoint you. It is available to watch on Netflix.