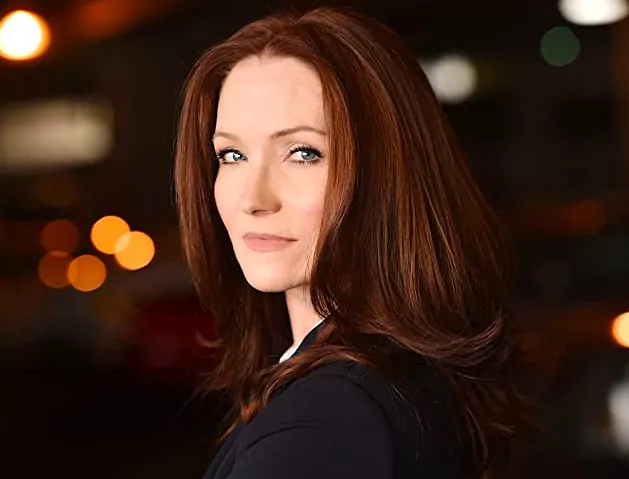 Jackie Goldston stars as The Secretary in HBO Max's "Doom Patrol." Season three of the hit series based on the DC universe comic books runs Thursdays on HBO Max. Jackie's character of the Secretary lives in "The Underground," an area where all 64 of Kay Challis' personalities live. We spoke to her about her role in Doom Patrol and about the possibilities of Season 4. Check it out below!
Hi Jackie, I am Hardik Agrawal from The Movie Culture, how are you doing today?
Jackie Goldston: Hi Hardik, I'm great, thank you for asking.
Q. So, first of all, tell me about how you got involved in Doom: Patrol which has such hype surrounding it.
Jackie Goldston: Yes, I received an audition from my agent for a show called 'Doom Patrol,' & I had never heard of it. After doing some research, I figured it out pretty quickly, ha! However, there wasn't anything on The Secretary, so I created her from scratch, using what I learned from all the professional jobs I've had over my lifetime. They liked my take and cast me.
Q. The Secretary is essentially a personality and while the name sure sounds enigmatic, there's also a hint of motherliness. What about the character attracted you so much?
Jackie Goldston: The Secretary is described as emotionless and intelligent. I feel like because she is emotionless, Jane feels safer around her. The other personalities tend to get very angry with Jane a lot, but The Secretary doesn't really show that, and just gives Jane the straight answer without the drama. I can see why Jane/Miranda/ Kay would feel like The Secretary is a type of mother figure- I believe we all expect a mother to be our safe place and have all the answers.
Q. Now that Season 3 is over, what was your reaction to watching this character on the screen?
Jackie Goldston: Underground, she definitely took a backseat this season, opposed to season 2. The writers are so crazy talented, and we needed to see a little bit more of the other personalities. But topside, this season's Secretary made her appearance with Diane making her a bit snarky and loveably-goofy. I so loved watching that! I know the fans loved it too.
Q. Any thoughts about where season 4 of Doom Patrol could go from here?
Jackie Goldston: There really are so many possibilities for season 4 now. I have full confidence in our amazing writers to continue up levelling the show- it's smart, creative, unexpected, and beautifully executed. It has the most beautiful intro I think I've ever seen!
Q. Coming to your past films, you worked with Hamish Linklater in Tell Me Your Secrets. Did you get a chance to witness him in Midnight Mass yet?
Jackie Goldston: Omg, wasn't he fabulous in Midnight Mass? I wanted so much to hate him, but he just had this endearing part about him, and he played the role flawlessly. I really hope he gets the recognition he deserves for that role.
Q. Finally, what's next for you and where can we witness you from here on?
Jackie Goldston: If you haven't watched Ordinary Joe yet, I can be seen in season 1, but don't blink, lol. I am Jenny's mom, and it's a terrific show. You can also find my collection of memories on Instagram @jackie_goldston as well as on my Facebook page.
Thank You so much Jackie for speaking with me, you were amazing in Doom Patrol and I can't wait to see you on screen again!
Jackie Goldston: Thank you so much!
The Movie Culture Synopsis
Catch the first three seasons of Doom Patrol on HBOMax, starring Jackie Goldston.