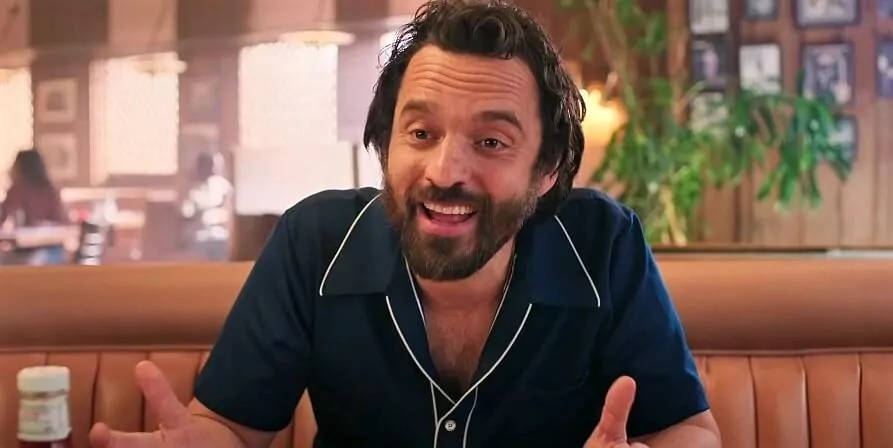 I am not shy when it comes to displaying my unhealthy obsession with movies and series. At this point, anyone who knows me knows that it is the only language I speak. Let me tell you, no one speaks it better than me. I have been called the God of Movies on some occasions too and no, this title was not vested to me by me. Having given numerous fabulous recommendations to people with and without their request, people have realized how my choices are superior. So when I say that Jake Johnson is an underrated daddy of Hollywood then you best believe me. 
In my long history of thirsting over celebrities and fictional characters, my most unexpected crush was Nick Miller from New Girl. Unexpected because Nick (or Jake) isn't meant to be a Ben Barnes kind of brooding character that will burn down the world for the protagonist. Nick is also not the kind of character who was an academic who could rant passionately about some really pretentious topic and look at you with the kind of intensity powered by the scruffy beard and dishevelled hair like Oscar Isaac in Scenes From Marriage. He was also not from a remote village in Italy questioning his sexuality in a way Elio (Timothee Chalamet) was. Jake Johnson played a character that mothers wouldn't exactly recommend at the same time a complete mess of a person. Yet, there was something about him which made me want to protect him at all costs and touch his hair. 
Like Jess, Jake Johnson made Nick Miller gurgling his beer look hot. Don't ask me how. Maybe it is the voice or the carefree acceptance of how he may not be living his life to the best. It could also be how dedicated he is to justifying each of his characters and accepting that his imperfections are NOT meant to make him human but to make him strive to become better. There is this obnoxious habit of our generation to accept how mistakes exist and how they make them human. No, those imperfections cannot be passed off as human tendencies if one doesn't work or at least try to become better. Though he did start playing similar characters in the middle, all his characters did not let their imperfections define them but actually did something to move ahead from them and not with them. 
Jake Johnson as Nick Miller in New Girl
It is also great to know that Jake Johnson also loves Nick Miller as much as his fans. He hasn't gone all Tom Felton with this character, thankfully. Felton, we love you but please, you are a lot more than Draco. Nick occasionally shares Nick related content and his bromance with co-star Max Greenfield will always be a joy to stalk. Their interviews and Instagram interactions are way too wholesome and honestly, the entire New Girl cast is super underrated. I would argue that like the Friends cast, they too have an adorable relationship with each other. 
Jake Johnson as Spider-Man in Spider-Man: Into the Spider-Verse
Going back to Johnson. He voiced the role of the older Spider-Man in Spider-Man: Into the Spider-Verse. His voice is so unique that I would recognize it anywhere. Let me inform you about the appeal. Scruffy voice. That is it. Yes, the bar for attractiveness can be that simple. Johnson is a part of the Marvel universe. A lot of my wishes are of him becoming a recurring actor in the universe.
When he is not reaching for the stars in one of the biggest franchises right now, he is a part of anthologies like Easy or playing variants of Nick in movies like Win It All. This makes it even more surprising because I usually fall for the kind of characters who are responsible and sure about what they want along with being super aware of their surroundings. Nick Miller is exactly the kind of person who would travel all the way to Portland and not tell Jessica so yes, Jake Johnson, you truly shock me. Have a cookie (Readers, I suggest you watch New Girl and then read this article again).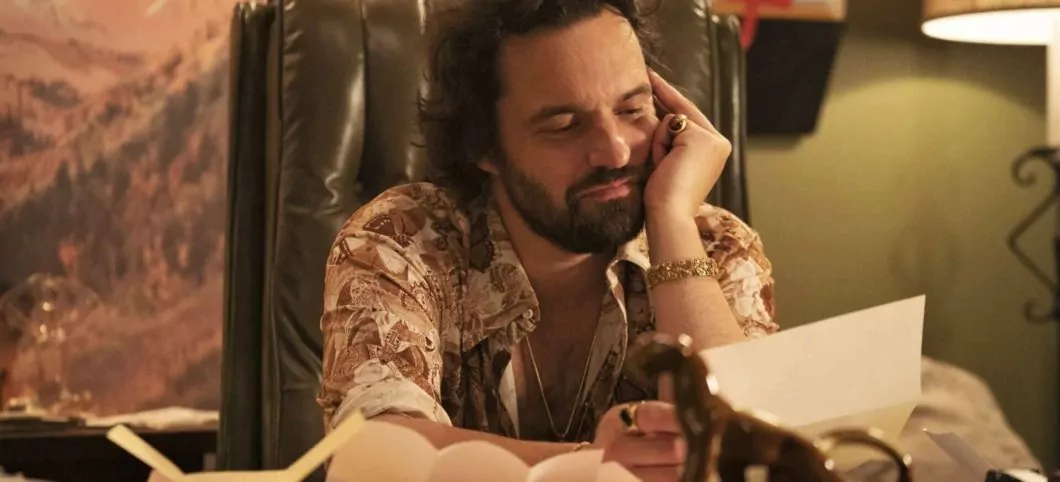 Jake Johnson as Doug in HBO Max's Minx
Even though he was typecasted for a little while, his recent role of Doug on HBO Max, Minx was a reminder to the industry that he is a man who can do everything. Maybe not a good burpee (if you know then I respect your sitcom choices). He plays the role of a B-grade, low rent publisher to create a woman targeted porn magazine. The show's success was a surprise for many because it truly was unexpected the success it garnered. The fashion of the series and the chemistry the cast had with each other was refreshing from the kind of content available right now. 
In comparison to his new content, the older ones too were unique. Easy is a show that talks about a lot of matters that are thought-provoking but in a way which does not make the viewer swallow difficult ideologies and just nudges those at them. It is an anthology that sees many big names acting in it. One of them is Marc Maron (The Granddaddy you didn't know you needed). There needs to be a movie where Marc Maron, Jake Johnson and Oscar Isaac are there together. I am going to go to that movie alone. 
Jake Johnson is an Underrated Gem of Hollywood
Jake Johnson happens to be the kind of actor that has played a role in several big movies but you didn't know it was him. He was Ashton Kutcher's friend in No Strings Attached, a legend frat boy in Neighbors and even the second protagonist in Drinking Buddies where his costars were Olivia Wilde and Anna Kendrick.
I hope for at least one of these movies, you were shocked about his role. He also played alongside Jeremy Renner in Tag. All these movies are underrated gems. Moving on to his series collection. If you haven't realized it yet, he plays the role of Nick Miller in New Girl. He also starred in Hoops as a sleazy basketball coach and in the cancelled but great show, Stumptown. 
The Movie Culture Synopsis
In conclusion, Jake Johnson is an underrated gem of Hollywood. His childhood injured nose that gave him a weirdly cute dent on his nose, scruffy voice and the kind of hair which looks so perfect you want to touch it are just going to be the few superficial things that you will like about him, it is also the goofiness and the dedicated need to be better in the most innocent manner that will truly sell his appeal.
Also, the way he has such an adorable and fascinated look on his face when he is looking at the female lead just conveys how invested the character is in his love interest that is just, swoons. 
Jake Johnson Recommendations-
New Girl
Tag
Easy
Hoops
Minx
Spider-Man: Into The Spiderverse
Stumptown
Drinking Buddies
Win It All
Ride The Eagle