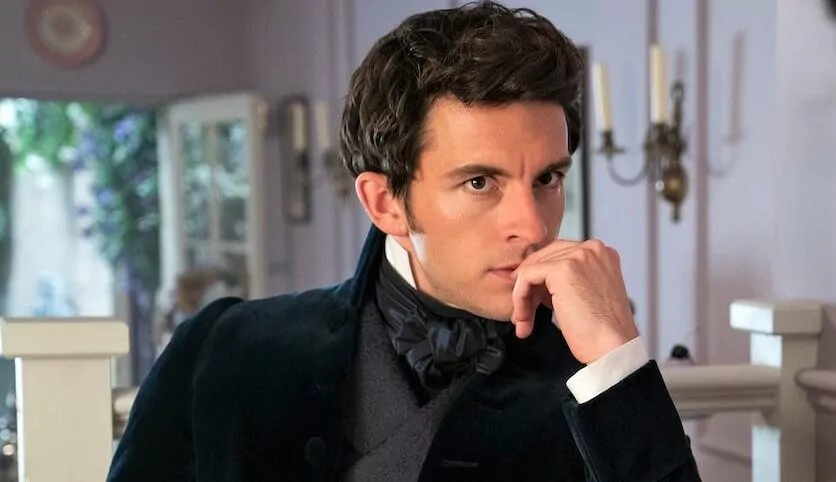 The eldest Bridgeton child, Anthony Bridgerton, on whose love story this entire season revolves is played by the charming Jonathan Bailey. He has worked with Phoebe Waller Bridge on her project Crashing and has won awards for his performance in the musical, West End. In the second season, his character is searching for a wife who has to meet a long criteria that will deem her to be fit as a Viscountess.
Q. When did you realise that the first season of Bridgerton had become a global phenomenon?
Jonathan Bailey: That moment of realisation is yet to come, I think. It's been a wild few years for the world, and I think part of that led to the success of Bridgerton. It came at the right time and knocked everyone off their feet and gave them the Christmas romance we all deserved after a really tricky year. It's kind of inconceivable. What's been most amazing is coming back together this season as the Bridgerton family, which includes the crew as well. Being together, there's a sense of calm, like being in the eye of a storm. It just feels nice and safe with everyone here, so that's been really lovely. For me, knowing that this season was going to go straight into Anthony's story, I just needed to get in the zone and get in the headspace to come in and hit the ground running.
Q. How has it felt returning for the second season, and did the first season's success change your approach?
Jonathan Bailey: Stepping into the shoes that Phoebe Dynevor and Regé-Jean Page wore and led with so gracefully last season has taught me a lot. Taking on that responsibility has been amazing for so many reasons. This season required a lot of staying calm and steady and ready. It's kept me on my toes. I got really fit, I made sure to eat well and get loads of sleep, and everything else just seemed to fall intoplace. I am just so aware that these partsdon't come around often and am forever grateful. And I'm excited to pass this on to the next Bridgerton sibling.
Q. Where do we pick up with Anthony this season?
Jonathan Bailey: At the end of Season One, we see Anthony defeated and lost. He's in the wilderness of what it means to be a good man. His love affair with Siena is over, and he's aware that he has disintegrated a lot of the key relationships in his life. He's pretty broken. In the space of time between Season One ending and Season Two beginning, I think he's really honed in on his decision to find a wife. He makes his decision, he knows exactly what he's going to look for, and he's thinking about the future of his lineage. He's going to make sure that love plays no part, because he's seen how distressing losing his father was for his mother. And he's got a new haircut, and has shaved off his chops.
Q. What challenges can fans expect Anthony to face this season, and what different sides of him have you gotten to explore?
Jonathan Bailey: When I met Chris Van Dusen and the Shondaland team before I'd been cast in the show, I read for the role of Simon. They talked about the character Anthony in the room, and we had a really lovely chat, and then they had me come back and read for Anthony instead. It was clear from the beginning that Anthony was incredibly complicated and had a rich psychological landscape; he's experienced such trauma with his father dying and his mum not being able to handle that, and then having to step up and take on the role and responsibility of becoming a viscount. Bridgerton can really take the time to dig into the psychology of a man of that era. I think Anthony, at his core, is a terrified teenager. A part of him froze the day his father died. He wasn't given the easy route in some ways, and there's a lot of unpacking that he has to do this season. He's a victim of a patriarchal system in which men weren't encouraged to talk about their feelings — and this was at a time when there was no therapy. But I think Anthony's ultimately very kind and full of love.
Q. Anthony gets caught up in a complex love triangle with Kate (Simone Ashley) and Edwina Sharma (Charithra Chandran), two sisters who are new to the ton this season. Can you tell us a bit about their complex connection?
Jonathan Bailey: It's a complicated triangle which ebbs and flows and changes shape throughout the season. The surface level approach to marriage that Anthony holds at the beginning of the series puts Edwina in his line of sight. Edwina has been coached by Kate, her older sister, to marry well. On paper, it's a perfect match. But, unfortunately, Kate has heard of Anthony and is aware of his ways and his past, and is very protective of her sister. The further Anthony gets down the line with Edwina, the more we see his fears, and his feelings developing for Kate, which link and parallel his mother and father's horrible trauma. Anthony makes hard and complicated decisions, and so does Kate. There is so much nuance and complexity to 24 the romance this season. It's not a trio of characters that I've seen before, and we have the luxury of eight hours to really explore them. This is a series about growing up and learning to love yourself in order to be able to love someone else, which they all demonstrate in different ways.
What has your experience working with Simone and Charithra been like?
Jonathan Bailey: Working with Simone and Charithra has been a total joy. There was something about meeting Simone for the first time, which has continued since that first moment; when we're acting together, it's like we're in the same tunnel. We get the giggles, but we can also hold each other and not be distracted. There's something quite magical about that. It felt really playful and alive. When I met her, I was just thrilled because she's the perfect Kate. And Charithra, she smashes it and she's great. We're from the same town, and we basically went to the equivalent schools. She feels very much like a member of the tribe, as does Simone. They came in so readily and easily, and now I can't imagine a Bridgerton world without the Sharmas.
Q. Fans are especially excited to see Kate and Anthony's dynamic. What can you tell us about the characters' chemistry, and what draws them together?
Jonathan Bailey: Kate and Anthony are drawn together like magnets. There's this animal primitivism and a wild attraction, but they also have a shared sense of loss, and are both eldest siblings and sometimes feel like outsiders in their own families. They've got their own compasses and maps for life. But of course, that's just not the case when they meet. They can't disengage from each other. She's this incredible sort of mythical creature to him — even the fact she rides astride, he can't get his head over that. Kate's a rule breaker. On the surface, Anthony's all about being the gentleman and delivering on his responsibilities and doing the right thing, and yet, there she is. Kate just gallops into his life. Edwina is the perfect choice for Anthony at the beginning of the series when he's looking for the perfect woman to fit into his idea of what a viscountess should be. In the same way that there's this animal magnetism between Kate and Anthony, there's a calm between Edwina and Anthony. Again, on paper, Edwina is perfect. But his heart immediately falls into Kate's hands. It's all about choosing your heart or your head.
Q. The romance this season is a bit different from Season One — it's all about the tension of forbidden love. Bridgerton has become quite well-known for working with intimacy coordinators. What has it been like working on the intimate scenes this season?
Jonathan Bailey: I think the forbidden love and the desire and passion between Kate and Anthony came quite naturally. He's just completely bowled over by her. Simone and I have that connection naturally, and we have from the moment we met in our audition. Our intimacy coordinator Elizabeth Talbot comes in and makes sure everyone is communicated with, and that we've both felt heard. She just helps us to feel safeguarded, and helps to actually tell the story in a more interesting and nuanced way. It's 25 amazing how that whole industry has just come on even in a year. There are new tricks to the trade, new little cushions — it's amazing what you can do with a half-inflated netball. I'm learning things every year.
Q. How have the Bridgerton books helped you prepare for this season?
Jonathan Bailey: This year, I got into a really calming habit of listening to the audiobook before going to bed. But obviously during the Pall Mall section I couldn't sleep, I was wired, it was so exciting. But that was a nice additional way of getting a sense of exactly who Anthony is. The romance genre is brilliant. There are nuances and complexities in the book that couldn't all be included in the TV series, and those allowed me to really get under the character even before the scripts came in. But then listening to the book at night also made me slightly obsessive, and sometimes I didn't know when I was awake and when I was asleep.
Q. What was it like to film the famous Pall Mall scene at Aubrey Hall?
Jonathan Bailey: The Pall Mall sequence was a total highlight. Having read the book, we all were suspicious and hopeful that there would be a Pall Mall segment. And just getting all of us together is the dream. We had Phoebe Dynevor there as well, which was amazing. It took a few days to shoot, we had the most amazing weather, and it was just ridiculous and silly. As we all know, the Bridgertons are a very competitive bunch, and so is Kate, so it's a great way to see them all interact.
Q. Last season, everyone fell in love with the beautiful balls we got to see. What has it been like to see the even bigger, more lavish balls come together this season?
Jonathan Bailey: I didn't get to dance at all last season, so I was thrilled to get to work with our choreographer Jack Murphy this year. I love him, and his dancers are next-level. There's so much that he has incorporated thematically throughout all the different dances. He really reflected Kate and Anthony's dynamic in the choreography, that there's lots of leading each other at different times. It's very different, I think, to Daphne and Simon's choreography from last season. Simone and I had some real breakthrough moments learning the dances together, because it was a different type of intimacy.
The Movie Culture Synopsis
Season 2 of Bridgerton is available to stream on Netflix.