DATE : 5TH OF JANUARY 2021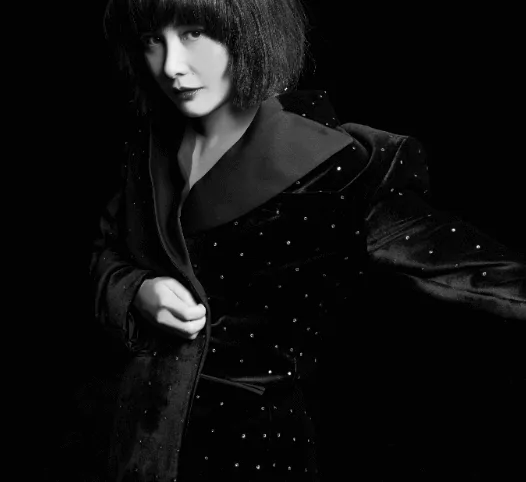 Josie Ho is an acclaimed Actress and Singer in her home country of Hong Kong. The Movie Culture contacted her as she tries to make a shift to mainstream Hollywood with not only projects which has her starring but also the ones she produces.
Q. Greetings, Miss Josie Ho, we The Movie Culture are thrilled to have you, we certainly hope that all is well during the pandemic that we all face.
Josie Ho: Greetings to you to The Movie Culture, we're doing okay over here in Hong Kong, just about okay. It's great to speak with you.
Q. What better way to start of this interview than asking you about your recent collaboration with Luc Besson which goes without saying would involve a lot of action, could you tell us about what the film is about and how thrilled are you to be working with Luc Besson?
Josie Ho: I am, of course, extremely thrilled to work with Luc Besson. I can't go into detail on the film, as we haven't yet read the script, but I'm sure it's going to be very shocking and very good. 
I can, however, tell you a bit about my second meeting with Luc Besson, how action dedicated he is. He's a very energetic person. I met him for coffee at the Ritz Carlton in Paris he told us that he had ridden his bike to the meeting. I was struck by this as in Hong Kong not many people would do this… Now you see how environmentally friendly and athletic Luc Besson is! 
Q. Now we need to educate people that Josie Ho is not only an actress and a singer but also a founder of 852 films under which Luc Besson and you are developing the aforementioned movie. How does that feel? And may we ask what kind of films do you intend to support with a banner such as this?
Josie Ho: I want to ask instead how do you feel? How do you, the audience, feel about Luc Besson and Josie Ho of 852 Films collaborating on an indie production? I know many of the details are secret right now, but I can tell you that you should feel excited because it's going to knock you off your feet!
Q. You have a prolific filmography in your native country of Hong Kong and now we hope you achieve the same in the West. We want to know whether you feel there is a difference between in the film industries, how well has your transition been?
Josie Ho: That's really kind of you to say, thank you. My transition has been pretty easy, I think. Maybe because I grew up partly in Canada, and went to school there, so my English is pretty good. I still go to an English coach, though, especially while acting so I can ensure that my lines are delivered with the right rhythm and cadence.
Q. I enjoy transitioning between the Western and Eastern film industries because I am interested in how the West shoots movies: the painstaking preparation and work that goes into it. I enjoy watching "Making-of's" for this reason! These are really helpful for young filmmakers like us. 
Josie Ho: With our production company 852 Films, my husband and I are trying to make films a little more like how they are made in the West. We put a lot of effort into our prep work rather than just jumping straight into filming and blowing the whole budget when there's an issue down the line. Everybody should know which scene is being shot, what the lines are etc.
Q. As mentioned you are not only an actress, but a singer as well. How do you strike the balance between two or more careers since you are tasked with acting, singing and producing?
Josie Ho: I think it's very common in Hong Kong/ Asia for performers to wear many hats (laughs as she takes of her hood and shows the hat underneath). We have so many artists here in Asia that it becomes kind of competitive, and there are always loads of candidates for that one film or TV role, so we have to get creative and straddle different fields. For example, both the guitarists in my band have other professions (one is a graphic designer and a commercial director while the other is a teacher) and our drummer is on a TV show!
I myself have been a singer since I was 18. I'm not saying I'm the best at that… I believe that in my role as a performing artist I am constantly learning. I know how ridiculous it sounds, but I still go to singing lessons! I've been going to the same coach for thirty years; she's now growing into her 80s…
Switching between these different roles might sound kind of schizophrenic, but for me it comes naturally – sort of like muscle memory. Especially with singing: when I go on stage with my band, Josie and the Uni Boys (named after my first puppy!) I am comfortable in that mode because I love singing so much and practice it every day.
I'm really looking forward to my future project: a collaboration between my production company 852 Films and the legendary Tony Kaye. It's going to be a feature film, and Tony has hinted that he wants to put all these skills of mine into the film. So, there might be some musical content to look forward too. I have a sort husky, cracking voice.
Q. Your recent film Lucky Day had you working with Rodger Avary, how was that experience given that he is a veteran of the art of films?
Josie Ho: My character in Lucky Day was a sort of bitchy art critic called Misses Kok. I want to emphasise that she is not me, but she's a very mouthy person who criticises anyone and everything! I loved the lines Roger wrote for her, and also the fact that he allowed me to improvise while shooting. It was filmed last year, in Hamilton Canada. I think I was overexcited, perhaps because the location happened to be next to the town where I had gone to school, and I just started adlibbing all these un-PC things… I hope I didn't offend anyone! I'm thankful to Roger for giving me the freedom to improvise. He's such an inventive guy, I love working with daring directors who don't mind actors going nuts with their lines. There's a real craft in the way he directs, when he speaks to me, I feel like he leads me into this ballistic wilderness.
Q. Now that your future projects are shaping up, we were wondering what your approach would be going ahead, is it more mainstream or indie? If any, could you elaborate on that?
Josie Ho: Is my company and myself going into more mainstream or indie? 852 is still very much into doing indies. If I have a future in mainstream movies depends a lot on the audience. Personally, though, I don't really see films as either indie of mainstream. As long as the script has a fun role and a good vibe, I will jump on it.
852 Films has a few indie films in the works. We are currently trying to finish our projects in the West that have built up over time and are using the help of Hong Kong film production people to do so! 
Q. Fun fact for our reader we are not only interviewing an actress but an entrepreneur. You are also a founder of Mata Hari bags, how did that come to be and are we missing something that you haven't done?
Josie Ho: You might not have seen all of my films from when I was younger, because of change in technology they might not have all been released on DVD in those times when I was coming up as an actor, and I don't want to mention exactly when that was!
I have also done some stage plays. Last year I did one with a theatre company called Suni that I have been working with since 1997! Suni is very high art, super chic and experimental. Their plays are abstract and intellectual, but I also do more simple productions. I worked with a Hong Kong student director who was taught by Jacques Lecoq. We did a lot of body shape and movement, the structure of the body, that kind of thing. Was it called the Seventh Draw? Yeah, I think it was.
Oh, and, when I was younger, I was on this show called Eighteenth Floor Block C. It's a very famous show, a bit like Friends but the radio version.
Mata Hari bags is this kind of kitschy chic handbag company that I share with my Korean mate Annie. We do slightly lower budget stuff, for younger girls. Our "Amie" bag is pretty big in Hong Kong, it's this kind of kitschy beaded bag with two pieces of marble in it. A lot of people seem to have copied the design recently, but we're a very small company so we don't have much say…
Apart from all this, I'm also pretty energetic! I came second in the triathlon. That was cool… But look at me now. I'm only kidding, I'm still fit! (laughs).
Q. If we may travel into cliché territory and ask you as to what inspired you to get into films and how has that journey been so far?
Josie Ho: So far, it's been at times a struggle but also really cool! Part of the reason for starting my own company, 852, was because the Hong Kong movie industry is very much about the fads. Whose trendy right now and then you have your moment in the limelight, and it's gone as quick as it came. Big studio's often hire their own signed actors so it's hard to get a break.
With 852 Films I started creating my own future, and it's making me very happy.
Q. To change the tone of the interview, we wanted to know whether there has been a binge watch party on your end during this quarantine if yes what show do you usually binge watch?
Josie Ho: When I'm feeling upset or depressed, I watch a lot of Friends. I won't watch anything else the whole day I'll just do exercise and listen to the songs I love.
Right now, I'm feeling good, so I've been watching other shows like The Undoing. Oh my god, that one is very exciting! There's only one episode a week and we get so excited about it. What else… House of Cards, The Crown? And The Mandalorian! I think everyone has been watching this right now.
I also like to watch a lot of movies like Peanut Butter Falcon. In Hong Kong we have this special movie channel that shows the Criterion section as well as some art house films/ cult horror films. Let's see the next question, I always get shy about sharing what I've been watching…
Q. We would also like to point out that you also appeared in Contagion which showcased a similar world to the one we are living in, how surreal is that for you?
Josie Ho: It is surreal.  I actually think it's a very educational film because it teaches people how to be hygienic and clean! It was a really great experience working with Steven Soderbergh because he's such a fun guy, I'd like to work more with him in the future.
Q. To answer you back exactly same q as that, how important is it that Hollywood signifies more diverse films going ahead?
Josie Ho: Yes, this is very important for a mosquito sized production company like 852 Films. We do have a cultured film audience just like you guys, but there are still some taboos and more conservative topics in Asia. If it weren't for diverse films in Hollywood, it would be harder for us to make such fun movies over here because we wouldn't think there was a market for it.
Q. Given that you have received a lot of success and we hope you do go forward, we wanted to know what is that one thing you look upon a movie release which makes you go: this was a success.
Josie Ho: I think the main thing for us is the real feeling of the audiences. I remember a film we produced called Full Strike. We were lucky enough for receive the "Best Audience" award from a Swedish Film Festival called. That was cool.
It was a sports comedic film about these underdog ex-cons getting out of jail and trying to use the sport badminton to revive their reputation amongst the village. We had a lot of joy making it and also promoting it. We went to every full house cinema around Hong Kong, riding around in the car and running out to thank the audience in each cinema. I think the audience deserves for the stars of the film to thank them; if it weren't for the audience, we would never feel any success!
Q. Do you have any future projects lined up apart from the ones we've already discussed that you would like to share with us and your fans?
Josie Ho: I've already spoiled some things like the Tony Kaye project and Mike Figures?! Bruce Whitner?1??! And some of my local friends. I'm not gonna tell you who they are yet. I've had the fortune to work with some of the great mentors of the local Hong Kong film industry and that work will be coming soon, too.
We're targeting a wide audience; we'll have to film in English too. We do crazy things like that without even thinking about it, we're a very experimental company. I'm not trying to say we're smart, or dumb, or whatever – but we do think it's important to have our films dubbed so that everyone can share them.
Q. Being an actress is there a key piece of advice which you'd give to actors and actresses trying to make it big given the vast competition in the media field how does one cope with rejection, any words?
Josie Ho: As an actor/actress we have to do so many castings and readings, especially within Western culture Hollywood films. I think we just have to treat them with a calm, positive energy. Remember how much of an honour it is to be asked to read for a role, but don't get too excited because they might not pick you in the end, and if they don't it's not your fault.
Also remember not to rearrange your life around a casting call, because production companies and casting directors will often not call you back if you haven't got the role. I think this makes things really difficult for us, as it means we can't move on quickly to other things in our professional and personal lives. So, actors and actresses, be wary, but also be joyful when you get a script. If you don't have time to read for a role don't feel too bad because there's never any guarantee that you will get it…I'm I saying too much? Yes, maybe I am. I can't call this advice or anything, I'm just talking from personal experience.
Q. The movie culture would like to thank….
Josie Ho: Thank you, and I also cherish your time for me(smiles).
The Movie Culture Synopsis
The film Josie Ho produces with Bella Thorne and Jackson is certainly something to look forward to but we couldn't help but think about the action movies she'll be making with Luc Besson.
Her advise on how one can make it big is certainly head strong and speaks for the kind of actress Ho seems to be. It was also surreal of to talk about Contagion and her involvement with that film.
Habit starring Bella Thorne, Paris Jackson and Josie Ho is gearing up for release this year, check out this space for more updates.