DATE : 6TH OF NOVEMBER 2020
Juliet Landau is out with her directorial debut, A Place Among the dead for which we were also able to post a review, be sure to check that out and then come back here. 
Juliet Rose Landau is an American actress, director, producer and ballerina best known for her role as Drusilla on Buffy the Vampire Slayer and its spinoff show Angel, the latter appearance earning her a Saturn Award nomination. She is also known for co-starring as Loretta King in Tim Burton's Ed Wood.
In this interview of Juliet Landau with The Movie Culture we dive deep into her new role as a director and her career ranging for decades up until now.
Greetings Ms. Landau, we at The Movie Culture are thrilled to have you. We certainly hope that during times like these you and your family are doing well.
Juliet Landau: Thank you so much. I hope that you and your loved ones are safe and well.
Q. To start this interview, we have to ask you about A Place Among the Dead, do tell us about the Movie and how it first came to be?
Juliet Landau: The movie explores the repercussions of growing up under the sway of narcissism and evil. My husband, Deverill Weekes, co-wrote and co-produced with me. We both come from this background. We wanted to make a film we hadn't seen before, to talk about something we'd never seen covered in a film, in fact, something that truly isn't talked about in society as a whole. We felt there is a yearning for the kind of discussion A PLACE AMONG THE DEAD provokes. We're living in a time where the escalation in narcissism, cruelty and evil is daunting, but people are interested in addressing this. When you type narcissism into a search, the numbers are staggering! YouTube has 9,120,000 videos. Google has 70,400,000 results. Type in Psychological abuse and there are 188,000,000 Google results. Of course, I am getting at this through art and entertainment. We set out to make a genre-bending, art film, and thought that blurring the lines of reality would be the best way to tell this tale. The picture is entirely scripted, but it's crafted as a meld of fact, fiction and the fantastical. I play an alter ego version of myself, as does Gary Oldman, Ron Perlman, Robert Patrick, Lance Henriksen, Joss Whedon and best- selling authors Charlaine Harris & Anne Rice both appearing for the first ever in a narrative movie!
Q. A Place Among Dead Trailer looks amazing and it also terrifies you. The word of mouth leading up to its release is pretty good. How does that make you feel?
Juliet Landau: Thank you so much. It is wonderful. The same thing, which took place at our sneak peeks right before lockdown, when we completed the picture, happened at these too. Each time the entire audience was very emotional. They stayed for hours to talk about the movie and then began sharing intensely personal stories. It's been so powerful and beautiful.
Q. To let people know, Juliet Landau isn't just starring in A Place Among the Dead, you are also a Director for the film. Do you always wanted to Direct or the source material for A Place Among the Dead made you like, 'I have to do this no matter what'?
Juliet Landau: I directed two short documentaries previously. TAKE FLIGHT was about Gary Oldman's creative process and DREAM OUT LOUD featured interviews with Guillermo del Toro, Rian Johnson, and Joseph Gordon-Levitt. My husband and I knew we wanted to tell this tale and so we co-wrote the script, raised the financing, secured the actors and put together the crew. We rehearsed with the actors, created a lookbook for all departments, did camera tests, etc. I worked very closely with our line producer, all of our dept heads, our editor, Patrick Sheffield, who edited the BAFTA-nominated TIM'S VERMEER, and with our composer, Monica Richards. It has been such a journey and so much fun! 
Q. We couldn't help but notice that A Place Among the Dead's Central Premise is to do with vampires and you obviously famously played Drusilla on Buffy the Vampire Slayer. So much like the premise of the film are you too obsessed with vampires? Or do you find this odd coincidence?
Juliet Landau: It's an enduring way to explore different facets of our own natures. I use the vampire genre, for a number of reasons, first: to make an entertaining movie, second: to lull the audience into a sense of safety to explore unsafe and radical ideas, third: to bring in my and the other actors' histories and last: because the vampire is the perfect metaphor for the ultimate narcissist.  With the character in A PLACE AMONG THE DEAD, you're never really sure… Is he a vampire or mass murder? Either way, the traits are the same: a being, which drains time, life, lifeforce for its own needs, for its own survival, with no regard for any other being.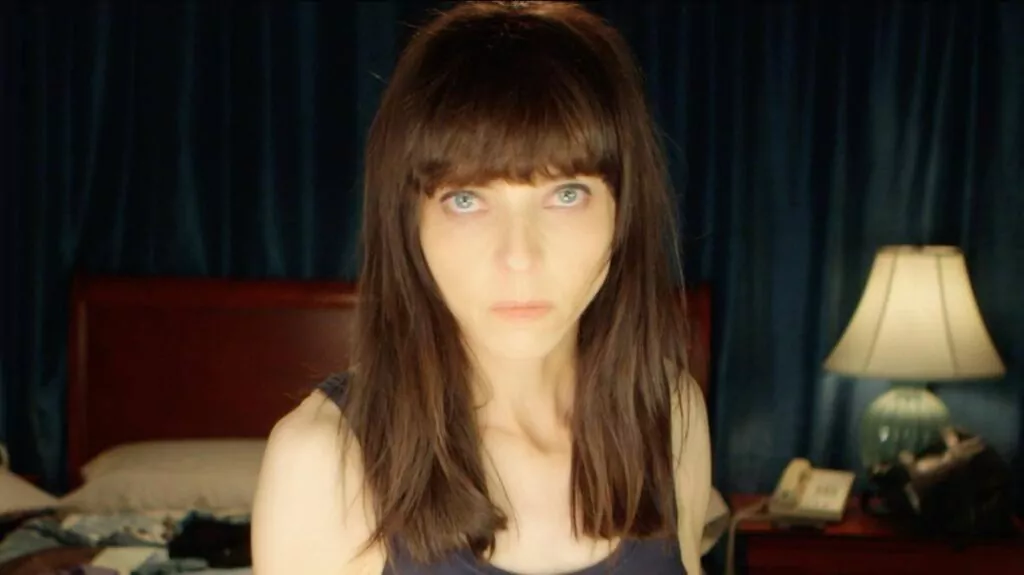 Q. The Official Synopsis for A Place Among the Dead reads that you play a slightly different version of yourself in the film, but do tell us apart from the vampire stuff, how much of you is in that performance?
Juliet Landau: The move is constructed like a puzzle with many factual elements woven throughout. We've had quite a number of people come to three screenings in a row last weekend. They not only wanted to pick out these elements but also to pick out other Easter eggs in the story.
We made the movie searingly personal. As they say… the more personal, the more universal. In doing this I am inviting the viewer to do the same, to become the participant rather than solely a spectator. The whole point is to make an entertaining movie and to give voice to what has affected many, to open up a dialogue.
Q. Given that you are directing A Place Among the Dead, and you yourself had a long career in which you have worked with great Directors such as Tim Burton and Joss Whedon to name a few. Is there a favourite director amongst them? Did a work of a Director you have worked with, inspired you in directing A Place Among the Dead?
Juliet Landau: I've had the great opportunity to work with brilliant directors like Tim Burton, Joss Whedon, Stephen Frears, and many others. I really can't pick among these indelible talents! I'm also about to shoot a film with a director named Thomas Negovan, produced by E. Elias Merhige, who directed SHADOW OF THE VAMPIRE and SUSPECT ZERO with Sir Ben Kingsley, which I'm sure will prove to be the same. My aim was to emulate creating an environment on my set, like these masters do on theirs. I wanted to foster creativity and exploration. You want to create an atmosphere of relaxed focus, to engender trust so everyone brings their A-game… One of the interesting aspects of this project, was switching back and forth between acting and directing. One is subjective and one is objective… For me, preparation was key.
Q. You at this point in your career seem more focused on bringing New/Different Films to audiences along with Modern Films, how important do you feel that role is?
Juliet Landau: I think it's critical. Modern Films is incredible! Betty and Eve, who run the company, are a dream! They have superlative taste. They just released Werner Herzog's new film and will be releasing Viggo Mortensen's directorial debut, among a stellar slate of other movies. 
They are highly innovative. In addition to all the traditional release windows and press, they work with partners to produce special, screening events. It was one of the reasons we knew they were the right fit since a dialogue about the movie was a massive goal.
Q. "I have never seen a film like it. It gets under your skin like ERASERHEAD or DONNIE DARKO. A legacy project, which will be running long after we're all gone." – F.X. Feeney, film critic, author and film historian, how happy does a review such as this make you feel? 
Juliet Landau: Dev and I felt like we were on a mission making this film. It is beyond amazing when the movie and its' themes resonate.
Q. If we may, we wanted to segway into Fan Service by asking; Drusilla as a character was mean to say the least. How do you access a character like Drusilla and make her appear human in front of the audience?
Juliet Landau: I never approached Dru as a vampire. Joss created such a multi-faceted character that I wanted to flesh out all of those dimensions, make her as human as possible, emotionally. She was crazy, but as a performer you have to make sense of her. There was a logic to her illogic, if that makes sense.
Q. Is there a cast member from the show (Buffy The Vampire Slayer) with whom you bonded well, maybe BFF status?
Juliet Landau: I am still close to all of the cast from Buffy and Angel. They are a great group of people! Many Buffy and Angel alum attended the "Home Carpet" (virtual red carpet) of our Premiere!
Q. Juliet Landau is an Actress, a Director and a Producer but whilst researching for the interview, we also found out that you were a Ballerina what's that about? Could you tell us anything?
Juliet Landau: Yes, I danced professionally for four and a half years. There is nothing like the training that goes into being a professional ballerina. Now, I love bringing that physical aspect to each character I play. Rita Tedesco, the character I played on Amazon's Bosch last season moved very differently from Dru. I loved dancing professionally but once I started studying acting, I knew my path would evolve.
Q. A Place Among the Dead also features Gary Oldman, Robert Patrick, Ron Perlman, Lance Henriksen, Anne Rice and Joss Whedon. How did that come to be? Were they just a call away?
Juliet Landau: It was incredible! The first person I reached out to was Anne Rice. I wrote her a letter. We then spoke and she immediately said yes! Not one person that we asked said no. It felt like this project was meant to be. It was a serendipitous experience in that way. It seems everyone believed in the message of the movie and the vision I had for it. We feel so privileged to work with these brilliant artists and to get to bring them together in this project.
Q. Speaking of acting, in your days as an upcoming actor is there any actor who you looked up to as an idol? Was there a favourite movie which you saw and that made you fell in love with the artform?
Juliet Landau: There are so many amazing movies, which have inspired me deeply. My mentor, friend, teacher and incredible actress was Susan Peretz. Susan passed away but her extraordinary work will be forever captured on celluloid. One of these performances is in DOG DAY AFTERNOON. Susan played Al Pacino's wife. Everyone is beyond brilliant in that film. So that's one I would put on my list!
Q. Now that you are gearing up for your Directorial Debut, is there a weird kind of pressure as to how the film will be received than just straight up starring?
Juliet Landau: It is very different. As an actress, you are one component of the film. As a director, it is your vision. You make and oversee every creative choice. I guess it's a little like sharing your newborn baby with the world!
Q. The Movie Culture is situated in India and we being fans of your work, we'd like to know whether you are aware of Bollywood? If yes, is there an actor you admire or a film?
Juliet Landau: Yes! I love Bollywood movies! They are beautiful! I have to catch up on all kinds of current movies since we have been working 24/7 for the last four months. I'd love to get a list from you of some of the actors and films we should be sure to watch!
Q. We hope you are doing well in this Pandemic, and we have to ask, is there a binge watch party you have done with your family or friends? If yes, which show or movie Franchise?
Juliet Landau: Thank you so much. You and your loved one as well. Thankfully we are safe and well. It has been such scary times.
As far as entertainment, we have literally been working like crazy, so we've had no real downtime. At the beginning of lockdown, we were able to watch a French series called, Call My Agent, which we loved and a Danish series, Rita, which is also wonderful!
Q. Do you have any future projects lined up which you'd like to share with us and your fans ?
Juliet Landau: I just shot another episode of TNT's Claws. I recur as a character named Cordelia. I'm going to shoot a movie called Penumbra, which I mentioned above. Dev and I also are producing a series called The Undead Series. All of the talented cast from A Place Among The Dead came back to work with us again, plus Willem Dafoe, Tim Burton, among others. The Undead Series is a documentary/ non-scripted show. It is extremely different in tone to A Place Among The Dead. Each episode is 20 minutes and features one guest… Think Jerry Seinfeld's Comedians In Cars Getting Coffee… This is Vampires In Coffins Getting Blood!
Q. And if there's a Buffy Reunion of sorts, will you come back?
Juliet Landau: Sure! But they'd better do that soon if I am to reprise Drusilla, as she is supposed to stay the same age!
Q. Being a great actor such as yourself, is there a key advice which you give to actors and actresses trying to make it big? Given the vast competition in the media field, how does one cope with rejection, any words?
Juliet Landau: They say you need the skin of an armadillo and the soul of a poet. I think that's accurate. There is nothing like getting to spend your life being creative, but if there is anything else that you'd be happy doing, then you should do that. If not, then stay true to yourself and to your vision. Spend time on your craft and then be tenacious. Your passion will carry you through times of rejection and through great times as well.
With this we would like to wrap up with the interview questions. 
Juliet Landau: Oh, before I go, I'd love to mention where people can see A Place Among The Dead. We have more Special Preview Screening events coming up. Premium Video On Demand is available in the US at Laemmle Theatres now and will be available worldwide Nov 9th.
The link for tickets for all is: modernfilms.com/aplaceamongthedead
The Movie Culture would indeed like to thank Ms. Juliet Landau for agreeing to this wonderful interview.
Juliet Landau: It's been an absolute pleasure talking with you! Thank you for your inspiring questions!
The Movie Culture Synopsis
Well, you heard Ms. Landau, A Place Among the Dead is available on PVOD Nov. 9 worldwide so book your dates and avail yourself of the pleasure.
Juliet Landau was a thrill to Interview, her answers for us were so insightful and we hope someone trying acting can learn from her insights as to what made her so successful.
We indeed would like to extend our thanks to Ms. Landau and her team and also Congratulate them on a stellar movie that is, A Place Among the Dead.