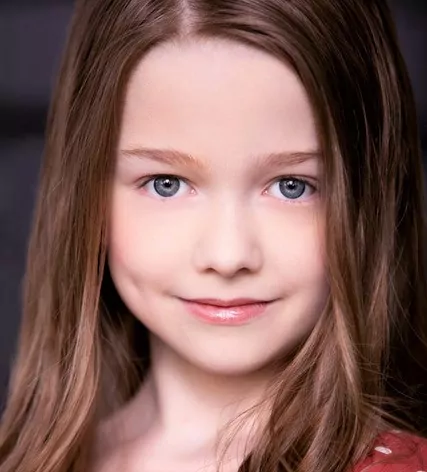 Kariana Karhu is a talented and absolutely adorable young actress, who has already made her mark in so many projects such as Black Easter and Lily is Here. Kariana can be seen starring in Amazon's highly anticipated young adult thriller series, Panic, opposite Olivia Welch. Panic follows a group of teens who are dying to escape their small town of Carp, Texas. They embark in a dangerous competition game where the winner receives enough money to leave the town for good. Kariana plays 'Lily,' the younger sister of Olivia's character, Heather Nill. She spoke to us about her different projects, her experience working with Olivia Welch and her liking for gymnastics. Check it out below!
Hi Kariana, I am Hardik Agrawal from The Movie Culture. How are you doing today?
Kariana Karhu: I'm happy to get to speak with you today, Hardik. Thank you for having me!
Q. So to begin with, tell me more about Panic and how you came to be involved in it.
Kariana Karhu: I got the audition for the role of Lily and really connected immediately with the character, so I was really excited when I got the callback. We drove down to Austin for that, and I dressed for the scene — wearing pajamas and messy hair, mismatched slippers — it was so fun. I even got to dance to Taylor Swift during the callback! The phone call from my agent telling me I booked the role is something I'll never forget. I've loved every minute of being involved in this show.

Q. You play the role of Lily, Heather's sister. Could you tell us about the relationship between
Heather and Lily in Panic?
Kariana Karhu: Well, Heather and Lily's mom doesn't always make the best life choices, so Heather really is the one who takes care of Lily and acts like a mom to her. Lily looks up to Heather, and Heather never lets her down. Lily loves Heather so much, and they are the perfect team!
Q. What was it about Panic that intrigued you the most, and did you get a chance to read the
book before you went in the show?
Kariana Karhu: What intrigued me the most about the game was definitely the level of difficulty of the challenges the players have to face. It's amazing to see the players push themselves to complete a challenge that involves one of their biggest fears. I never got to read the book before filming because at the time I was only seven, but my parents gave me a good overview of the book and how my role fit into it. A long time after filming, I made a post on my Instagram of me reading the book, and I did finally get to read the first chapter of it — and I loved it! My parents say I can read the whole book when I get older.
Q. 2021 is an exciting year for you with Black Easter and Lily is Here coming out too.  Could you
tell us about the contrast of your roles in all these different projects?
Kariana Karhu: It has been a very exciting year for me with all these different projects coming out! The first character I portrayed was Missy in "Lily is Here." She is a sweet, innocent little girl who loves her parents. When they get a divorce, it's quite tough for her to understand what's going on, but the love for both of her parents remains constant. Ashley in "Black Easter" is a little girl who worships God just like the rest of her family. She loves the world and her parents, and she's just a really sweet little girl. And then, of course, there's Lily from "Panic." She doesn't have a very stable home life, but she adores her older sister who takes care of her and protects her, and she is stronger because of it. She's artistic and loves to draw, loves to read, and loves her sister more than anything else in the world.  I've really enjoyed playing each of these characters, but my favorite has definitely been Lily.
Q. To do so much at such a young age is truly amazing. What inspired you to come into acting
in the first place?
Kariana Karhu: I've loved acting ever since my very first acting class, and I love the whole process of developing my characters and all the fun that comes with being creative in that way. I'm very proud of how far I've come, and I believe that if I continue pushing myself to learn more each time, I can go even farther! 
Q. You also have a knack for gymnastics.  Did you get a chance to showcase your gymnastics skills in any of your projects yet?
Kariana Karhu: Yes, I actually did! My very first commercial I filmed was Dunkin' Donuts, and they wanted someone who had gymnastics experience. It came in very handy, because I had to hang upside down from some monkey bars while eating a donut — while being seven feet off the ground. I was just five years old when I did that, and I remember being scared of being so high off the ground. But with the help of my dad I powered through it and got it done, and it ended up being a really cute and fun commercial! I don't currently take gymnastics classes because I've been so busy with acting, but I still love to practice at home. I'd love to be able to incorporate it again into another project in the future.
Q. Coming back to Panic, what was it like working with Olivia Welch and Ray Nicholson?
Kariana Karhu: Working with all the amazing cast and crew was such a great experience! They were all so nice to me, and I made some really good friends. Olivia was so sweet and fun, and we became best friends! We would joke around in between takes, and we would take a bunch of pictures of me and her in Snapchat, and it was overall a great time working with her and all the other castmates!
Q. You have already achieved so much in your career, and you are only growing from here. What are some of your future projects that we should be on the lookout for?
Kariana Karhu: Well, there's no telling what'll come next in my career, but I'm definitely excited for the future. Just make sure to keep an eye out for my name! 
Thank you so much for speaking with me, Kariana. You truly are Inspiring, and I wish you all the best for all your future endeavors and achievements!
Kariana Karhu: Thank you so much, Hardik. It was fun speaking with you!
The Movie Culture Synopsis
You can witness Kariana's amazing performance in Panic which is available to stream on Amazon Prime Video!