Love Hard is one of the first Christmas movies of 2021 and it was released on November 5th on Netflix. It is a Rom-Com that runs for 1hr 46 mins. The movie is not worth the time but watchable for some very few scenes. If you are planning to watch it for Darren from Never Have I Ever check out our review of Season 2!
Love Hard Movie Cast 
Nina Dobrev as Natalie Bauer
Darren Barnet as Tag
Jimmy O. Yang as Josh Lin
Harry Shum Jr as Owen Lin
James Salto as Bob Lin
Matty Finochio as Lee (Natalie's Boss)
Love Hard Movie Plot
After a series of bad dates, Natalie finally gets matched with a guy, Josh who is both attractive and sweet but the problem is he lives far away. With Christmas nearby, she decides to go out of her way and meet Josh but it turns out, she got catfished. Angry, she storms off to a bar where she finds the attractive half of the catfish guy. Josh, decides to seek forgiveness and play pretend girlfriend in front of his family by helping her get Tag.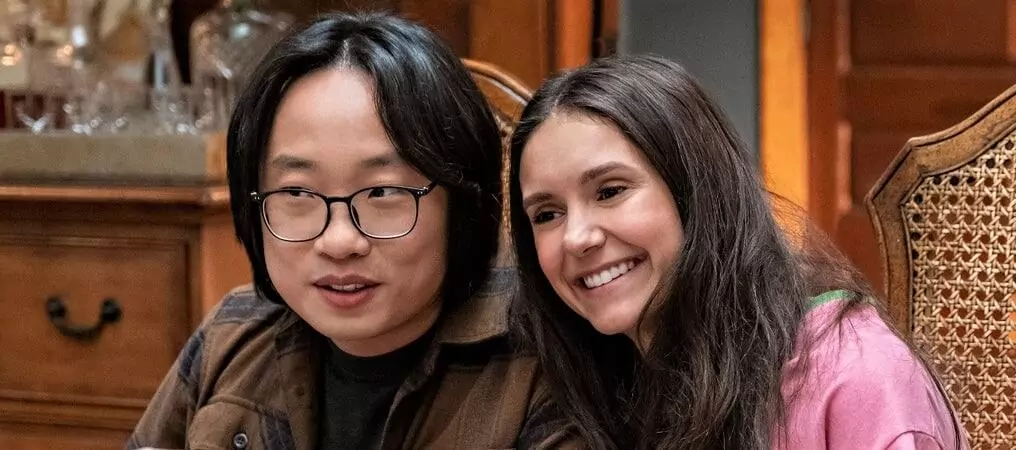 Love Hard Movie Review
It is November, a month before Santa comes bearing gifts! A month before carol singing and a month before the time when listening to Mariah Carrey is ok. It is also the month when Netflix, Hallmark and every other production company starts releasing their most anticipated Christmas movies! November, when love is in the air even before the temperatures start to drop. So why should the 11th month of 2021 be any different? It is not like we just went through the second wave where we all binged Home Alone or Grinch or Christmas Chronicles or any of the 100s of Christmas movies that have left a mark. That is why the first round of holiday movies have begun!
Netflix started their rotation of movies by bringing holiday movies like The Claus Family, Father Christmas is Back and The Princess Switch to its platform. It also released its first-holiday movie titled Love Hard on November 5th. Holiday Movies bring families together. They are festive, family-centric and most important of all, appropriate. Good language, PG scenes and sometimes a good moral are important elements of a Christmas classic. And then there is Die Hard. Yippie Ki Yay…you know the rest. There is also Love Actually which promoted the idea of hitting on your recently wed best friend's wife while also making them lie to him. So what can you say about a movie inspired by these two-holiday classics? You could say that it would be called Love Hard.   
Love Hard starring Victoria Justice Nina Dobrev, Jimmy O Yang and Darren Barnet is the first Christmas movie that I watched this year. It had a very promising trailer that finally gave Darren a chance to play a man his age. On another Netflix show, Never Have I Ever, Darren played the role of a 17-year-old jock named Paxton at the age of 28. In this movie, he, fortunately, is a young man in his 20s who belongs to a small town where he gets hit on by every girl. Why not, right? The trailer that ran for 3 mins turned out to be an accurate summary of the movie with leaving next to nothing to be revealed in the movie. 
The movie is about a young writer named Natalie who goes on a series of bad dates and maintains a constant column about them. She then meets a dashing man named Josh who is both incredibly attractive as well as a super hilarious person to hang out with. Slowly they get to know each other and what was causal texting became long conversations. One of these conversations was so long that Natalie fell asleep and Josh decided to not hang up and continue after she woke up again. 
Being a writer, she is required to go on bad dates and complain about it and when she found Josh she didn't have anything to complain about. This made her boss furious so he pushed her to travel 3000kms and meet Josh. What follows this journey is catfishing, an overly involved Asian family and Jimmy giving a moving speech on behalf of all the conventionally unattractive people to a disinterested elderly crowd. 
There was a lot of potential in this movie because online dating and catfishing is big hurdle in the quest for love in today's world. Additionally, they use Die Hard and Love Actually in many moments of the movie giving it the necessary connection also but it still falls short in holding onto this interest. 
As cliché as the I-am-different-from-other-girls gets, this movie was a breather from that. Natalie loves Die Hard and she is not trying to convince the audience that she is one of the boys. Her failure in climbing the rock wall, or getting high to go speed racing makes us forget for a second that Netflix cast Nina to play a girl who isn't able to get good dates on an online platform.
The story also starts to drag the audience through instances of adventurous dates or regular emphasising of Josh and Natalie being ugly teenagers. The reasoning of many actions made me think that there wasn't much thought given to the background of the story because every teenager goes through the dark side of puberty. 
The Redeeming Part: Harry Shum Jr.  
Also, movies have run their course on the shadow sibling. Being an elder sibling, I think it is pretty harsh to blame one entire life on the success of a more successful sibling. On a more serious note, the relationship between Josh and his elder brother, Owen seemed to be very forced. This dynamic was to no fault of the two actors but more to the story they were given to share. 
Owen is a man who thrives in action. He knows what to say, how to act or simply how to keep the people around him engaged and that is why he gets the attention. While Josh, doesn't get the attention but even when he does, he makes rash decisions or just pushes it away from himself. The entire attention sub-plot of the movie felt more like Owen helping his brother out by not putting him in awkward situations because of which their rivalry was not understandable at all. 
On top of that, Harry was one of the few reasons the movie is bearable. He brought delightful energy to the movie and made you miss him in the scenes where he wasn't there. Towards the end, he was hit on by Natalie's boss, which made the Magnus fan in me, just squeal in delight because even though he is a straight man in the movie, the gaydar never misses. 
Love Hard Film: Final Thoughts
By the end, I was trying to identify the few essentials of this Christmas movie. It was PG for sure, but this Rom-Com had barely any chemistry between the actors, it had a family but it wasn't family-centric and the writing was average at best. On top of that, Love Hard promised us Love Actually and Die Hard but other than one or two references, the movie had no epic romance or any fast-paced action scenes. Not that I expected fight scenes but I definitely wanted more than Nina saying Yippie Ki Yay. 
Overall, I would not recommend this movie to anyone seeking a holiday classic but because of Harry Shum Jr, Jimmy Young talking passionately about candles and Takayo Fischer (Josh's Grandmother) I will also not violently stop someone from viewing it.
The Movie Culture Synopsis
Love Hard will make you wonder why you wasted your time and ponder over how this awaited project turned out like this. Harry and Jimmy did great jobs personally and the Takayo Fischer deserved more screen time.  
Love Hard is streaming on Netflix.