Major Grom: Doctor Plague is a movie based on the comic book with the same name directed by Oleg Trofim. Movie was made in Russia. It is an action and thriller movie set in the current time in the city of St Petersburg. Netflix bought the worldwide rights for the movie and is currently streaming it in Russian and English language.
Major Grom: Doctor Plague Movie Cast and Characters
Tikhon Zhiznevsky as Major Igor Grom, a police detective with the Saint Petersburg Police
Lyubov Aksyonova as Yulia Pchyolkina, a blogger and journalist
Aleksei Maklakov as Colonel General Fedor Prokopenko, Igor Grom's boss, lead of the Saint Petersburg Police
Aleksandr Seteykin as Dmitry "Dima" Dubin, a trainee at the Police of the Russian
Federation, Igor Grom's partner
Sergei Goroshko as Sergei Razumovsky  a billionaire philanthropist, creator of the Vmeste social network
Dmitry Chebotaryov as Oleg Volkov, childhood friend and bodyguard of Razumovsky
Mikhail Evlanov [ru] as Evgeny Strelkov, a Federal Security Service officer assigned from Moscow to investigate the Plague Doctor case
Kyivstoner [ru] (Albert Vasiliev) as Booster Ignat, Grom's informant and leader of the gang of football fans
Oleg Chugunov [ru] as Aleksei "Lyosha" Makarov, a boy from an orphanage
Anton Bogdanov as "The Leader", one of the bank robbers
Nikita Kologrivy as "The Psycho", one of the bank robbers
Oisel More Despaigne as "The Brute", one of the bank robbers
Yuri Nasonov as Kirill Grechkin,the son of a billionaire
Anna Nevskaya as Olga Isaeva, head of RosGarantBank
Yuri Vaksman as Philipp Zilchenko, owner of the landfill
Vitaly Khaev as Albert Bekhtiev, entrepreneur, owner of the Golden Dragon casino
Yulia Pashruta as Anna Terebkina, a news presenter
Konstantin Khabensky as Veniamin Rubinstein, psychiatrist (in mid-credits scene)
Vitaly Milonov (cameo appearance) as himself
Major Grom: Doctor Plague Movie Plot
Igor Grom, a police officer in the Saint Petersburg police force, loves to go beyond the duty limits and help take down criminals in the city in a very fascinating way. He doesn't play by the rule book. He lives alone and leads a very messy lifestyle.
Alongside a villain who wants to change the city for good is on a killing spree. He kills those who have made the society a hell and he goes by the name Doctor Plague. Doctor plague is like the Batman of Russia but who kills a lot and only has flame throwers installed on his hands.
People from the streets support Doctor Plague and is a hero to them. He uses social media to connect to people, a site named VMESTE that provides 100% privacy and security to its users making it impossible to track him or get his real identity out. He live streams his attacks and gathers people like him to cause complete chaos in the city.
While all this is happening Grom investigates the case and finds out who the real Doctor Plague is, but things take a sharp turn and Grom ends up in prison after being fired from his police job.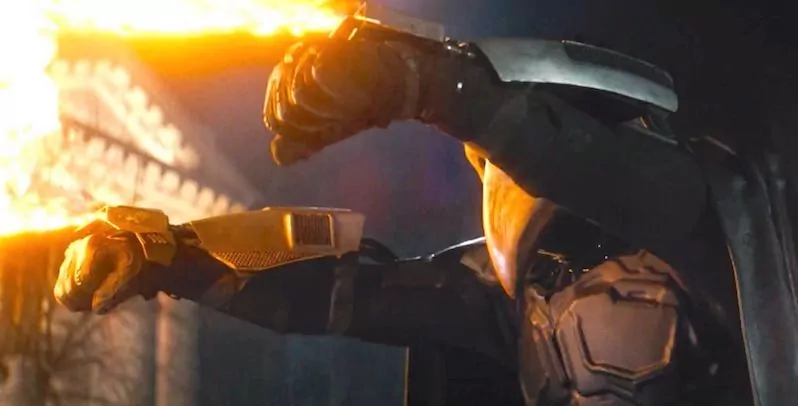 Major Grom: Doctor Plague Movie Review
A Russian mixture of Batman and Joker, doctor plague is a man with Batman suit and Joker motives, he plans to make the city of Gotham, ohh no no Saint Petersburg, a better place by burning the wrong doers and by gathering the support of people. The movie is quite interesting with the twisting plot at the end, but quite predictable because the actual Hero always wins and also because we as audience love happy endings, don't we ?
The movie kicks off with a bank robbery and the real Hero of the movie makes a not so grand entry but manages to stop them from escaping, also Major Igor Grom loves to think (dumay) alot, it is like making moves in the game of chess and thinking of what consequences next move would cause but at the end he just says damn it and follows his instinct. It is very captivating to watch him think, because he does something amazing and your jaws drop but the joke's on you because he is still thinking of doing it.
Tikhon Zhiznevsky plays Igor Grom very gracefully, you instantly love the character. Yulia, a strong independent journalist, comes off very bold during the first phase of the movie but as the movie concludes something goes missing from her performance. The villain of the movie surely is intimidating as long as the mask is on, he even has a deep voice like batman when he puts on the mask.
The movie is filled with comedic instances which may or may not make you laugh entirely depending on your sense of humour. Although the action sequences are few they are worth watching, major Grom has some serious fighting skills.
The movie also features a cute love story of Yulia, a journalist and blogger, with Igor Grom. They get off on a rough note , during the movie they do get into arguments but to fight the doctor plague and put an end to the massacres happening they Unite.
I personally would give this movie a 6/10 because it is a good movie to watch which has multiple components of action humor paired with good climax but the fun only till the movie lasts, it is not one of those movies that leaves a mark.
At the end I feel that the movie could have gotten a better ending, it has a very cheesy sweet ending, which doesn't actually match with the whole tone of the movie, but it does have a post credit scene soo don't miss on that one.
Major Grom: Doctor Plague Movie Critical reception
Major Grom : Doctor Plague has received a rating of 6.4/10 on IMDb. It has an audience score of 87% on Tomato Meter.
The Movie Culture Synopsis
Major From: Doctor Plague can be watched with your family on a lazy sunday afternoon could be a great pass time.  I think kids especially would love watching this movie. Major Grom: Plague Doctor movie is available to stream on Netflix.