DATE : 19TH OF DECEMBER 2020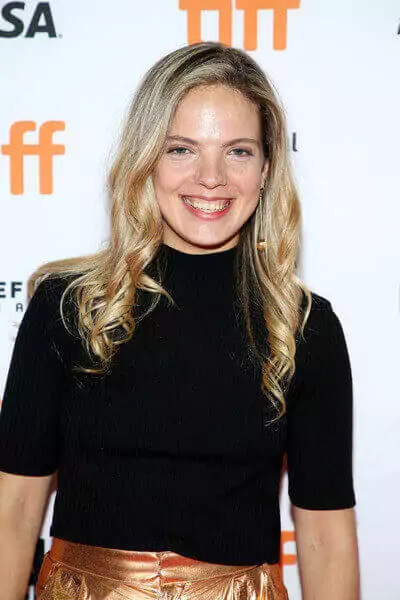 The Vigil is the indie Horror movie that is set for release in the coming weeks. The Movie Culture sat down with Dave Davis before to talk about the film in general and we now sit with another co-star Malky Goldman who also stars in the Vigil.
Malky Goldman is an actress known for appearing in Unorthodox, High Maintenance and now The Vigil.
Greetings Ms. Goldman, we at The Movie Culture are thrilled to have you. We couldn't be more excited to see you in The Vigil.
Q. We'd like to start off this interview by asking you about The Vigil, could you tell us about how your first got attached to the project as a whole?
Malky Goldman: It was two years ago, I was on a set filming with Lynn Cohen, and there I met Adam Margules, one of the producers of The Vigil. As we were talking about growing up in the ultra-orthodox Jewish community he stopped and said wait, I think you'd be perfect for this part in this film called The Vigil! So he went ahead and introduced me to the director Kieth Thomas, I auditioned, and here I am.
Q. The Vigil is a horror film and your character is at the center of it. Could you tell us about who you play and what can we expect?
Malky Goldman: I play Sarah, and just like me, Sarah grew up in an ultra-orthodox Jewish family and left her community to pursue her own path. What would be helpful to know is that when one leaves an insular community they are often like immigrants. Some receive no to little secular education and speak English as a second language, and it can take a while to figure out their place in this world. There are organizations dedicated to helping people make that transition easier, such as Footsteps. There are small groups and gatherings for people who leave to get to meet others that went through something similar and they help each other out. My character Sarah meets Yakov at such a meeting, played by Dave Davis, and she quickly realizes how new he is on this journey. He doesn't have experience speaking to women, and is a bit behind with technology, so she decides to take him out for coffee to talk.
Q. From what I have seen in the trailers, Kieth Thomas who's the man behind The Vigil has potential directed a horror movie with some incredible aesthetic and jump scares, how was it like working with him?
Malky Goldman: Working with Keith is an actor's dream! He created a safe, comfortable, and trusting environment on set. He is really so talented and gifted, I would work with him again in a heartbeat!
Q. We are also set to interview Dave Davis, your co-star from The Vigil. Any crazy behind the stories you might wanna tell us about him?
Malky Goldman: I love Dave! Dave is a true and brilliant artist. His passion and love for acting was so inspiring to me! We had such a good time working together and basically became family. Working with Dave did not feel like work, it was creative, thrilling, exciting, and fortunate.
Q. You have had great Indie Movies under your belt, as an actor going forward what sorts of projects are you looking to do? Mainstream or Indie?
Malky Goldman: Honestly, I'm just looking for good roles that speak to me, characters that feel ambitious, and acting that is meaningful. That's the goal.
Q. Apart from The Vigil you had Unorthodox this year which also had few Emmy Nominations. How was that like?
Malky Goldman: Unorthodox was special because it tried to capture something genuine and authentic in the world and community where I spent 20 years of my life. When I get a role, I try to understand where they come from and what their place in this world is. Therefore, when I get to play someone like Sheindi in Unorthodox, or Sarah in The Vigil, despite the differences between them, I know how they operate in this world, the rules, the norms, what they follow, and what they rebel against. 
Q. Speaking of Unorthodox we interviewed Justine Seymour on her Emmy Nomination. How was it like working with her?
Malky Goldman: It was really nice to work with her! She was so open and respectful, I like her a lot. We stayed in touch and I consider her a friend.
Q. Is there a movie or an Actor and inspired you to pursue acting?
Malky Goldman: Back in 2010, I was invited to a dinner were I met John Turturro and Vanessa Paradis. They were working on the film Fading Gigolo where Vanessa played a ultra-orthodox woman. I was asked to be a part of the consulting team and got to work side by side with those incredibly brilliant minds. I ran lines with Vanessa in John's trailer. I got to be on set and to see the process of film making and fell deeply in love with all of it. I walked away with a new spark and excitement. At one point while reading the script, John said, you should be an actor…. he might have been saying it in passing but that definitely inspired me to go for it and pursue what I wanted.
Q. The Movie Culture is situated in India so we'd like to know whether you have seen any Bollywood films? Or any international Content apart from Hollywood?
Malky Goldman: I have! I am on the screening committee of YoFiFest, The Yonkers Film Festival, where each year I get to watch hundreds of films from all over the world including India, which is inspiring and a lot of fun.
Q. Do you have any future projects lined up which you'd like to share with us and your fans ?
Malky Goldman: Hopefully, in early 2021, I  will be in Los Angeles acting in a film called The Chosen. One film with writer Darci Picoult, and another film in Europe with producer Daniel Finkelman and Chaya Greenberg are cooking in the kitchen. I'm excited but can't talk about them yet. I'm also working on a play with an all-female cast called "The Women" that will be put up by The New Yiddish Rep in NYC once theaters reopen. With Covid, nothing is set in stone, but I'm staying hopeful!
Q. There's a whole lot of competition in the industry, do you have any piece of advice which you'd like to share with talents reading this interview?
Malky Goldman: My advice is, remember that we each have our own path, try not to compare yourself to others, no matter their age or point in their career. You do you, and enjoy the process! Be kind.
With this we would like to wrap up with the interview questions. 
The Movie Culture would indeed like to thank Ms. Goldman for agreeing to this wonderful interview.
The Movie Culture Synopsis
Malky Goldman was a delight to Interview. She wasn't only Candid about herself but spoke brilliantly about Dave Davis ad Justine Seymour who we also had the good fortune of Interviewing.
The Vigil certainly has a good actor at it's center and we are excited to see the film having interviewed two of it's star. And we are certainly keeping tabs on Ms. Goldman's next projects which sounds interesting to say the least. The Vigil will be out on PVOD across all platforms.