Mank is a 2020 American biographical drama film about screenwriter Herman J. Mankiewicz and his development of the script for Citizen Kane (1941).
Directed by David Fincher, based on a script written by his late father Jack Fincher, the film is produced by Ceán Chaffin, Douglas Urbanski, and Eric Roth.
It stars Gary Oldman in the title role, along with Amanda Seyfried, Lily Collins, Arliss Howard, Tom Pelphrey, Sam Troughton, Ferdinand Kingsley, Tuppence Middleton, Tom Burke, Joseph Cross, Jamie McShane, Toby Leonard Moore, Monika Gossmann, and Charles Dance.
Mank Movie Cast
Gary Oldman as Herman J. Mankiewicz
Amanda Seyfried as Marion Davies
Lily Collins as Rita Alexander, Herman's secretary, from whom Susan Alexander Kane gets her name
Arliss Howard as Louis B. Mayer.Tom Pelphrey as Joseph L. Mankiewicz
Sam Troughton as John Houseman
Ferdinand Kingsley as Irving Thalberg
Tuppence Middleton as Sara Mankiewicz, Herman's wife
Tom Burke as Orson Welles
Joseph Cross as Charles Lederer
Jamie McShane as Shelly Metcalf, test shot director and Herman's friend
Toby Leonard Moore as David O. Selznick
Monika Gossmann as Fräulein Frieda, Herman's housekeeper
Charles Dance as William Randolph Hearst
Leven Rambin as Eve, Metcalf's girlfriend
Bill Nye as Upton Sinclair
Jeff Harms as Ben Hecht
Mank Movie Plot
The story centers on the life of Herman J. Mankiewicz as he writes the screenplay for Citizen Kane, as well as his personal relationships with William Randolph Hearst and Marion Davies.
Mank Movie Review
1930s Hollywood is reevaluated through the eyes of scathing wit and alcoholic screenwriter Herman J. Mankiewicz as he races to finish "Citizen Kane."
If you haven't seen 'Citizen Kane' make sure you watch it before you watch 'Mank' (go do your homework!!) Mank is directed by the one and only David Fincher and written by his late father Jack Fincher before he died in 2003. Mank is a Biographical Drama about Citizen Kane's screenwriter Herman J. Mankiewicz played by Gary Oldman, who had a collab with wunderkind filmmaker Orsen Welles played by Tom Burke. 
Mank isn't just like any other film you've seen, it's a masterpiece!! The way it shows the importance of a screenwriter is outstanding.
Gary Oldman carries Mank with another one of his chameleon-like turns, disappearing into the titular role with a compelling performance that highlights numerous traits and aspects of a complicated man's personality. He always commands the viewer's attention, molding Herman into a fascinating person to watch on screen. 
With the gorgeous black-and-white cinematography further complementing the aesthetic. Even though Mank is a modern movie, it has the look and feel of something that was made many decades ago, which is due in large part to its connection to Citizen Kane.
Mank is clearly a passion project for Fincher as the screenplay was written by his late father, Jack Fincher , so it isn't surprising a meticulous craftsman like himself went to great lengths to nail Mank's visuals. 
Some viewers have found Mank disappointing and boring because it's a Fincher film  and they've said that it has killed their hype about it, and that it is very slow. But it's a very clever movie and the acting is unquestionably amazing. And yes we're saying this again and again but Oldman did really good , the whole cast was outstanding.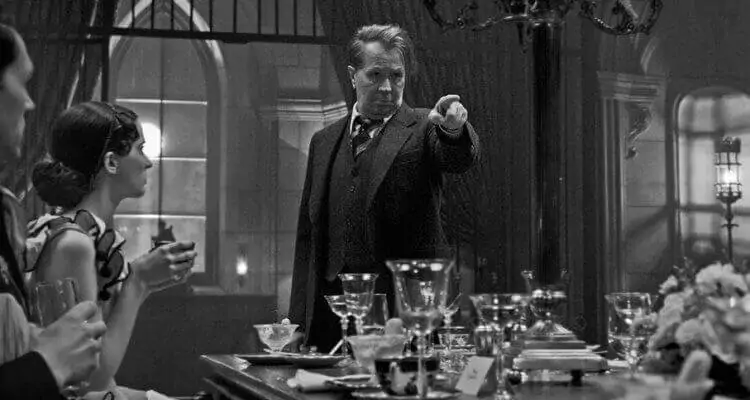 Mank: David Fincher's Directing Style
David Fincher Admits His Directing Style Was "Exhausting" For Gary Oldman During 'Mank' David Fincher is infamous for being a very meticulous, detail-oriented filmmaker. One element of Fincher's visual style is the specific way in which he uses tilt, pan and track in the camera movements. When a character is in motion or expressing emotions, the camera moves at the exact same speed and direction as their body. The movements are choreographed precisely between the actors and camera operators. The resulting effect helps the audience connect with the character to understand their feelings.
Similarly, in his music videos, Fincher appreciated that the visuals should enhance the listening experience. He would cut around the vocals, and let the choreography finish before cutting the shot. Camera movements are also synchronized to the beat of the music. He also favors the use of wide-angle shots to showcase a character's environment.
Some regard Fincher as an auteur filmmaker, although he dislikes being associated with that term. Much of his work is influenced by classical film noir and neo noir genres,  and involve a non-linear narrative, with a number of storytelling techniques such as backstories, flashbacks, foreshadowing and narrators. 
Fincher's visual style also includes using monochromatic and desaturated colors of blue, green and yellow, representing the world that the characters are in. In The Girl with the Dragon Tattoo, Fincher uses heavy desaturation for certain scenes, and increases or decreases the effect based on the story or characters emotions.  Erik Messerschmidt, cinematographer for Mindhunter explains the color palette, "The show has a desaturated green-yellow look… [it] helps give the show its period feel".
He states the effect is achieved through production design, costumes and filming locations—not necessarily through lighting used on set. Fincher also favors detailed and pronounced shadows, as well as using minimal light. When asked about his use of dim lighting, he said bright lights make the color of skin appear unnatural. "That's the way the world looks to me", he said. 
Gary Oldman as Mank
"It was exhausting in the beginning, I think, for [Oldman]," Fincher said. "Because I'm fairly didactic about, 'These are the things that the scene needs to accomplish for me, and we will continue to play, to look for ways to underline these ideas that are as subtle as we can make them.'" We did take after take after take after take. And [Oldman] said to David at one point, 'David, I've done this scene a hundred f*king times.' And Fincher said, 'Yeah, I know, but this is 101. Reset!'
Gary Oldman was exhausted during the filming of Mank, because as we all know that Fincher is one of those directors that will keep on taking until they find perfection in the scene.
Gary Oldman studied the teachings of Konstantin Stanislavski and Stella Adler while at drama school but went "off-book", drawing much of his inspiration from American cinema. As a screen actor, Oldman was almost typecast as an anti-social personality early in his career.
The necessity to express villainous characters in an overtly physical manner led to the cultivation of a "big" acting style that incorporated projection skills acquired during his stage training. He further sought to develop a distinctive approach that would distance him from his "stuffy" and "often interchangeable" British peers.
Gary Oldman has adopted various accents for roles and portrayed a wide range of characters. He is known for his in-depth research of his roles, as well as his devotion to them, at one point being hospitalized after losing significant weight for Sid and Nancy. In a 2017 interview, he differentiated between immersion and impression.
Mank Film Oscar Campaign
Mank should indeed set it's awards run around the auteur that helms the project, David Fincher himself. If someone tells you Fincher has never won an Oscar you'd be shocked and yes that is indeed the case.
Fincher has been a very cerebral filmmaker over the years and his films has invoked a sense of Old and New Hollywood. However with Mank David Fincher goes out of his way into making a period piece which upon viewing will take you to that particular time frame.
The direction is so akin to how Hithcock or Orson Wells would direct a Movie. The other prominent contestants which Mank has under it's belt in wining an Oscar is for Music, Cinematography and Production Design which under Fincher's direction are on point with the Cinematographer on Mank taking number to takes to get the performance and also the framing right.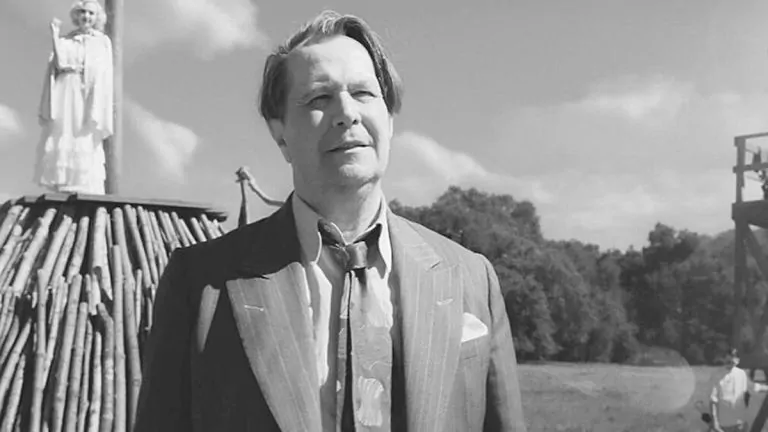 Mank Film Critical Reception
On review aggregator website Rotten Tomatoes, 86% of 148 critics recommended the film, with an average rating of 8/10. The site's critics consensus reads: "Sharply written and brilliantly performed, Mank peers behind the scenes of Citizen Kane to tell an old Hollywood story that could end up being a classic in its own right." According to Metacritic, which compiled 40 reviews and calculated a weighted average score of 79 out of 100, the film received "generally favorable reviews".
Eric Kohn of IndieWire gave the film a "B+" and wrote: "However much credit Mankiewicz deserves for Kane, Fincher's remarkable movie makes a compelling argument for appreciating the prescience behind its conception. His life had a rough ending, but the movie about it gives him one last bitter laugh." Writing for the Los Angeles Times, Justin Chang said "Mank demands your surrender, but also your heightened attention. It's a pleasurably discombobulating experience, sometimes playing like mordant drawing-room comedy and sometimes flirting with expressionist nightmare, as when Welles' dark silhouette looms over a bedridden Mank and his mummified leg."
Owen Gleiberman of Variety praised the performances and production design, saying "Mank is a tale of Old Hollywood that's more steeped in Old Hollywood — its glamour and sleaze, its layer-cake hierarchies, its corruption and glory — than just about any movie you've seen, and the effect is to lend it a dizzying time-machine splendor." Peter Travers, reviewing the film for ABC News, wrote: "Mank is the most gorgeous piece of cinema you'll see anywhere. Brilliantly shot in black-and-white by Erik Messerschmidt, with costumes to die for by Trish Summerville and a period-authentic score by Trent Reznor and Atticus Ross that somehow isn't defeated by the retro mono sound, Mank is meant to match the look and feel of its era, as if it's eight decades ago and you just bought a ticket."
The Movie Culture Synopsis
Fincher reunites with much of his usual filmmaking team, including production designer Donald Graham Burt, editor Kirk Baxter, and composers Trent Reznor and Atticus Ross, using only period-authentic instruments.
Fincher opted for cinematographer Erik Messerschmidt, with whom he worked on his Netflix series Mindhunter. The 120-page draft of the initial script revealed that Jack Fincher closely followed a claim voiced by Pauline Kael in her 1971 New Yorker article Raising Kane that Welles did not deserve screenwriting credit.
Mank is streaming now on Netflix.