Mare of Easttown is a HBO crime-thriller miniseries, created by Brad Ingelsby. It's a 7 episode run which explores the town of Easttown and the several mysteries it surrounds. 
Mare of Easttown Series Plot
Mare of Easttown is based in a far out town, and it revolves around Mare, the famed cop of Easttown who takes upon the case of a dead mother. 
Mare of Easttown Series Cast
Kate Winslet as Mare Sheehan
Evan Peters as Colin Zabel
Guy Pearce as Richard Ryan
Jean Smart as Helen
Angourie Rice as Siobhan Sheehan
Mare of Easttown Series Review
Mare of Easttown is the fresh breath of air in the muddled genre of crime thrillers. This mini-series comes with a blend of different themes that doesn't just make it a gritty show all the way. It is thoughtfully written and fleshes out its characters with the mysteries. It's almost as if the mystery sometimes feels secondary in comparison with the deep introspection of each and every person in the show. And obviously, Kate Winslet's bona fide portrayal of a broken, middle aged detective in the middle of a far off town, is every bit fine and even though there were so many chances of overdoing the miseries that she faces throughout the show, not once did I feel like her performance was overplayed and in your face.
In fact the only glitch in this show, for me, would be its eagerness to frame almost every character as a suspect. It somehow took out a bit of that subtlety from the show, but it hardly hindered my viewing experience. 
Kate Winslet plays a mid-age police officer, Mare, in the secluded town of Easttown. Her shot to glory in this town is a miraculous basketball game and an unsolved case which sits like a black blob on her career. She is pretty, but her beauty and personality has withered through the passage of time and circumstances.
A failed marriage, a dead son and a family with a history of depression and suicides, what she looks for in these cases isn't recognition or the feeling of accomplishment, but rather an escape from her excruciating life which demands her to come to terms with her past, and everything she is not ready to deal with. Not now, not ever. Her ex-husband lives right next to her house and to add to that, he is getting engaged again.
Clearly Mare isn't in the most clear state of minds right now and her eccentric and quirky mother isn't any help to her either. But then a teenage mother, Erin, gets brutally murdered in the heart of Easttown and all hell in Mare's life, breaks loose. Her past case comes back to haunt her, along with her memories, her relatives, hell, even her own daughter. This show is as much about the mystery of the killer as it is about the unraveling of the character of Mare.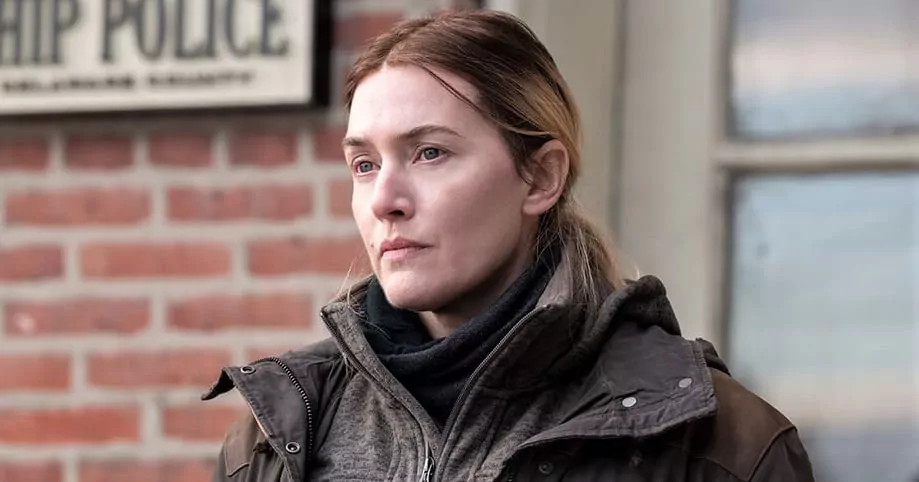 Mare of Easttown Series: An Increasingly Addictive Slow Burn
Mare of Easttown is phenomenal, in how consistent and fluid it is. The pacing of the show never feels the need to rush itself in order to produce a reaction from the viewer. Much like True Detective, a good mystery unfolds by itself, with the detectives and the environment acting like mere catalysts, and that is the case with Mare of Easttown as well.
Every scene is some sort of information, but it also plays off in a way which is captivating and capable of hooking the viewer, regardless of the slow pace. Mare is clearly the star of the show and receives the most amount of character development, but the priorities between the introspection of other characters are balanced as well.
A priest who has to pay a hefty price due to his past or a Detective who just wants to do something big in his life, each story, backstory, intention and revelation is equally important and each of them comes organically. It's a wonder how Mare of Easttown has so many people embedded into its story and not one of them feels dull or unwanted. 
The series is shot beautifully and rather than presenting the world with frequent use of drone shots, Mare of Easttown goes the opposite direction and actually brings you to the heart of the city. It's grim and southern, yet homely. There are dark lush forests and parks and then there are scenic streams of water, and even though this doesn't add to anything in terms of plot development, it certainly adds a much needed character to the town.
The series has a constant sense of tension, but it only induces panic in 2-3 specific scenes which are so rare and so crucial, that I for one got caught completely off guard. The writers clearly know how to lure you in that false sense of security and leave you assuming that the stakes aren't that high, and then they turn the tables upside down in the most colossal way. One of these panic inducing moments had my eyes dilated, my mouth wide open and my entire body was rendered incredibly still, because it was all too much to process and at the same time, it made so much sense. 
Mare of Easttown Series: Every Admiration for Kate Winslet Is an Understatement
Kate Winslet is that one actor who doesn't appear every now and then, but when she does, she blows everything out of the park and reinstates her esteemed position in the artform which is acting. Mare's need to escape from her life causes her to hide the true, deep-seated emotions inside her. For a person to reject her regrets and get going with her life, is to turn a blind eye towards something that will always be there to haunt her. This span of 7 episodes is a way for her to gradually see her life with as much clarity as possible.
She gets hurt while chasing a petty thief and then limps for the next two episodes. This is just one of the ways that the script and the actor makes this woman appear relatable. She is way past her prime, but at the same time, her experience and her way of working is what makes her one of the best in the town, even with all of her issues and prior trauma. Mare is a mother who thinks she has failed her child and a detective who thinks she has failed a victim, and in between these two statements, lies the entirety of her personality.
One of the minor issues I would say I had with the show was the need for the screenplay to, sort of, mark everyone as a possible suspect. It slowly starts to lean heavily on creating that element of uncertainty by providing a backstory to each character, which in one way, makes everyone a potential killer, but it also doesn't leave enough subtlety in the way the detectives arrive at the killer.
Again this is very minor and people might not even relate to it as much as I did. Bottom Line being, I loved Mare of Easttown to its absolute core. Everything about the show incorporates grim darkness with occasional heartfelt and humorous moments which are in no way cringey. Kate Winslet is being termed as the reason to watch this show, and while I 100% agree with that, she isn't the only reason to watch it. There's a great mystery in the mix, a killer on the loose and a woman who deserves happiness in her life and everything about Mare of Easttown is absorbing. 
Mare of Easttown Series Critical Reception
Mare of Easttown stands at 94% on Rotten Tomatoes with the consensus being, "Grounded by a career-best Kate Winslet, Mare of Easttown's ambitions at times exceed its reach, but its central mystery is supported by such strong sense of place and character it hardly matters." It has a Metascore of 82.
The Movie Culture Synopsis
Mare of Easttown is truly a must watch. Anyone, regardless of whether they are fans of the genre, will enjoy the show to a large extent, and obviously, the fans of this genre are bound to have a blast. It is dominated by its performances and its characters and the chemistry just hits perfect.