Mimi, don't get the length of the movie's title mixed up with the plot! The plot of the film extends well beyond everything else. When viewers see a Bollywood film, they anticipate to hear 'Aaaaaaaaaaaaaaaaaaaaa aaaaaaaaaaaaaaaaaaaaa aaaaaaaaaaaaaaaaa' just like K3G. But, now, Bollywood has triumphed over all of its critics. It's no longer the same love tale with parents who aren't on board.
Today's Bollywood is much more than that. It currently covers every part of the world, including racism, homophobia, surrogacy, and much more. This film, "Mimi," has certainly lived up to expectations and surprised audiences.
Director – Laxman Utekar
Writer – Laxman Utekar, Rohan Shankar
Screenplay – Laxman Utekar, Rohan Shankar
Cinematography – Akash Agarwal
Editor – Manish Pradhan
Music – A.R. Rahman, Himanshu Jaykar
The film 'Mimi' is based on Samruddhi Porey's Marathi film Mala Aai Vhhaychy!
Mimi Movie Cast
Kriti Sanon as Mimi Rathore
Pankaj Tripathi as Bhanupratap Pandey
Sai Tamhankar as Shama, Mimi's best friend
Manoj Pahwa as Mansingh Rathore, Mimi's father
Supriya Pathak as Shobha Rathore, Mimi's mother
Evelyn Edwards as Summer
Aidan Whytock as John
Jaya Bhattacharya as Dr. Asha Desai
Jacob Smith as Raj Rathore, Mimi's foster son, Summer and John's biological son
Atmaja Pandey as Rekha Pandey, Bhanu's wife
Mimi Movie Plot
'Mimi' is a film about a 25-year-old lady named 'Mimi' living in Rajasthan. Mimi aspires to be a Bollywood actor, but she lacks the financial means to do so. She works as a dancer to supplement her income. Her best friend, 'Shama' joins her on stage and sings along with her.
In contrast, John and Summer, an American couple who are unable to conceive, are in Rajasthan looking for a surrogate mother. Their neighbourhood taxi driver, 'Bhanupratap Pandey,' tells them that they would be able to find a surrogate mother for their child.
The American couple finds Mimi suitable as a surrogate mother candidate when watching a show where she is supposedly dancing, and they tell Bhanu to locate someone as fit as Mimi. Bhanu, on the other hand, offers to persuade Mimi to be the surrogate mother. The couple promises to pay the surrogate a wholesome amount of Rs. 20 Lakhs and Rs. 5 Lakhs to Bhanupratap.
When Bhanupratap attempts to persuade Mimi, she becomes furious and slaps him, but she accepts the offer when Bhanupratap promises her that she will be paid Rs 20 lakh just for bearing their kid. She becomes pregnant after the IVF process is successful. However, she needed to conceal her pregnancy from her parents, so she lied to them, claiming that she had been cast in a film and would be required to travel to Mumbai for nine months.
Mimi begins to live with her friend Shama, and the American couple asks Bhanu to look after her while they are gone in America. Mimi starts waking up early for morning walk, eats a lot and does everything possibly good for the child.
After a few months, John and Summer see Mimi for a normal examination; unfortunately, they discover that the baby has Down Syndrome. This revelation breaks John and Summer's hearts, and they depart immediately for America, telling Bhanu that they no longer want the baby and advising Mimi to abort it.
Mimi is dismayed when she learns of this, but she rejects the thought of abortion and resolves to carry the baby to term. She then decides to return home, but her parents are stunned to discover that she is pregnant. Upon being asked by her parents about the father of the child, Mimi points out that Bhanu is the father of the child. The parents then accept Mimi and her child.
Mimi gives birth to a perfectly normal son, proving that the prior checkup was incorrect, and she names him Raj. However, when Bhanu's wife, who lives in Delhi, inquires about Bhanu's whereabouts in recent months, it causes new issues. Mimi, on the other hand, clarifies everything by explaining the surrogacy to everyone, and Mimi's parents, to Mimi's astonishment, support her.
Mimi develops a strong attachment to Raj and decides to put her Bollywood dreams on hold in order to care for him. As Raj grows up in Mimi's home, surrounded by Mimi's parents, Shama and Bhanu remain important figures in his life. Four years later, after watching a video of Mimi and Raj on the internet, John and Summer come to India. They inform her that they have changed their minds about the baby and intend to return to America with Raj.
Mimi confronts Summer, claiming that Raj is now her child and that she will not give custody, but John threatens legal action, claiming that Mimi signed a surrogacy contract and has no legal rights to Raj as long as she was paid for her services.
Bhanu and Mimi's parents prepare to go to court, but Mimi opposes this idea and chooses to return Raj to John and Summer so that Raj does not have to deal with the stress of court proceedings. Mimi, Bhanu, and family meet John and Summer on the day of their departure back to America to send Raj off with them, but they are astonished to see John with a child, whom Summer claims is their daughter.
The couple stumbled across an orphanage on their way back from Mimi's house and felt a connection with Tara, so they chose to adopt her. Summer describes how she discovered that parenthood has nothing to do with blood and everything to do with love and care after seeing Mimi with Raj. They leave Raj with Mimi and her family, knowing that he is her son and belongs with her in every way.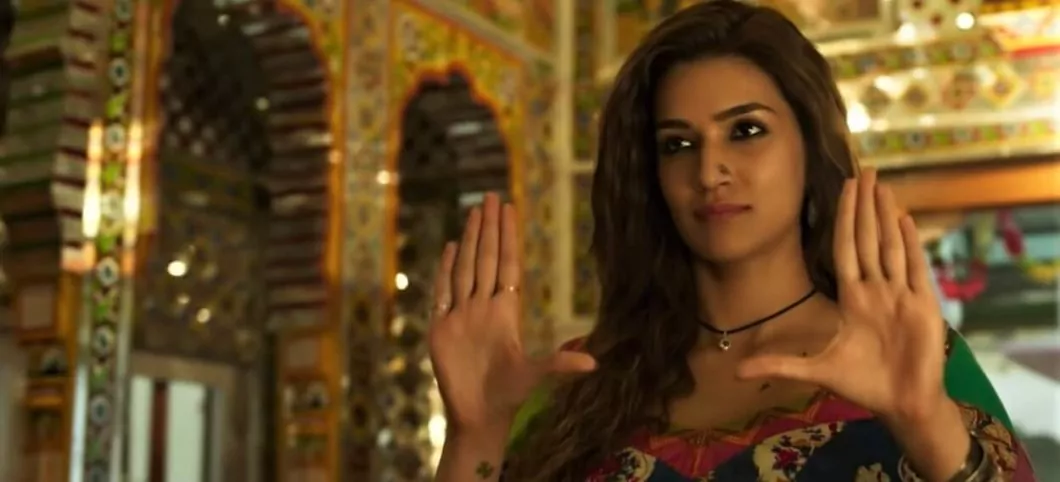 Mimi Movie Review
After all these years, we finally have a film like Mimi! Clichè Masala Bollywood Movies truly overrule content those were the days. The film is a full-fledged rollercoaster ride of emotions, from hilarity to rage, sadness or love, it has it all packed and delivered.
Kriti, the Protagonist, nails it with her performance here and is effortlessly convincing and strongly onto the character in a way that makes you forget her real side of personality, which is where her appreciation lies. Pankaj Tripathi is the leading man, and every time he appears on screen, he brightens the film and brings laughter. Their chemistry was commendable.
I loved how the film dealt with topics that are deemed taboo in our society. It is one that, through the medium of moving pictures, has the capacity to bring about significant social change. Mimi is a must-see film. I highly recommend the film and cannot emphasise its relevance enough, particularly in the context of Hindi cinema. Definitely one to keep an eye on.
The Movie Culture Synopsis
The movie 'Mimi' is an example for all stereotypical individuals who believe surrogacy is unethical and humiliating; and makes a huge fuss about adoption.
Motherhood is beautiful in every way, and people need to recognize that. To be a mother, we don't have to physically give birth to a child, it is through these beautiful and serene ways where people find motherhood.