Earlier this year we saw Han So-hee starring in k-drama Nevertheless where she played a college go-er caught up in a turbulent relationship, confused about life and love. However in her recent Netflix starrer My name she makes you forget that she ever was a young delicate student from the previous show.
The K-drama My name is an 8 episode action packed crime noir drama which is surprisingly brutal and oftentimes predictable. The writing is however consistently pacy and perfectly meet the demands of the genre and packs quite a punch.
The plot follows Yoon Ji woo (So hee) who joins the  Dongcheon crime syndicate headed by Choi Mu jin (Park Hee soon) in order to avenge her Father's death. She is trained by Mu jin and under his orders joins the police force under a fake identity. The story is simple and centered around Ji woo's obsession with revenge so much so that the viewer is barely allowed to dwell on anything else. The show is fast paced and moves with deaths, drugs, action scenes and big reveals. This sort of works well for the k-drama.
The little sunlight we see in this drama is through Jeon Pil do (Ahn Bo hyun) , a likable character and narcotics detective who becomes So hee's partner. Pil do is caring towards Ji woo and tells her that it is important for people in their line of work to have hobbies. But Ji woo's dialogue following this sums up her vengeance driven life pretty much. The show does attempt to ask questions about whether having revenge is worth it all but this comes into play a little late in the episodes. The ending can make or break a story and in case of My names that much is unfortunately true here as well. 
My Name K-Drama Cast
Han So hee as Yoon Ji woo
Ahn Bo hyun as Jeon Pil do
Park Hee sun as Choi Mu jin
Chang Ru yul as Do Gang jae
My Name K-Drama Plot
The story revolves around Ji woo a young woman who witnesses her father Donghoon being brutally murdered shot at point blank range outside their apartment. With rumors that the police are involved and a late night scoop from Cha Gi ho backing that claim up, Ji woo remains desperate for answers.
Those answers seem to come from Dong hoon's friend and work colleague Mu jin. Mu jin is head of Dong cheon crime empire with Dong hoon being on Korea's most wanted list. So Mu jin takes Ji woo under his wing and trains her to toughen her up to hit back against those responsible for killing her dad. This leads to her working in the police force as a mole under the fake identity of Oh Ji hye in order to find the identity of her fathers killer.
Through her work in the police she finds out her dad was a cop to his end and betrayed Mu jin and that her father's killer was Mu jin himself. It is during her time in the narcotics department of the police force that she meets Pil do, her partner and develops a romantic relationship with him. But he gets killed in front of her. It is after this that she goes to Dong cheon to kill Mu jin for her revenge and succeeds in doing so.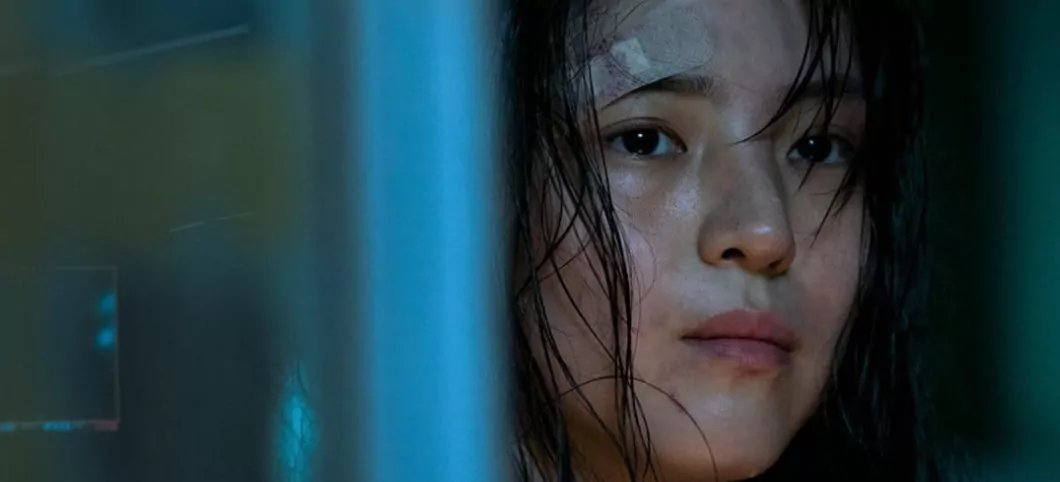 My Name K-Drama Review
Slick, gritty and with more than a dash of blood and violence,  this show isn't your typical traditional kdrama , that's for sure. The female protagonist is also someone you don't see often onscreen in a Korean drama for sure. Also the reason I wanted to check out this show even though it was not your typical kdrama wheelhouse, is because I heard that it was the groundbreaking role for Han So hee and I wanted to see her in action myself.
It is a simple story but also one with a lot of twists and turns in the path. Despite being predictable with a last grasp reveal which you will probably see coming by the end of episode 3, this 8 chapter thriller does well to keep things watchable until the very end. The final two episodes push the Believability to the max and there are some plot holes and issues that might raise your eyebrows.
Not only that but the abrupt ending leaves more questions than answers. If you go in expecting it then there is a lot to like in the drama. The drama is mainly about the action and boy are they good. I was very surprised to see the actress Han So hee being able to pull off such a role. Her acting and clear emotions she portrayed and the hard work she put in her action scenes truly paid off.
The action had long drawn out scenes and superb choreography making it more entertaining. Aesthetically most of the drama is shot with slick editing, stylish cinematography and pretty good soundtracks too. The title song 'My name' is really good and it pops up  throughout the show. Han So hee stands out for her acting especially in episode 6 where there is a scene that sees Ji woo learn the shocking truth and her pained reaction,  breaking down into angry tears by the side of the road is captured so authentically that you will feel every moment of it. 
The Movie Culture Synopsis
If you look past all the story shortcomings and focus on the good acting and action sequence, My name has a lot of positives. It may not be as good as other recent Netflix kdramas but it fits nicely in the 'very good with few flaws' category making for an enthralling and enjoyable revenge thriller watch. Show is well rounded and perhaps therefore more able to reach a wider audience.
I would recommend streaming it as My name promises a larger intrigue ahead after setting up its protagonist's very personal reason for revenge. All for the action scenes and some amazing twists, better not miss it. Very solid and very bingeable if you are in a mood for a revenge tale with its fair share of grit.