Never Have I Ever is an American coming of age comedy-drama television series starring Maitreyi Ramakrishnan and created by Mindy Kaling and Lang Fisher.
The comedy is partially based on Kaling's childhood in the Boston area. It premiered on Netflix on May 21, 2020, and is about an Indian American high school student dealing with the death of her father.
The series received positive reviews. The series has been described as a watershed moment for South Asian representation in Hollywood and has been praised for breaking Asian stereotypes. On July 1, 2020, Netflix renewed the series for a second season.
Never Have I Ever Series Cast
Maitreyi Ramakrishnan as Devi Vishwakumar
Darren Barnet as Paxton Hall-Yoshida
Richa Moorjani as Kamala
Poorna Jagannathan as Dr. Nalini Vishwakumar
Jaren Lewison as Ben Gross
John McEnroe as himself, the narrator.Ramona Young as Eleanor Wong
Lee Rodriguez as Fabiola Torres
Niecy Nash as Dr. Jamie Ryan
Sendhil Ramamurthy as Mohan Vishwakumar
Never Have I Ever Series Plot
The story centers around Devi Vishwakumar (Maitreyi Ramakrishnan), a 15-year-old girl from Sherman Oaks, California. After a socially horrible freshman year, Devi wants to change her social status, but friends, family, and feelings do not make it easy for her.
After Devi's father, Mohan (Sendhil Ramamurthy) passes away, Devi loses the use of her legs for three months. The following year, she tries to deal with her grief, Indian identity and school life, also struggling with her relationship with her mother, Nalini (Poorna Jagannathan), her beautiful cousin, Kamala (Richa Moorjani), her two best friends, Eleanor (Ramona Young) and Fabiola (Lee Rodriguez), her high school crush, Paxton (Darren Barnet), and her nemesis, Ben (Jaren Lewison).
The series is mostly narrated by professional tennis player John McEnroe, with one of the episodes narrated by Andy Samberg.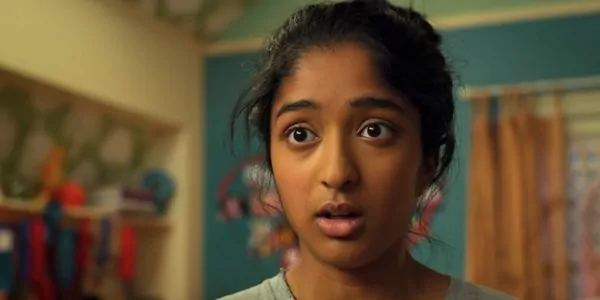 Never Have I Ever Series Review
Mindy Kaling's "Never Have I Ever" starring Maitreyi Ramakrishnan, has won alot of south Asian hearts. Desi Teens would say this show is #Relatable.
This show presents an Indian girl named Devi who wants to do things that she never have in her past year. Every episode represents the things she does in her everyday life and what she wishes to do.
She hasn't gotten over her father's accidental death and that is why she has these therapy sessions. Her mother who is also a doctor, only wants best for her, even the friends she has are struggling with one or the other things in their lives.
This story is about how a Desi Teenager deals with all the things going around her and how she gets into trouble , because being a teenager isn't that easy. 
Never have I ever has a very Disney quality to it where one can watch it over and over again without getting bored. Mindy Kaling, Never Have I Ever show creator definitely has a second Season in line which is just waiting to come out.
However on side note we do think that Never Have I Ever's Story doesn't need a second season and could have rounded it up in Season 1 but we guess Hollywood wouldn't greenlight a sequel any other way.
Never Have I Ever Series Episodes
"Pilot" , Tristram Shapeero, Mindy Kaling & Lang Fisher
"… had sex with Paxton Hall-Yoshida" Tristram Shapeero & Justin Noble
"… gotten drunk with the popular kids" Linda Mendoza & Amina Munir
"… felt super Indian" Linda Mendoza & Mindy Kaling
"… started a nuclear war" Kabir Akhtar, Chris Schleicher & Akshara Sekar
"… been the loneliest boy in the world" Kabir Akhtar, Aaron Geary & Ben Steiner
"… been a big, fat liar" Anu Valia & Erica Oyama
"… pissed off everyone I know" Anu Valia & Chris Schleicher
"… had to be on my best behavior" Tristram Shapeero & Matt Warburton
"… said I'm sorry" Tristram Shapeero & Lang Fisher
Never Have I Ever Series Critical Reception
On Rotten Tomatoes, the series holds an approval rating of 96% based on 51 reviews, with an average rating of 7.8/10. The website's critical consensus reads: "Never Have I Ever's fresh take on the coming-of-age comedy is hilariously honest, sweetly smart, and likely to have viewers falling head over heels for charming newcomer Maitreyi Ramakrishnan."
On Metacritic, it has a weighted average score of 80 out of 100 based on 18 critics, indicating "generally favorable reviews". At their Q2 report meeting in July 2020, Netflix reported the series had been viewed by 40 million households since its release.
The Movie Culture Synopsis
According to The Movie Culture Never have I ever, is a good series and as it has a lot of good reviews too, we think you will like it too. It's a good show for teens, it's about how South Asian people deal with things in their everyday lives and about how a brown family tries to fit in , in the U.S.
In this story our gorgeous brown girl Maitreyi Ramakrishnan plays the lead as Devi Vishwakumar, we adore this actress and like her work in this show. It's a dramedy with some serious and sad moments added as a dressing. The Movie Culture thinks you will enjoy watching this show. Also don't forget to tell your friends about us.