Nobody is crazy fun when it comes to unique and well thought out action. Its filled with guts, blood and a version of Bob Odenkirk which is unseen and unheard of before. 
Nobody Movie Plot
Nobody revolves around a retired Auditor, Hutch Mansell who gets back into the bloodshed business to vent out years' worth of gruelling endurance and anger. It all begins over a kitty cat bracelet. 
Nobody Movie Cast
Bob Odenkirk as Hutch Mansell
Aleksey Serebryakov as Yulian Kuznetsov
Connie Nielsen as Becca Mansell 
Christopher Lloyd as David Mansell
RZA as Harry Mansell
Nobody Movie Review
Nobody is the reason why action films should just be handed over to Russian directors from this point onward. Starring Bob Odenkirk, Nobody is everything you can possibly want an action movie to be. It's Fast Paced, pretty freaking violent and it doesn't take itself seriously. It has some of the most well-crafted and choreographed action I have seen since a long time, and I don't want to necessarily base my opinions on comparisons, but John Wick looks pretty childish compared to the kind of gore we see in Nobody. The plot is, well, there's something there alright. It's as straightforward as it gets, and while I necessarily wasn't a huge fan of it, I also didn't go into this movie expecting something unwantedly deep. I craved to see some action and oh boy did I get to see just that. Bob Odenkirk sure devoted his entire career towards Saul Goodman, and when you finally see him in this role, you will know that he slides into Hutch's shoes like butter. 
Nobody follows Hutch Mansell (Played by Bob Odenkirk), a retired "Auditor", who now has a family of his own. He gets up to his same old routine, does his same old chores and goes back to his same old life, each and every passing day. It's almost like his life is already scripted and anything out of place would just disturb the momentum of his gruelling journey to death. What he lacks in his outer life, he can't compensate in his home. There's a sense of dried out love between him and his wife Becca Mansel (Played by Connie Nielsen), and a lost respect in his son's eyes. But one fine night, two burglars break into his home, rob him and apparently steal his daughter's kitty cat bracelet. He has every chance to hit them where it hurts, yet he chooses not to vent his months of patience and anger on the thieves who brought an empty gun to a robbery. But when he learns that the bracelet has gone missing, you know he is about to go crazy on them. And thus begins the rebirth of the Auditor.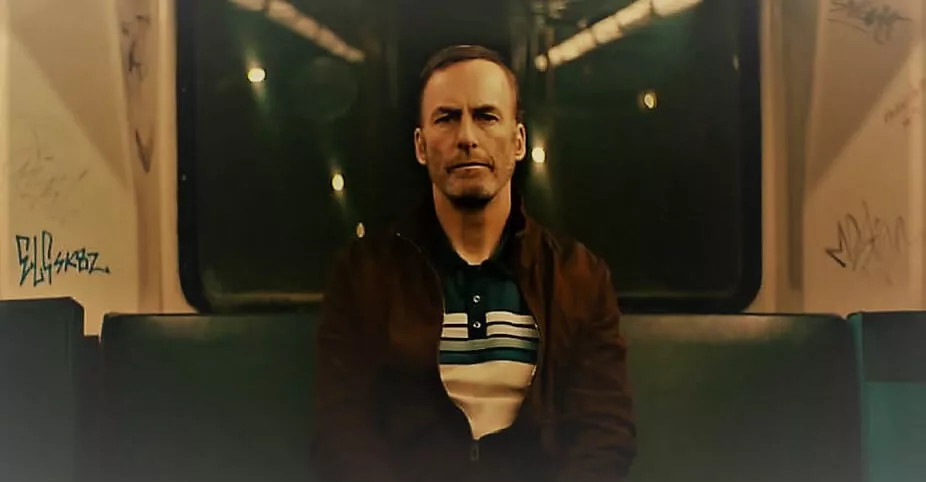 Nobody Movie: Gore and Clever Action Combined
The fight sequences in this movie beat anything that I have ever laid my eyes on. The sheer brutality of each punch, each stab and each bullet can be heard and felt all the same. The Bus Fight sequence is when, according to the words of Hutch, God opens a door to a long-compressed side of him. This door lets out an animal, who has missed beating as much as he missed getting beaten. One punch to the face, he receives two in return. But after the next punch he delivers, there is no one left to punch him twice anymore.
Blood splatter on the glasses and on the seats like a rainy puddle. Hutch not only defends the set of moves coming towards him, but he more than once, retaliates by using that same move to his advantage. Be it an Alcohol Bottle, a Knife or a Straw, the choreography of this movie takes advantage of any and every prop possible. It's the kind of action which gets pretty creative, but has a two-sided gore angle to it, which will never make you feel like you are watching something formulaic or choreographed. The fist fights get nasty and take their time. Characters take breaks in between, and get bloodier as the fight progresses. From almost killing a man with a Bus Railing to saving him with a freaking Straw, I feel like this has the potential to become just as iconic as the Pencil incident of John Wick, but with a different perspective. 
Nobody Movie: Bob Odenkirk, You Beauty
We see that his brother Harry (Played by RZA) and father David (Played by Christopher Lloyd) are familiar with the same line of work. The dynamic between the three of these characters resulted in some of the most far out and insanely fun scenes in the movie. Every person in this family knows how to kick bottoms. Bob Odenkirk is one man who understood the assignment. He has truly changed his entire persona with a single movie and that is saying a lot. I feel like he has virtually bashed every bit of typecasting he might have ever faced with Hutch Mansell and his beautiful badassery. To watch him do these insane stunts and absorb all those gut punches was truly glorious to say the least. And I really enjoyed what kind of a person Hutch really is. His intentions aren't complex, his methods aren't filled with long drawn plans, but his ruthlessness is enough for him to find his way out of any situation he might get himself in. The relationship between him and his wife felt neglected however. And every argument about this movie not having that sense of Introspection, comes from the right place and I ain't denying that. But I also fear that bringing complexity into these characters would have stretched out a face paced action bonanza. Ilya Naishuller packs this film to the brim with thrilling and exhilarating sequences that I never got the chance of even criticizing the lack of depth. The way it integrates action with cleverness is remarkable and that R-Rated Home Alone climax of this film was the most fun I have had while watching a movie for a long long time. 
Nobody is a gut filled adventure ride, where Bob Odenkirk grips you and punches you for ever thinking that Saul Goodman would be his best work. He has truly worked hard for this role and it bloody shows. My tipping towards this genre in general might come off as biased, considering how much of a fan I am of good, fast paced combat, but I don't think anyone will come out of Nobody unentertained. I have a tolerance towards violence, but even I squinted a bit when things got particularly bloody. At this point, I only hope they make a franchise out of this or somehow integrate this into the John Wick universe, god that would be a dream, wouldn't it? 
Nobody Movie Critical Reception
Nobody stands on 82% in Rotten Tomatoes with the consensus being, "Nobody doesn't break any new ground for the genre, but this viscerally violent thriller smashes, shatters, and destroys plenty of other things — all while proving Bob Odenkirk has what it takes to be an action star." Its Metascore is at 66 with generally favorable reviews based on 38 Critic Reviews.
The Movie Culture Synopsis
Nobody is one of the best action movies to come out in 2021 and it sets off an insane character, helmed by the insanely talented Bob Odenkirk. I can't wait to see what they do with this franchise; god knows how I want them to bring in John Wick somehow, but we have a long way to go before that.