Pachinko is an intricate and intimate experience that is a sweeping epic that manages to capture the arc of history as well as the enduring bonds of the family. It was adapted from the mesmerising novel by authors Min jin Lee and the creator was Soo Hugh's Apple TV+.
Pachinko was an emotional yet expressive retracing through history that depicts the lives of countless Koreans who were affected by the brutal Japanese colonization of Korea in the 20th century. It is a tribute to immortalize the stories of common people that would not make it to history books, including that of women who toiled hard just to keep their household alive.
It is told across eight episodes that were hour long and with high production quality in an impressive way. It is one of those adaptations that make you want to buy the book in order to fill in the missing parts of the plot. 
Pachinko K-Drama Cast
Youn Yuh jung as older Sun ja
Lee Min ho as Koh Han su
Min ha Kim as teenage Sun ja
Soji Arai as Mozasu
Jin ha as Solomon
In ji jeong as Yang jin
Pachinko K-Drama Plot
The story surrounds four generations of a family with its core revolving around Sunja. She is the story's tearful but sometimes happy eyes and also the resilient soul with overflowing fortitude. When we see her first she was an independent and brave child growing up in the 1910s,  portrayed by Yuna jeon. But she slowly witnesses how the Japanese occupation of Korea affects everyone around her and makes the adults fearful to lead their lives in pride. It makes people like her father afraid and one's like her mother Yangjin and the two girl orphans Bok hee and Deok hee who are working at their boarding house live life at an even lower status.
As a teenager played by Minha Kim Sunja has endured throughout her young life. Though she believes in kindness in the world because of her father it is soon heartbreakingly snuffed out of her. Her experiences of first love and the real world with the fish market player Koh Hansu (Lee Min-ho) end with her heartbreak. She is left with the fate of bearing the shame of getting pregnant out of wedlock in that era or living a life split into two halves. One half which she can speak about with dignity and the other which she has to hide from the eyes of the world. This leaves her with even lesser faith in the world but just then Isak enters her life.
He was a sickly missionary on his way to Japan when he was forced to stop at Minha's home island due to bad weather and lost consciousness in the boat. The boatman takes him to the boarding house where Minha and her mother take him in and nurse him back to health, saving his life. He later learns about Sun ja's situation and offers her a way out by agreeing to marry her and give her unborn child his name and raise him as his own. This involves her leaving Korea for good and later we see the countless life hardships she faces in Japan as a Zainichi Korean (Korean immigrant in Japan). When we see Sun ja in 1989 as a kimchi cooking grandmother who has lived through a lot in life but holds most of it in, we also get to see flashbacks of her younger days in between.
Throughout we see older Sunja flashes back to her old life with sometimes the time-hopping editing fades her youngest face to her oldest one showing how these memories of longing have been preserved. Sun ja, one of the thousands of Koreans who become stateless, wishes to go back to Korea once more.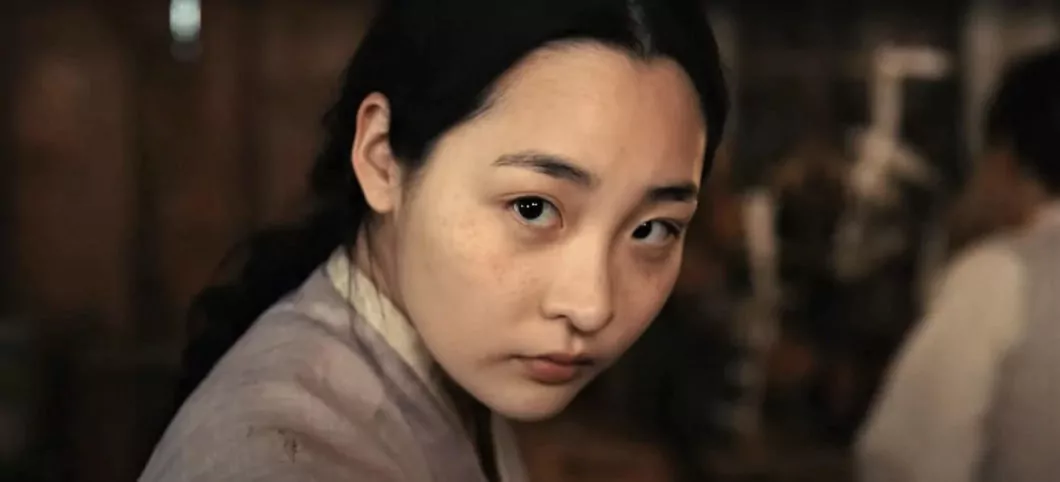 Pachinko K-Drama Review
The excitement of watching Pachinko lies in witnessing the two filmmakers at work,  Kogonada and Justin Chon who use their best shots when making films. Kogonada is a through and through wide shot film-maker who encompasses emotions out of peaceful creaks, busy fish markets and sullen boarding houses by how he places characters in the location. Whereas Chon loves to get viewers the close-up shots to capture how his characters experience to know about their joy and pain as if looking into a mirror. His directorial care is very resonant when we see him working with the younger and the older Sunja showing what toll these different systems take.
Chon episodes have breakaway musical feels too when Soloman dances in the rain to live music in the streets of Tokyo following his epiphany. The production design comes with its own emotional storytelling through its focus on clothes as a class or when it shows the creation of Korean food, and showing sentiments of the characters making us appreciate how rice from Busan is different from that of Japan. Later on in the series, we are introduced to a lot of new family members and end up undercutting them leaving their arcs a bit underwhelming. Many statements from the lives of these family members come as feeling rushed like that of Solomon's father who runs a Pachinko parlour.
We see both the ugliness of the world bound to hurt Sunja and the profound beauty of her father's love that endures through the generations and outweighs everything else. The series may not be the grandiose and cumulative power that it seeks but it does have many facets like the power of storytelling in front of and behind the camera to recommend it. All of the performances carry the story's reality and history inside of them and are presented in scenes that immerse us in the period and their hard-fought spiritual journeys.
The Movie Culture Synopsis
For these reasons I would recommend streaming it on Apple TV+ or any other source or website where you can get a hand on this amazing series.
It is a K- Drama you absolutely shouldn't miss out on and give it a watch at least once, just to truly experience the beauty of this world we live in and the story of the resilience of the countless people who live with melancholic longing in their hearts.