Red Notice is a heist movie released on Netflix. It was directed by Rawson Marshall Thurber and with the music scored by Steve Jablonsky. The production companies involved Flynn Picture Company, Bad Version and Seven Bucks Productions. 
Red Notice Movie Plot
Red Notice is a movie about heists. Two art thieves and an FBI profiler are on a hunt for valuable pieces of art. Booth and The Bishop are on the cross ends of getting their hands on Cleopatra's bejewelled eggs while Hartley the profiler trying to redeem himself in the eyes of the law. 
Red Notice Movie Cast
Ryan Reynolds as Booth
Gal Gadot as The Bishop
Dwayne Johnson as John Hartley 
Ritu Arya as Urvashi Das
Chris Diamantop as Sotto Voce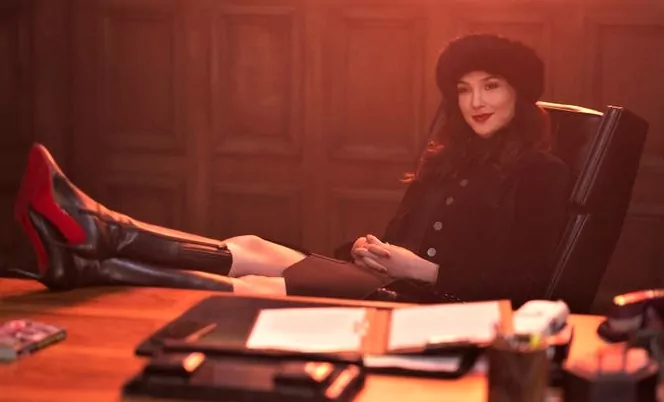 Red Notice Movie Review
A dream of mine is to meticulously plan every detail about a project. A project that requires alternative routes, months-long of research and possibly a personal element. Maybe vengeance or romance. Childhood trauma or even simply spite. The personal quality of work that will surely give a lot of money along with risk is what truly makes any work special. So why should heists be any different?
Heists are my guilty pleasures. The most obvious plots cannot deter my love for a heist movie. It helps that most of them have a stellar cast that is so talented, charismatic and often drop-dead gorgeous. Writers, directors and producers then rely more on the actors than the plot itself. Giving the opportunity of an observant viewer to tell you the ending before the introduction of the cast or the plan is over. Yet, the lack of mystery does not stop the viewing. A movie is more than its climax. It is about the humour, chemistry between the actors and the lavish sets. I am the kind of cinephile who is about the entire cinematic experience. That is why I tolerated Red Notice.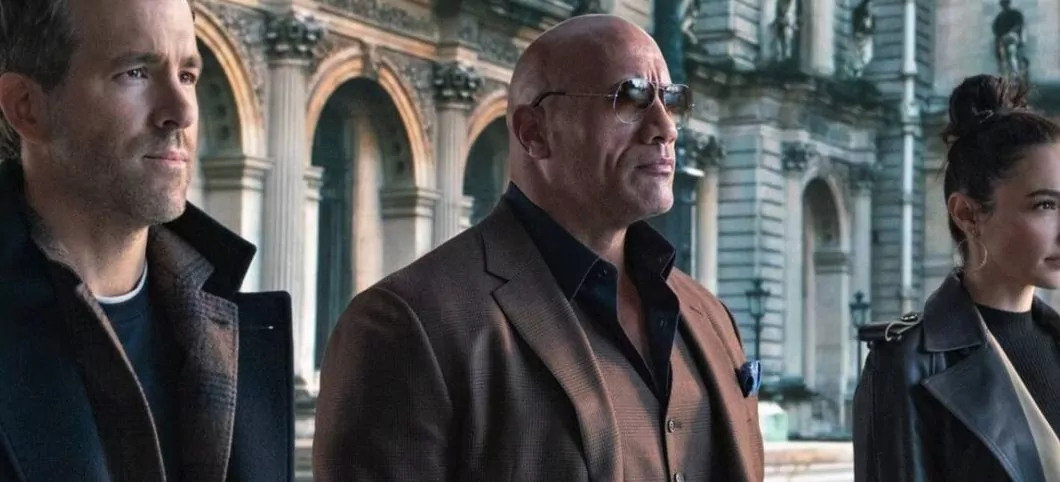 Red Notice Movie: The 3 Big Names that Star in Red Notice
Red Notice is a movie released by Netflix on November 12th. It had the biggest opening and why not, it had 3 big names of Hollywood. My initial reaction to the movie was of surprise. The success of the big names clouded my judgement but after having a good sleep I found the bare minimum in the movie. With the scale of the movie, one could have expected a lot more. It makes way for the question, was the progress of Hollywood so mighty that movies have finally become more than just the stars. 
Ryan Reynolds, Dwyane Johnson and Gal Gadot star in a nearly 2-hour long movie where they are involved in a heist to steal precious art. This preciousness of this are is reminded to the audience in every possible moment. At one point, I was convinced that if these three were not wearing expensive outfits, this would actually be more of a documentary on Cleopatra's art. Ryan who plays the role of Booth is the second-best art thief in the world who is caught while stealing an egg. This egg is a bejewelled and very valuable piece of art that once belonged to Cleopatra. She owned three of them and it turns out humans are careless. They lost the third egg making it valuable and the mystery the movie was trying to hold onto. 
The plot was pretty straightforward from the beginning. Booth is the class clown who grew up to become a cultured thief. He has extensive knowledge of art due to the spite he nurtured against his father. His quips about being best friends/work wives with Hartley (The Rock) was one of the few saving graces of the film. It may be all the Instagram prep he has got for being annoyingly charming that his dialogues did not fall short and become cringey.  
Red Notice Movie: A Thief with Daddy Issues
Apart from Reynold's surprising quips his character did not have much going. A thief with Daddy issues who befriends an FBI profiler to steal 3 bejewelled eggs. In terms of character, the movie had none who were interesting. Gal Gadot's bishop was the best art thief in the world whose outfits were one I would like to steal. She gave the character as much as she could but unfortunately, she was seen more as a mannequin. 
The Rock brought all his acting experience to play yet another smart hunky man. With a few scenes being shot in a jungle, one could play spot the difference between Jungle Cruise and Red Notice and not find any. Dwayne had chemistry with Ryan more than the female antagonist. Their dance scene seemed forced and the followed interruption was highly welcomed.  Every character in the movie seemed to be isolated from each other and working in their own capacity than together.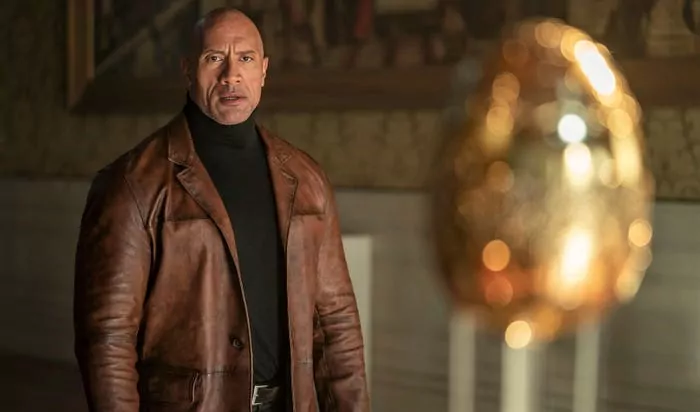 Red Notice Sets Itself Apart with its Glittery Grandeur
In my first watch, the sets and the outfits dazzled me. Masquerade ball in Valencia, wedding in Cairo and a cruise in the Cayman Islands. Everything was pristine and perfectly complemented with the costumes courtesy of the costume designer, Mary E. Vogt.  
With a budget of 200 million dollars, that should not be shocking. Where the movie relied more on the twists and shocks it seems to only deliver on the extravagance. Halfway through the movie, one might think that Reynolds knows this too. He seems to be a twitch away from grimacing or rolling his eyes. Gadot on the other hand seems to just come and go. She was meant to be a protagonist but then seemed to be a recurring character who just is in every scene. 
Then there was the FBI. They had no purpose after the first scene. Officer Das was everywhere but she had absolutely no need. She was given good outfits, a semblance of dialogues and no character. There was so much that was expected of the movie which had nothing and everything to do with some of the highest-paid actors of Hollywood. 
The Movie Culture Synopsis
All in all, with no fault of my expectations, the movie felt bland with a computer-generated script that considered plots that have worked previously. The characters were the same old, the jokes were just a little above average and the actors have done much better. I would not say do not watch it but would say to keep as low expectations as possible. Try not to come with theories because most likely you will have spoilt your own surprise.