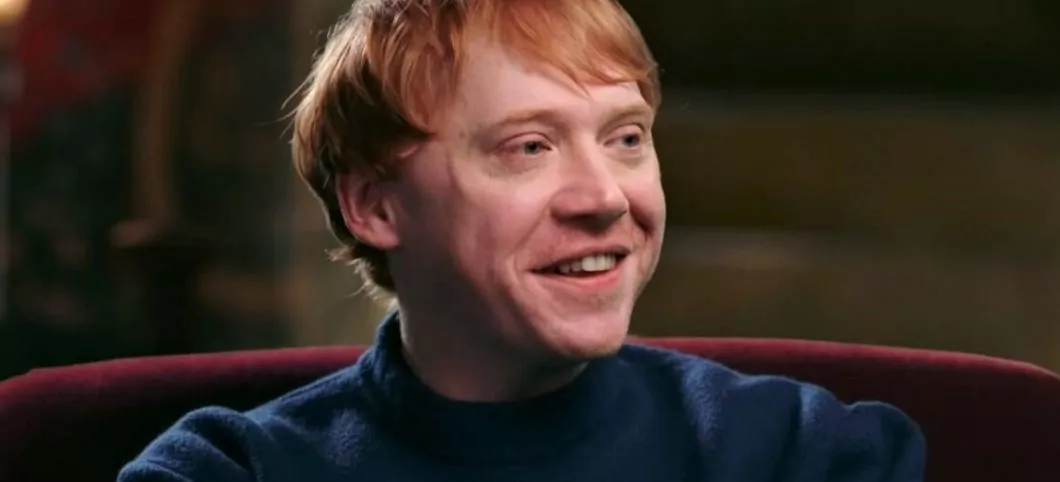 Rupert Grint has entertained us a lot with his Ron Weasley portrayal in the Harry Potter film series. Recently he is also a part of the M. Night Shyamalan's Apple Tv show Servant. Today he talks about his experience working in the Harry Potter films, about his character Ron Weasley, some of his fondest memories in the first Potter film, and about the Harry Potter 20th Anniversary: Return to Hogwarts. 
On reuniting with the Harry Potter cast…
Rupert Grint: It was amazing to see everyone again. It's been a long time since I've seen any of them. But I think about those movies all the time. And I remember a lot. But it was such a weird time to finish something that had been our lives. So I think coming out of it, it was always important for me to figure out what I was doing, who I was… It's been nice to have that time. This is the perfect time to sit down with everyone and reminisce. It's so nostalgic and it's everywhere. It's never really left me. It's found so many different new lives. Even the music can stir it for me. There's so much nostalgia threaded into these movies. It's a really important part of all of our lives and it's great to see everyone again.
On what drew him to his character…
Rupert Grint: I was always attracted to Ron. Reading the books, I just always saw myself in him in quite a deep way. He's just very real. He's kind of an outsider in many ways. He wants to be seen and recognized. He's kind of in the shadows of a lot of things around him – Harry and his family. So, yeah, he's always been a very interesting character for me. He's got a lot of humor, warmth. It's very weird talking about him. I really do feel that throughout those movies, we became the same person. It's strange. I feel like a fictional character a lot of the time. But it's fun.
On relating to Ron Weasley…
Rupert Grint: I think Ron is a very relatable person. He doesn't have the glamor… I mean, Harry's the chosen one and things like that. People can relate to that. He's in the shadows a little bit, but still with so much to give. He's such a key part to them as a group. He's great.
On growing up alongside Ron Weasley…
Rupert Grint: For me, it was amazing growing up. I got involved with it because I was a fan of the books. I was obsessed with this world and escaping into it. To suddenly dive into the books and be on the sets and live it for real is indescribable, really. It was an absolute dream. Just very surreal. You had to really pinch yourself in some moments because it just didn't feel like it was really happening. As the films got on, it wore off a little bit [laughs]. Not in a bad way. But it became more real, and you just felt hugely grateful to be a part of it.
On his fondest memory from the first film…
Rupert Grint: The first time walking into the Great Hall was pretty mind-blowing. And actually, our first day on set, we were on the platform. It was the last scene of the film when we were going back home. And the train was there, and Hagrid was there. It felt like we were in the book, and it looked like we were on the cover of the book. And we were there. And that was pretty amazing. Just the friendships we made and all the people, the family that was created over that course of time… it's hard to sum up in one anecdote, but it was amazing.
On the most challenging scene from the first film…
Rupert Grint: There's quite a few. A lot of them involve keeping a straight face has always been challenging for me. And it's usually the most serious scenes. They're the ones that get you. I remember the train carriage scene does stand out because that just took days and days and days. Me and Dan really couldn't look at each other. So they're always difficult. A lot of physical stuff as well. Like Quidditch was pretty challenging on the body. But that was the great thing about it, it was always a new challenge and you were constantly learning something new. It was something I really loved.
On the impact of Harry Potter…
Rupert Grint: Obviously because I was a fan of the books, I knew the books had such a huge following. They were really important to people. They were with people through their hardest times, and they've been a real support for so many. And such an integral part of people's childhood as well. They grew up with the books and grew up with the films. It makes you really proud. It's an amazing feeling to have had that impact on people.
On the fans of the Harry Potter film series…
Rupert Grint: The fans are amazing. And so surprising as well. All different demographics and ages. It's amazing. And so much enthusiasm. I do get shouted out things quite often. Like "get your wand out!" [laughs] is a pretty common one. It's great to see people get excited. It just makes it even more fun, and I really enjoy that.
The Movie Culture Synopsis
Harry Potter 20th Anniversary: Return to Hogwarts is available to stream on Amazon Prime Video and HBO MAX. It's definitely worth the watch.