Sex Education returns for a third season on Netflix, which releases on 17th September 2021. Its even more fun and ridiculous, and above all, a jolly good time. Before Season 3 if you would like a recap of the first 2 seasons, then don't forget to check our article on 'Sex Education Season 1 & Season 2 Recap And Breakdown'.
Sex Education Season 3 Cast
Asa Butterfield as Otis Milburn
Gillian Anderson as Jean Milburn
Emma Mackey as Maeve Wiley
Ncuti Gatwa as Eric Effiong
Connor Swindells as Adam Groff
Kedar Williams-Stirling as Jackson Marchetti
Sex Education Season 3 Plot
Sex Education Season 3 takes off months after the ending of Season 2 and things are tense between Otis and Maeve. Moordale is in a weird place with the college name being thrashed in media, and so the new Head Teacher is here to change some stuff.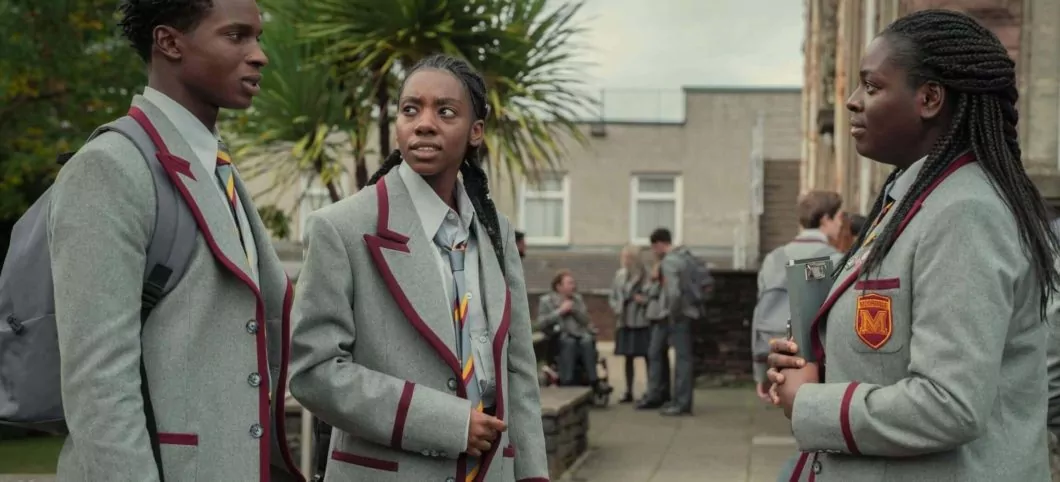 Sex Education Season 3 Review
Sex Education Season 3 is the most real and unabashed the show has been. While Season 2 had its hiccups and I wasn't quiet happy with how some arcs were handled, 3rd Season picks up with double the pace and double the fun. Each moment is wrapped in layers of development which makes you feel for the people who have to deal with so much realistic complexities in their day to day life.
It takes a step further in bringing abstinence, for the students of Moordale to tackle, in the form of a new head teacher. However, the way this entire situation is maneuvered is ridiculously fun as we reach the satisfying yet subtle cliffhanger of an ending.
We start off with a montage of people having the time of their lives, clearly happy with their sexual endeavors. Well, apart from Aimee maybe. But the months of advice which was facilitated by Otis, Maeve and even Jean, has bore fruits with students practicing safe intercourse and actually enjoying the process without major hiccups.
Otis is finally above the stage of connection and meaningful relationships, and is clearly enjoying his casual intercourse. Maeve on the other hand, never really heard the voicemail which Otis sent and is unaware of the fact that Otis confessed his heart out to her. So when the School reopens, there's a substantial amount of awkwardness between the both, and Otis doesn't make an effort to know what she felt about the voicemail, since he had already gone through so much embarrassment during the past months.
And one other major change is that Otis now has a moustache. Feels weird to even say this and believe me, you will never get used to watching him in one. Ironically, I could never take him seriously with it and that sums up his character pretty well.
There are a couple of characters who really found a much needed depth in their arcs and one of them was Ruby (Played by Mimi Keene). The moody teenager, who was always mixed with appearances and class, is actually a pretty sweet natured girl when we get to know her inside life.
Other one was Adam (Played by Connor Swindells), who didn't have that much to do in season 2 until the very end. It was a shame really, because Adam happened to be one of my favorites throughout the show. But now that Eric (Played by Ncuti Gatwa) and Adam are dating, he finally starts to loosen up and develop a much more calmer persona who actually smiles for once.
Rahim (Played by Sami Outalbali) isn't happy or over Eric, obviously, and this creates an undeniable friction between him and Adam, Eric's two lovers. Sex Education was always about fleshing out complexities, and the way Adam tries to deal with Rahim, knowing that he did steal his boyfriend right in front of his eyes, was thoughtful and fun to watch.
Meanwhile Ola (Played by Patricia Allison) and Lily (Played by Tanya Reynolds) are trying to work on finding a middle ground between Reality and Aliens. To be honest, I wasn't quite sure about how their relationship came about in season 2, it just felt a bit too sudden and without any buildup.
But Ola's journey of supporting her girlfriend's passion and likes isn't without meaning. Every heartfelt penchant, no matter how out-worldly it maybe, backs a reason and past, and we have a subtle look at that through Lily's childhood. Lastly, Mr. Groff (Played by Alistair Petrie) and his relationship with his wife has pretty much collapsed and seeing Groff on his most vulnerable and depraved side is equally fun and sad.
Otis (Played by Asa Butterfield), struggles between finding connection and fulfilling his needs. We get a much closer look into what Otis really desires and if a casual relationship is really the way to go for him. Jean (Played by Gillian Anderson) is pregnant and that causes her to come to terms with Jakob (Played by Mikael Persbrandt).
Even with a child on the way, their relationship with each other is far from normal. So when both these families come to live under the same roof, tensions arise and Jean still isn't sure whether parenting together is the right option after all. The entire duration of pregnancy makes Jakob confront his past with his ex wife.
Jakob and Jean aren't similar by any means and form but we as viewers know why they are built that way. Its also warming to see how Jakob is willing to give Jean a chance, considering the heartbreaks of his past which we get to know more about as we move further. Maeve (Played by Emma Mackey) is becoming close to Issac (Played by George Robinson), yet both her and Otis feel a void inside them. The long build up of will they wont they tension is still very much present this season, but out of all the three seasons, the latest one was a tad bit more satisfying and complete.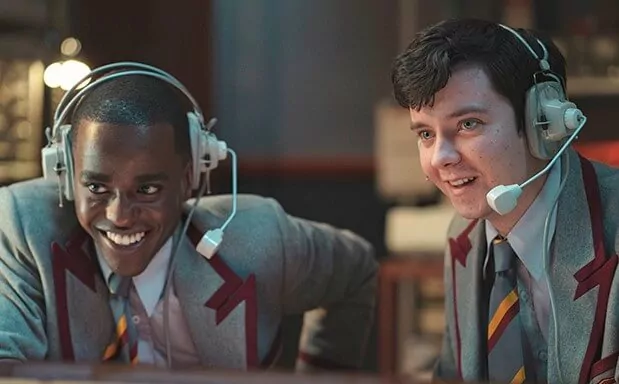 Sex Education Season 3: Change & Growth
The thing with Sex Education is that, every episode is about a change and a growth, and each season makes an irreversible change in the persona of the characters. But this season's growth and altercations feel more concrete and mature than ever before. There's an elevated sense of humanity and reality which feels overwhelming at times, but its ever so profound. I think the biggest difference here is that Sex Education is no more just about therapy.
Otis is no more the main driving force of the story, and the developments that have taken place throughout the run have substantial and lasting pay offs. The introduction of the new Head Teacher and the changes that she brings along with her still feel a bit far fetched.
Especially with the way they project her in the beginning. And even when the climax is still over-whelming and bizarre, its nothing compared to the Play we saw in season 2, which to be honest, was very over done and a lot of deep rooted realism which was present, got somewhat lost. All in, I am glad that Sex Education season 3 is no doubt raunchy and bollocks but, its also believable on many levels which gives the characters more weight and room for empathy.
I am not sure where they will go from here, because by the looks of it, there's still room for a lot of story. But a part of me also wishes they would have maybe given a more complete climax rather than a subtle cliffhanger which leaves things somewhat hazy.
The reason I say this is because, firstly, the actors are ageing themselves and I don't know how appropriate it would be for them to continue playing these teenagers, and secondly, the story was always meant to be about Teenagers and School-Life at its core.
So, I am not sure if taking the same scenario to university will be the right direction to go, considering how it will have to become even more mature and maybe lose a lot of its innocence in the way. Its a climax which feels almost complete and I don't think people will be left brutally longing for a fourth season with the way things are left.
Sex Education, was and still remains to be one of the most unique, well acted, well shot, and well written shows on TV and I am glad that every season takes the story in a better place. Season 3 is truly worth the wait and it blows the, somewhat overly outrageous, second season out of the park.
The Movie Culture Synopsis
Sex Education Season 3 is bound to bring a wholehearted smile on your face and its filled with much awaited pay offs, even more complexities and the one bizarre Bus Incident, featuring a hyperventilated Rahim.
Its a fresh turn of events which paves way for so many heartbreaks and love stories, and goes one step forward in bringing LGBTQIA+ inclusion in the form of new characters and their struggles.
Sex Education Season 3 will premiere globally on 17th of this September and will be available to stream on Netflix.