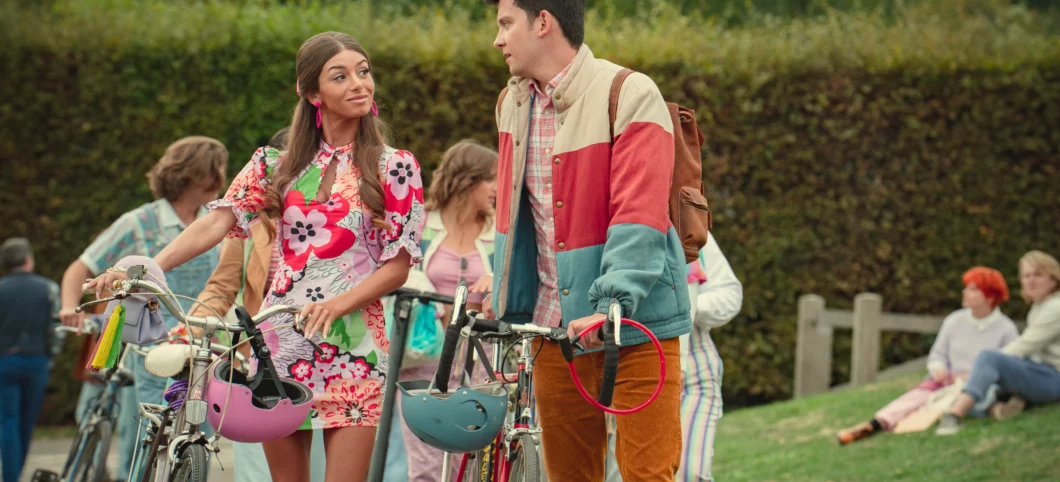 The last and final season of Sex Education is set to release on Netflix on 21st September 2023. Created by Laurie Nunn, the final season has 8 episodes, each with a runtime of over 40 minutes.  
Sex Education Season 4 Cast
Asa Butterfield as Otis Milburn
Emma Mackey as Maeve
Gillian Anderson as Jean Milburn
Mimi Keene as Ruby Matthews 
Sex Education Season 4 Plot & Summary
Season 4 is all about changes. Otis and Eric have started in a new college and things might not be the way they thought it would be. Things are certainly not the same.  Maeve is settling into her new course in America and enjoying the new path she has embarked on. With everyone going through big changes, the final season is about fitting in while continuing to maintain individuality.
Sex Education Season 4 Review
Covid had just started when I started the first season of Sex Education. The only series that I watched on my mobile phone instead of the television. If I was watching in the living room then my mother would also be a part of this viewing. While I pride myself on being an open book and not being shy of any conversation with my parents, this was one I felt I am good without. They would be okay with it, but if they would have been more than okay with it, then I would be scared. 
I like having parents who would not want to give me the sex talk. They might not feel the need to because the media relays the important points. At least these days. Anyone who really sees Euphoria is pretty in the know of drugs and sex and why life can be better without it. On the other hand, Sex Education does a fabulous job. It does not stigmatize sex. It normalizes it. Removes it from a pedestal while still giving it ample attention. 
It is one of those few series that does not deteriorate through seasons. Season 1 is so unique and fresh. Season 2 is so insightful. Season 3, mind blowing and Season 4, so satisfying. Who doesn't like a good finish. Even if it is not important to "finish."
Sex Education Season 4 Is More Vibrant Than Ever
This season is vibrant. Storylines were so much more colorful and even the sets were so eye-catching. The college was like an aesthetic messy colour palette. Characters were written were so versatile. I know that we have reached a point in content where people force representation but this season incorporated them in a natural manner. They didn't want you to throw a party for inclusion. Normal story. 
Sex Education is about conversation. Ruby got her redeeming arc last season, and this season it was Isaac. I loved George Robinson's performance. He totally justified the beautiful story arc written for him. He had such confidence and chemistry. Definitely one of the best parts of the season.
Consistently loved and perfect in every season is Jean Milburn. Gillian Anderson is a gift to mankind. If I knew Dr. Milburn in real life, I would always be awestruck. In this season though she was given some more emotional problems to tackle. Even if you haven't gone through the issues that she is going through, you can't help but feel for her. I am a person who needs relatability in a show and this show defied all that and still touched hearts. Talent. 
There were many stories throughout the series and everyone was so well thought of. No one was completely flawed or perfect. People were sensitive and insensitive. They were like teenagers. Vibrant, insightful, flawed and so deep. I did not like the obsessive story arc against O. The story became a little too vengeful in contrast to all others.
The chemistry between Otis and Maeve didn't hit. I think with the story between Ruby and Otis being so powerful last season, it is difficult to shift back to Maeve and Otis. History can only do so much. Mimi Keene is such a strong actor that her character becomes way more than the screen time they actually have. Ruby's role is way lesser this season than the last but something about her story arc keeps her in your mind all the time. Even in this season, Otis and Ruby had chemistry which seemed more convincing than his relationship with Maeve. 
Having said that, Maeve's storyline was so impactful. She went through a lot this season and Emma Mackey is perfect. She does share a plot with Dan Levy and their scenes felt a little strained but otherwise the plotline of her realizing her freedom was beautifully written.
Adam too had many sweet moments for him. He dropped out of school and went into animal care. No part of his story was as strong as others but I think that was the charm. I wanted Adam to have some normalcy. Connor Swindles communicates so potently without letting Adam break his stoic demeanor. Even with the most heartfelt moments, Adam has a cold wall around him that has been since 1st season. The only difference is that he doesn't mind affection now.
Lastly, the best story of the season is Ncuti's Eric. A ride, an emotion, a hilariously emotional rollercoaster. His story was so crafted and considerate. It didn't want to be relatable in a way that you can point at the screen and say, "this is exactly what happened to me" but there is a familiarity to it. Ncuti's performance is jaw-dropping. He is fun but also so connected to the myriad of emotions. The costume designer nailed everyone's looks but hats off to Ncuti's outfits.
The Movie Culture Synopsis
While I am heavily disappointed by the fact that this show has ended, I do have to say that it was a satisfying finish. There was a great build up and the climax hit just right. There were moments that could have been performed a little better but everyone has their opinions and kinks. Overall a great experience and one I will suggest everyone try at least once. Some people might surprise you and there will be more than one moment that will leave you with your mouth wide open. Enjoy.