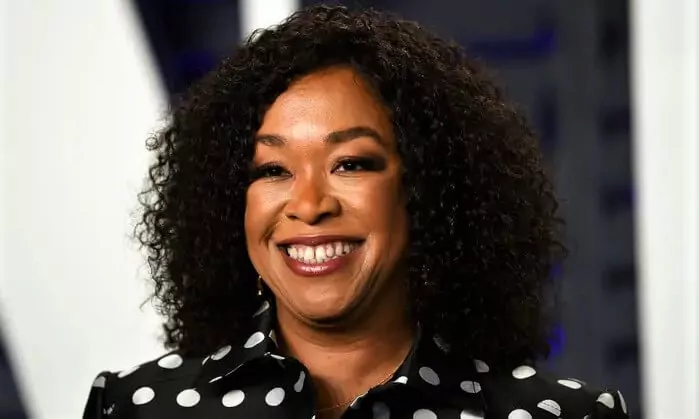 Shonda Rhimes deserves the title of being a titan. She has produced great shows like Grey's Anatomy, Inventing Anna and Scandal. In 2020, her show, Bridgerton's Season 1 broke several records including getting the highest watched show (82 million households) prior to the release of Squid Game. She has recently adapted and produced the second season of this highly beloved show that will be about the journey of the eldest Bridgerton child. Here's what she has to say about Bridgerton Season 2.
Q. When did you realise that the first season of Bridgerton had become a global phenomenon?
Shonda Rhimes: For me, it was an amazing moment realising that Bridgerton had connected with such a huge audience. It happened right after the show premiered over the holidays, and I started to get texts and emails from people telling me that they'd seen the show and that they were excited about it. And then it felt like I wasn't just getting a few texts and emails — I was getting every text and email possible telling me about the show, which was exciting.
Q. Considering how successful Season One was, how has the creative team approached Season Two?
Shonda Rhimes: The Bridgerton creative team is amazing. We've been really, really lucky. We've done a couple of extra special, amazing things that I think fans will be excited about this season, but the reality of it is the glamour of the balls, the beauty of the world, the stunning hair and makeup — all the things that everybody has come to expect from the show. The design, the gowns, it's all still there. But we've upped our game a little bit in terms of how we're telling this story. In the first season of Bridgerton, we had to introduce everybody to the world — and now people know what this world is. Now our goal is to just bring them in even deeper, give them more of a sense of what's going on, and let them really see how this world works. And that's exciting.
Q. Given the huge fan base from Julia Quinn's Bridgerton novels, how have you, Chris Van Dusen, and the writers balanced staying true to the spirit of the books, while also adapting this story and these characters for the screen?
Shonda Rhimes: The magic of Julia Quinn's books is that they feel incredibly universal, but also really specific. You never want to feel like you're stepping outside the bounds of the world that Julia Quinn created for us, but you also want to be able to expand it and make it more visual for the screen. Some of the things that we've done have been about who we've cast and how we've built out these roles, but we've upped the game on, I like to say, the romantic tension of it all. The first season was about the constraints that women feel being trapped in the marriage mart. Season Two builds on that, because we've already met Anthony Bridgerton. He's already part of our world. Through him, we're seeing his sense of responsibility that goes along with being the person who has to get married. And through Kate Sharma, we're seeing the sense of responsibility that goes along with being a woman who doesn't want to get married, but who wants to get her sister married. And that's wonderful.
Q. And as a fan of the books yourself, were there any scenes you knew just absolutely had to be included this season?
Shonda Rhimes: I'm a superfan of Julia Quinn's books, so I have probably read her books almost more than anybody. For me, the Pall Mall scene had to be in there. We really needed to see that game and that moment. But mostly we needed to capture the essence of who Kate Sharma is. Kate and Anthony are such an interesting pair, and I really wanted to make sure that we captured their essence. Obviously, there are things that we've added to the world, elements that we've built on. There are some very interesting surprises that I think the audience is going to love, but mostly I wanted to make sure that we were capturing that world without feeling like we had to stay true to every piece of dialogue, or every scene in the book.
Q. Many of the characters this season are torn between doing their duty and what's expected of them, and following their heart's true desire. Anthony Bridgerton (Jonathan Bailey) and Kate Sharma (Simone Ashley), and even Eloise Bridgerton (Claudia Jessie) and Penelope Featherington (Nicola Coughlan), struggle with that tension. Can you talk about how that theme is woven through this season?
Shonda Rhimes: For our characters, the world that they live in holds specific expectations of what their roles are supposed to be. I think about Penelope, I think about Eloise, and I think about how they're trapped in this world in which the expectations of who they get to be are very small — and you're watching them struggle against those bounds.
It's what makes those two characters two of my favourites to watch, because they're trying to build worlds for themselves, and build lives for themselves, that don't necessarily fit within the bounds of society. One secretly, one a little less secretly — and a little bit more awkwardly and publicly. And then for Kate and Anthony, they're trapped in these worlds in which they know who they're supposed to be, and what they're supposed to do, but they're trying to do it without falling for any of the conventions they've been told to fall for. Anthony's been raised in a family where he's been told to marry for love, and he's trying desperately not to marry for love. Kate is trying to get her sister married off, and has let go of those dreams for herself.
Q. The main romantic plot this season shifts from Daphne Brigerton (Phoebe Dynevor) and
Simon Basset's (Regé-Jean Page) love story to Anthony's search for a match — and this complex love triangle with Kate and Edwina Sharma (Charithra Chandran). Given Regé-Jean Page's departure this season, can you talk about what fans can look forward to as Jonathan Bailey, Simone Ashley, and Charithra Chandran take centre stage as this season's romantic leads?
Shonda Rhimes: I know that people are missing the Duke from Season One. Everybody fell in love with the Duke last season. Our job, basically, is to tell the story of a different Bridgerton sibling every season. The Duke was amazing in Season One, Anthony is amazing in Season Two, and that's the beauty of it. We get to spend time with a couple, and get a full story that ends without any built-up drama just to keep them hanging on into the next season. We get to have a happy ending for a couple, which I found to be thrilling. And this season, we get to start with an entirely new couple, Kate and Anthony, and watch this amazing love triangle build between Kate, Anthony, and Kate's sister, Edwina — who is this wonderfully smart, complex woman in her own right. That's the goal every season, for you to be so drawn into a couple that you can't imagine seeing the next season without them. This season, you're going to get to be with Kate and Anthony, and that's going to be pretty spectacular.
Q. Can you tell us about the Sharma family this season, and specifically what Simone Ashley and Charithra Chandran have brought to their roles as Kate and Edwina Sharma?
Shonda Rhimes: What's wonderful about both of these actors, and about the Sharma family, is that we're bringing in a family that's been living abroad for a while. They've been in India, and now they've come back to London for Edwina's season. What you're seeing in that is the obligation a sibling feels, and the care and the love that these two sisters have for one another. One of my favourite things about both of these actors' portrayals is that they make these two women, who are supposed to be romantic rivals and sisters, feel so close and so human and so complex. You can really feel their struggle on screen, and you care for them. They are both so nuanced in their portrayals — a lot of Kate's scenes are silent, and a lot of Edwina's scenes are her trying very hard to be who she's supposed to be, but without us fully understanding the underbelly. What they bring is so complex and so real and so vital to making the show just sing. When you watch these actors do these parts, both of them, they each have really intense and intellectual experiences inside these characters' minds. We're talking about women from a completely different century, a completely different time period. And you want to know that these Regency era English women have just as complex and interesting inner lives as the women who are sitting around today. It feels modern in that sense. You're watching them struggle against the confines that have been placed on them, and the roles that they've been forced into just in order to survive.
Q. Why was it important to highlight Kate and Edwina's dynamic as a sister relationship just as heavily, if not more so, than the romantic relationship between Kate and Anthony this season?
Shonda Rhimes: People want to believe that the show is a romance show. But to me, this is a show — and it always has been — about a lot of very interesting and complex women. From Queen Charlotte to Lady Violet Bridgerton, all the way on down, every woman you meet is really a complex, three- dimensional woman struggling against the bounds of what society has determined that she should
be. We've seen sibling relationships on the show before, but we haven't seen two sisters who are
as bonded as Kate and Edwina are. You feel how one has almost raised the other, how close they are, how important that relationship is; that's how women are. That's how I am with my sisters. Women have complex relationships with the women around them. And I loved the idea that we were going to show that, versus the stereotypical cat fight that you might want to see two women have when they become romantic rivals. You're watching two women struggle with the complex nature of their relationship, how close their bond is as sisters, and what that means. And to me, we portray that because we like to portray women as they really are.
Q. Bridgerton does a fantastic job of creating a world that looks much more like our own with its inclusive casting. Can you talk a little bit about the conscious effort to make the cast multicultural and why that is so important to the show's identity?
Shonda Rhimes: I'm not sure that it's just important to the show's identity as it is important to television and shows in general. The idea that we don't create worlds that look like the world that we live in, and that we create false societies where everybody looks a certain kind of way or is a certain kind of colour or whatever, feels disingenuous to me. It also feels like erasure. We're just not interested in erasing anybody from the story, ever. In Shondaland, that is how we do; that's just how we tell stories. While it's important for Bridgerton, it's important for every story being told. When you're watching television, you should get to see people who look like you.
How has that representation been reflected behind the camera as well?
Shonda Rhimes: In Shondaland, we make sure that the crew and the people behind the scenes are as multicultural as the people you see in front of the camera. We make sure that they are different in age; we make sure that they have different abilities; we like to make sure that our casts and our crews and our writers represent the real world. I think it makes for better storytelling, it makes for more authentic storytelling, and it makes for more complex storytelling. You want directors who reflect the world. You want people who have a view of the world that doesn't come from simply one point of view. There's nothing wrong with a white male point of view, but there's certainly many things right about the point of view of women of colour, directors of colour, artists of colour, writers of colour. That feels important to us to include in our world.
Q. Can you go into a little more detail about the decision to make the Sharma family be of South Asian descent, and how their Indian heritage adds another layer of depth to these characters?
Shonda Rhimes: Making the Sharmas of South Asian descent was actually a very simple choice. I wanted to feel like the world we were living in was as three- dimensional as possible, and I wanted to feel like the representation was as three-dimensional as possible, too. Finding some South Asian women with darker skin and making sure that they were represented on screen authentically and truthfully feels like something that we haven't seen nearly enough of. I felt like it was time for us to make sure that we were seeing as much as possible. And it wasn't just me. The entire creative team was excited and on board with this idea from the very beginning. And the idea that they are from another culture, we weave that into the story in a wonderful way to enhance the idea that the very English values of our characters are not necessarily the only values worth having. That's reflected in Kate's reaction to English tea — but, really, it is a very important way of making sure that we are including the world in this. Netflix has a global audience. That audience is the world, literally. I wanted to make sure that if you are watching Bridgerton from another country, you're not thinking to yourself, "Well, this has nothing to do with me." Well, absolutely it has something to do with you. The humanity in every character should feel universal.
Q. This season's love story is centred on Anthony and Kate's relationship, which is a complex series of misunderstandings, frustrations, and denial. Can you talk about that forbidden love, and the enemies-to-lovers theme going on this season?
Shonda Rhimes: I love the fact that, from the very beginning, you see Kate and Anthony and they're at each other's throats. They have nothing in common, and they don't like each other. There's been a series of misunderstandings between the two of them that have led Kate to make a decision about who Anthony is, and that decision snowballs all the way through the entire story. There's something wonderful about taking the concept of the untamable woman and turning her into a real, three-dimensional woman — versus the way you've seen her be portrayed by men in the past. Kate feels very much like a woman of her own mind, who is determined to protect her family and her sister. And Anthony feels like he is a man struggling to stay within the bounds of what society has laid for him — but he can't do that with Kate around. It's exciting. You see him bursting free of what's expected of him, and you see her struggling against her desire to protect her sister. It's this love affair in which they just can't stay apart. To me, that's the most thrilling kind of story to tell; I enjoy telling those stories so much. Watching these characters deal with that is delightful.
Q. Season One delved into exploring Daphne's sexuality, which lends itself to a lot of steamy and sensual scenes. Going into Season Two, we already know Anthony is a bit of a rake, so this season's story is more about forbidden love and those moments of desire you were talking about. Can you talk about that difference between the two seasons?
Shonda Rhimes: Season One is about the innocence of the diamond of the season. You are presented to society, you are this pure, sweet, virginal creature. We have a character in Season One who is exactly all those things, and her own journey is one of self- discovery, and of who she is as a woman. In Season Two, we are equally as focused on Kate as we are on Anthony. But Anthony, he's been around the block a bit, he's had his heart broken. His way of approaching everything is a lot more buttoned up and about his duty to his family, and what he feels like he's supposed to be doing. For Kate, it's the same thing. Her duty is to her family and needing to protect her sister. And yet what strips that away from them is that they cannot stop the sense of attraction that they have for one another. It's about this very forbidden, super sexy passion that the two of them have for one another — they almost can't keep their hands off one another, even if they try. It's very different from what you saw in Season One, which was a much more pure blossoming of love and heat, and a sense of building, and a woman's self-discovery. This is, for Anthony, the discovery that there are things that go beyond a hot attraction. He's had a hot attraction before, we've seen him be a rake, and now you see him deal with what happens when his feelings spill beyond that. And that's even more exciting.
Q. Everybody loves talking about the romance of Bridgerton, but the show also draws fans in through the characters' exploration of self and identity in a society that doesn't always align with how they view themselves. Can you talk about that exploration of freedom and identity and self in the show?
Shonda Rhimes: To me, Bridgerton is about identity and the exploration of who you are as a person versus who society wants you to be. Every character, from Queen Charlotte on down, is coping with that, and we're watching Kate and Anthony cope with that this season. While a lot of people want to think that the show is just romance, romance is nothing without all of that rich, layered character experience, and watching these characters battle and fight for who they want to be inside. We're watching the same thing happen with Penelope, we're watching the same thing happen with Eloise. These people are trying to rise through the expectations that society has of them to become who they really are. That is really powerful. It makes for really powerful storytelling, and it enhances any romantic storyline we're trying to tell.
Q. The ball scenes in Bridgerton are absolutely iconic, and the music is a huge part of that. Can you talk a little bit about the musical process, and what the famous string covers of modern pop songs bring to Bridgerton?
Shonda Rhimes: Bridgerton is filled with these amazing orchestral renditions of modern pop songs, and I think that they're exciting and fantastic, and they bring a layer of modernity to this stayed world. In other shows you're watching, you're used to feeling a little bit more of the period. We're trying to make the period feel a little bit more modern. That, I have to say, is the incredible work of our Season One music supervisor Alexandra Patsavas, our Season Two music supervisor Justin Kamps, our composer Kris Bowers, and also Betsy Beers, who is my producing partner. It was her idea in the first place to use these covers, and I remember thinking, "What a bonkers idea, I don't think that's ever going to work." But it works so beautifully. It's turned out to be one of my favourite things that we've ever done in a show, in terms of how we've laid the music in and turned it into something that means something more. We're taking something that you know so well, and yet giving it this older sort of patina, which gives it this beauty and this romance that makes a lovely, lovely world of music and sound for the audience. The music layers in really efficiently in talking about the characters.
Q. Fans were absolutely thrilled to learn earlier this year that the Bridgerton-verse will be expanding with a new show following the rise of Queen Charlotte (Golda Rosheuvel), and also Lady Danbury (Adjoa Andoh) and Lady Violet Bridgerton (Ruth Gemmell). Can you give us any early insight into what you wanted to expand on in Queen Charlotte's story specifically?
Shonda Rhimes: I keep getting asked the Queen Charlotte question, and my answer to all the fans is that you're going to have to wait and see. It's exciting to me that I'm getting to explore what the romance was for Queen Charlotte, and who Lady Danbury and Lady Violet were back then. Seeing all of that information shared and poured out as we're writing the scripts is really, really thrilling. For me, it's going to be one of the most exciting things that we've done. You know these women already, you've seen them already, you know who they are as adults. Now, you're going to get to see how they became the women they are. And that is such an exciting way to tell a story. But I'm not giving any spoilers.
The Movie Culture Synopsis
Bridgerton Season 2 is now streaming on Netflix!