I was blown away when I watched this drama for the first time and recently I rewatched it and enjoyed it again. I had started this drama for the first time with no expectations of it being that great but a few episodes in it completely changed my mind. This was when I didn't know that this drama had received a lot of awards and was one of the most-watched and hyped in Korean at the time of its release. I still remembered some of the plot points from the previous watch but it still managed to keep me hooked. That's how good it was. Sky Castle is a dark satirical drama about the lives, motivations and greed of upper-class families and how it all came down to academia. While the drama is about these four wealthy families it is centred around four women of this household who are stars of the show and run everything. 
Sky Castle Cast
Kim Hye yoon as Kang Ye seo
Yum Jung ha as Han Seo jin/Gwak Mi hyang
Yoon Soo ah as No Seung hee
Lee Ji won as Kang Ye bin
Kang Chani as Hwang Woo joo
park Yoo na as Cha Se ri
Jang Mi nyeo as Kim Joo young
Kim Bo ra as Kim Hye na
Sky Castle Plot
The most important character is Han Seo Jin, the wife of a high profile doctor whose goal is to get her eldest daughter into Seoul National University,  one of the most prestigious colleges in Korea. Her family may seem to be perfect on the outside but has several cracks that others don't see. Then there is another woman Jin Jin hee, Seo jin's best friend and right hand, who may not be as polished as her but wishes to be. She looks up to Seo Jin a lot and follows her decisions. She also dreams of sending her son to SNU. Along with them, there is No Seung hee,  the wife of a law professor who is the most elegant. She seems to be stoic and a pushover but is very smart and cares about her children.
In contrast to these women, we have Lee Soo I'm an author from a humble background. Her family is not into luxury and moving into the posh neighbourhood called Sky Castle is a novelty for them. All the other families used to look down on them due to their low roots. The last important woman is Kim Jooyoung, the children's tutor and also a university coordinator who manages students' studies and portfolios to get them into the best universities.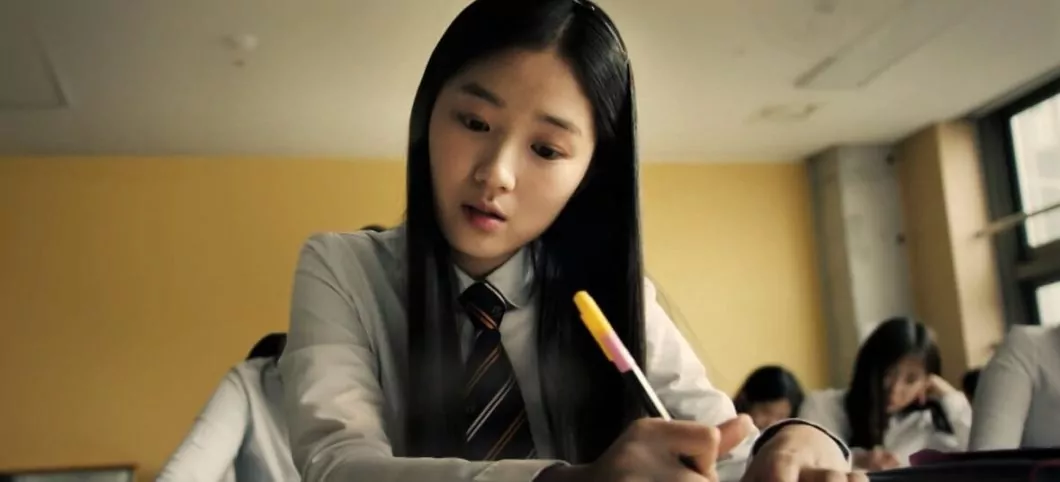 Sky Castle K-Drama Review
The women make up the core of the drama while their families are also part of the main cast. They come together to make this brilliant drama with multiple layers. The drama did a great job of how education matters a lot in Asian families. It is generally spoken about in terms of parental, societal and peer pressure on students and the adverse effects of it.  It does a great job showing how one's education rules families, familial relationships,  how one lives their life, how one is respected and more. While the show focuses on academia it also shows pride, classism, elitism and how far one goes to achieve something. This is a relatively slow-burning drama that starts with a few threads that multiply and tangle, leading to chaos in the end. Every single episode is building layers to the core plot.
Together everything clashes together and creates an explosion. The plot is brilliant and addictive and you would be on the edge by the end of each episode. You will have a hard time stopping watching it and feel like you need to hop on to the next episode immediately to relieve your curiosity. One other thing about this drama was it was quite addicting but the ending of the story was not something I liked. I felt it was an abrupt ending and thought maybe the finale plot could have been something different as it was not satisfying for me. Though I appreciate other things about the drama like how the direction was done so well throughout the show. They paid attention to the smallest details which make the scene. 
There was one unique thing here that I haven't noticed in other dramas – there is a heavy emphasis on expressions. The eye contact, the set of mouth and the posture- all of it adds to the scenes and it was brought out brilliantly in the direction. The production was good too; the soundtrack and audio effects were impeccable and elevated the scenes. I really like the expressions and the acting of Kim Hye Won who played Kang Ye bin. She portrayed her character very well and was able to make the viewers feel deep emotions toward her character throughout the story. This drama also has a large main cast and every single actor brought their A-game. They acted so well. I cannot point out even one scene where they messed up the assignments.
The dialogue, the tone, the expressions, everything was all on point. I can characterise literally every member just by how they carry themselves in the show. For example, No Seung hye comes from the highest of all backgrounds and it shows in how she stands, speaks and smiles. I noticed how she is the only one with an especially fully straight posture. She walks and dresses with grace and elegance which shows her pedigree and background and I think she was one of the most educated out of the women she had like a PhD or something. The entire cast should be given credit for the drama. From the veterans to the teens and newbies they managed to transform the script into a work of art.
The Movie Culture Synopsis
Almost 20 characters were given importance in the K-Drama and all of them had growth in this drama which was interesting to see because all of their growths are intertwined. I have no idea how they managed to pack all that in just 20 episodes. As we had a chance to really get into the motives,  dreams, emotions and the backstories of every character. Most of the characters are morally grey and portrayed realistically making it even better.