Squid Game is a South Korean television series streaming on Netflix. It is a survival drama Written and directed by Hwang Dong Hyuk. The series, distributed by Netflix, was released worldwide on September 17, 2021 and has a count of 9 episodes.
Squid Game Series Plot
The series revolves around Seong Gi-hun, a divorced and indebted chauffeur, who is invited to play a series of children's games for a chance earning a large cash prize. When he accepts the offer, he is taken to an unknown location where he finds himself among 455 other players who are also deeply in debt.
The players are made to wear green tracksuits and are kept under watch at all times by masked guards in pink jumpsuits. The games are overseen by the Front Man, who wears a black mask and black uniform. The players soon discover that losing the games results in their death, with each death adding 100 million to the potential 45.6 billion grand prizes. Gi-hun allies with other players, including his childhood friend Cho Sang-woo, to try to survive the physical and psychological twists of the games.
Squid Game Series Characters
Main Characters
Lee Jung-Jae as Seong Gi-hun (A chauffeur and a gambling addict, he lives with his mother and struggles to support his daughter financially.)
Park Hae-soo as Cho Sang-woo (The head of the investment team at a securities company, he is junior to Gi-hun and was a gifted student who studied at  Seoul National University, but is now wanted by the police for stealing money from his clients.)
Wi Ha-joon as Hwang Jun-ho (A police officer who sneaks into the Game as a guard to find his missing brother)
Jung Ho-yeon as Kang Sae-byeok (A North Korean defector who enters the Game to pay for a broker to find and retrieve her surviving family members who are still across the border)
O Yeong-su as Oh Il-nam (An elderly man with a brain tumor who prefers playing the Game as opposed to waiting to die in the outside world.)
Heo Sung-tae as Jang Deok-su (A gangster who enters the Game to settle his massive gambling debts.)
Anupam Tripathi as Abdul Ali (A foreign worker from Pakistan, who enters the Game to provide for his young family after his employer, refuses to pay him for months.)
Kim Joo-ryoung as Han Mi-nyeo (mysterious and manipulative woman who claims to be a poor single mother.)
Supporting Characters
Yoo Sung-joo as Byeong-gi, a doctor who secretly works with a group of corrupt guards to traffic the organs of dead participants in exchange for information on upcoming games.
Lee Sang-hee as Player 017, a glass-maker with more than 30 years' experience.
Kim Yun-tae as Player 069, a player who joins the Game with his wife, Player 070.
Lee Ji-Ha as Player 070, a player who joins the Game with her husband, Player 069.
Kwak Ja-hyoung as Player 278, a player who joins Deok-su's group and acts as his henchman.
Chris Chan as Player 276, a player who joins Seong Gi-hun's group in the Tug of war round.
Lee Yoo-mi as Ji-yeong as player 240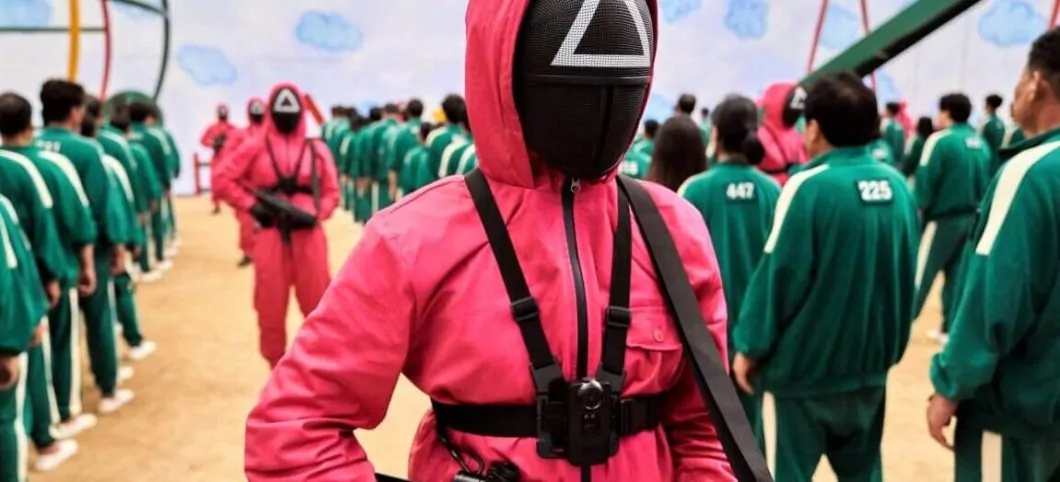 Squid Game Series Review
Only one word can be used to describe SQUID GAME…INTENSE. The entire show is on an entirely new level. Every episode from the first to the last just keeps you on the edge of your seats in anticipation.
Squid Game follows the genre of a survival drama and these types of dramas are always said to be one of the best types among all. The difference here is that Squid Game takes this genre of survival to such a point that it makes it look like an entire new type of survival drama. That is one of the main points of Squid Game that makes it so unique.
The entire story of Squid Game is based on a realistic approach and a pragmatic look into the real world. In this 21st century world, the term of being in monetary debt is so very common that it can be seen in almost every other place. The people who are in such situations tend to usually have a mindset where they are ready to do anything to get out of their debts. This fact is shown very well in the series. All the participants of the game are people who are in so much debt that they had seen the games as a way to get out of their debts. After the end of the first game where they finally realized the fact that all those who lost the game would be faced with death, they had the option to choose not to play the rest of the games. Yet a vast number of people still chose to continue when they saw the huge amount of money they would get if they won. Even the people who votes not to continue the games found themselves willingly returning just for the reason that they found no other option to get out of their debts. These points in the show portray the harsh reality of the world of being in debt. Sometimes people who are in debt can find themselves willing to do just anything to get a respite from their situation, even if that option is being a willing participant of a death game.
The world is full of misery and sometimes the option of playing of playing a death game to earn money is better than continuing to live in the same way as always. This chance of getting out that misery, even if it is through a death game, is much better than living in a stagnated lifestyle with no way out. This concept is shown spectacularly in the entire show.
All the characters in the show have profound back-stories. Each of the major characters has their own inner demons that they are fighting with daily while playing the game. This can be seen in their actions during the games. Our protagonist Gi-hun is seen as a jolly kind of guy who despite having an irresponsible lifestyle still has a sense of kindness and morale ethics.
Every other character has their own personalities that clash perfectly with the others. The old man is seen to be just wanting to play the games for fun while Cho- Sang woo is willing to do anything to survive and win the game even if that goes against his moral compass. This is seen during the fourth game with his interaction and conclusion with Ali.
Ali can be considered as one of the most lovable characters just because of his kind personality and the way he seems to adore Cho Sang woo as an older brother figure. Another major character would be Sae-Byeok with her drive to win the game so that she can live with her brother and bring her mother back from North Korea.
Even the characters like Jang- Deok su and Han Mi-Nyeo, who are seen as people willing to go the lowest of the low to win can be understood as there are actually people in this world who are ready to do anything to win. From envy, hate, love, greed, lust, passion, admiration, regret and a lot more, this entire show brings out every innermost part of being a human being to life
The most unique part of Squid Game is that it focuses on children games. Everyone has to participate in games that they used play when they were kids in order to win with only the harsh reality being that instead of a penalty, they would be eliminated permanently. This dark element to the games showcases a type of psychotic mindset of the organizer of these games.
Even if the participants are given the option to choose to play, the very nature of the games where losing leads to death is a concept no ordinary person with morale would create. With the fact being that all the games are those everyone used to play as kids, it portrays a level of mental depth so deep that it can actually be understood on some level despite the dark element in it. This is what makes Squid Game such a unique yet majestic show.
Yes, the entire show is indeed a most amazing piece of work.
Squid Game Series Critical Response
Squid Game has a rating of 8.2/10 on IMDb based on 201925 reviews. It has a rating of 4.2/5 on Rotten Tomatoes based on 11k reviews.
The Movie Culture Synopsis
If you want a series that always keeps you on your toes and is filled with every type of element necessary in a survival drama, then this is it. Squid Game is a show that would have a permanent place in the most unforgettable shows ever category. To conclude, A Glorious Show indeed.