Stranger things is a coming-of-age, science fiction, horror drama television series by Netflix. The show is created by The Duffer Brothers and they also serve as the showrunners and the executive producers. Shawn Levy and Dan Cohen are executive producers.
The story revolves around a group of friends who meet a girl, Eleven and eventually discover the mysteries of their town Hawkins and what haunts them. Season one was released in July 2016, with the second season in October 2017, season three in July 2019 and the fourth season being released as a two-parter.
Season 4 – Part One was released in the May of 2022 and the second part will be released in July 2022. Season Four consists of a total of 9 episodes, 7 in the first part and 2 in the second part. The show has been renewed for a fifth and the final season.
Stranger Things Season 4 Cast
Winona Ryder as Joyce Byers
David Harbour as Jim Hopper
Millie Bobby Brown as Eleven / Jane Hopper
Martie Blair as Young Eleven
Finn Wolfhard as Mike Wheeler
Gaten Matarazzo as Dustin Henderson
Caleb McLaughlin as Lucas Sinclair
Noah Schnapp as Will Byers
Sadie Sink as Max Mayfield
Natalia Dyer as Nancy Wheeler
Charlie Heaton as Jonathan Byers
Joe Keery as Steve Harrington
Maya Hawke as Robin Buckley
Brett Gelman as Murray Bauman
Priah Ferguson as Erica Sinclair
Matthew Modine as Martin Brenner
Paul Reiser as Sam Owens
Jamie Campbell Bower as Henry Creel / One / Vecna
Raphael Luce as Young Henry Creel
Cara Buono as Karen Wheeler
Eduardo Franco as Argyle
Joseph Quinn as Eddie Munson
Tom Wlaschiha as Dmitri "Enzo" Antonov
Nikola Đuričko as Yuri
Rob Morgan as Sheriff Powell
John Reynolds as Officer Callahan
Gabriella Pizzolo as Suzie
Dacre Montgomery as Billy Hargrove
Grace Van Dien as Chrissy Cunningham
Stranger Things Season 1 to 3 Plot
The story starts in 1983 when Will Byers goes missing and he is later discovered in the upside-down. Joyce, his mother and the sheriff along with his friends rescue him with the help of Eleven. The second season continues in 1984. Will is still under the  influence of the creatures and the upside-down world. They all discover that the threat is much bigger than they believed. Season Three takes place in 1985 during the Fourth of July celebrations. A new mall is the centre of attraction in Hawkins putting many businesses out of work. It is discovered that the Soviets are planning to open the gate to the upside-down in a secret laboratory built by them in Hawkins.
Stranger Things Season 4 Volume 1 Plot
The fourth season is set in the year 1986. The gang has been split into two as Joyce had to move to California along with Will, Jonathan and Eleven, whom she took under her care after the death/disappearance of Hopper at the end of season 3. Eleven is trying to adapt to her new surrounding and school under her real name Jane but finds it hard as she is being bullied. Being away from Mike and Hopper is making it more difficult, Will tries to help her but is unable to do so. During all of this Eleven has lost her powers.
All while, in the second part of the group, Mike is waiting for the spring break so he can come to California to meet Eleven, Lucas has become a part of the basketball team and Gaten is doing what he does. Max has distanced herself from the group as the sequences of season 3 have taken a toll on her and her personal life. Nancy and Jonathan are having their own relationship problems and Steve and Robin are trying to find love.
The Fourth season is split into three plotlines. One follows the kids in Hawkins as they encounter a new creature from the upside-down and solve the murder mystery of some of the kids from their school. The second plot follows the group in California where Mike visits them. Eleven is taken to a secret facility to regain her powers and the group is tracking her down. The third plotline involves Joyce and Murray, where Joyce still believes that Hopper is alive and a suspicious package leads them both in the search for Hopper in the Soviet Union.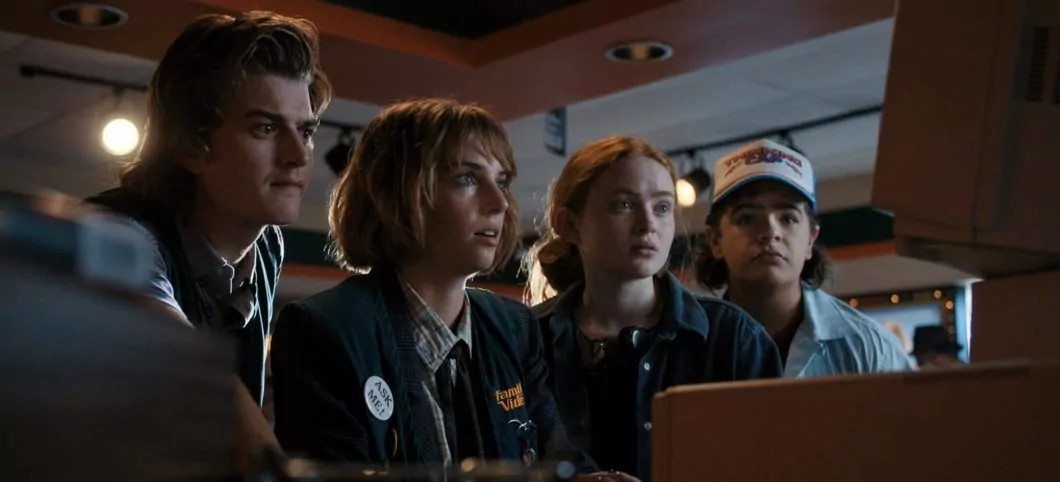 Stranger Things Season 4 Volume 1 Review
The identity of Stranger Things is kids, who are considered immature are forced to go through many unnatural experiences that an adult human would not believe in. An adult will look for logic and reasoning behind such occurrences and find it very hard to believe something supernatural. Now, in no way kids won't look for the logic behind such occurrences but their innocence and inexperience with the world and its people make it easier for them to face it. The kids in Stranger Things are nerds, typical outcasts in their school who play Dungeons and Dragons. Such kids are not taken seriously in their school by their teachers, classmates or even their parents and siblings. This is where the weird world of Stranger Things is capable of introducing the unnatural to the audience through the eyes of the outcasts.
From introducing to exploring to discovering, we as the audience see it all through them and we don't find them as dumb and illogical because they are our gate to the world of stranger things. The same can be seen when we meet Eleven. Eleven has never lived the typical life of a child, she never has friends. This group of weird kids were her first interaction with any normal life living kid and that's where she found herself. The Kids meet these otherworldly entities and try to find answers. Those answers lead them to a world full of unnatural, bizarre and surreal events and obviously many more questions. This is where it all collides and adults who were facing the consequences of such events join forces with them to beat the unknown evil.
Stranger Things' setting in the 1980s, in a small reclusive town, serves as a perfect backdrop for the mystery which is unfolding unbeknownst to the townfolks. The town of Hawkins serves the story by building up the uncertainty. It is known that the inspiration for not just the story but the world comes from Stephen King's IT and its town of Derry. Such a unique setting has its own eerieness and peculiar environment to aid in the horror of the series.
Every season of Stranger Things acts as a standalone story with its villains but the personal lives and the mystery of Eleven is unfolded bit by bit. Eleven is at the centre of the story, everything that she had to go through had its consequences which many others had to face. The whole backstory of the origins and opening of the gate to the upside-down revolves around the story of Eleven. The messed-up actions of Dr Brenner and the scientist in the name of science really suit well to the cold war era of the United States. The story of eleven is the life of Stranger Things but the group of outcasts provides substance to the series.
Stranger Things Season 4 Volume 2 Review
Volume 2 continues with 2 episodes, both of them as long as a movie. With volume 2, the writers had to conclude the season by merging all three plotlines together and setting up the fifth and the final season. The main plot with the group in Hawkins was left on a cliffhanger, Nancy was under the influence of Vecna. Nancy is trying to escape and is unable to but Vecna has other plans. Vecna uses Nancy as a way to communicate and warn the others of his upcoming evil actions and their consequences which will not be very good. Vecna spares Nancy in the end, and she and the group together come to the conclusion that in order to defeat Vecna, they need to have a solid plan and be prepared for anything that might have to face. 
In the other part of the world, Hopper and the group find out the Soviets have captured many demodogs and the Soviets are experimenting with them. They discover an exit and escape to the town nearby where Hopper was previously caught. They all coerce Yuri into taking them back to the United States but there is a problem, they don't have a plane anymore to fly back. But Yuri has his cards hidden with a helicopter. With many new discoveries and finding out about what's going on back in the States, they figure out a way to sabotage the plans of Vecna and make him weak to give them all an upper hand. 
Coming back to this part of the world, Eleven is being revived again. As she wakes up, she releases that she has her powers back and she is more powerful than ever. But the question is whether she is powerful enough and ready to face Vecna? Will, Mike, Jonathan and Argyle are on their way to find the location of the lab where Eleven has been taken. They are close by but unable to find the exact location in the middle of the desert. While reevaluating their route, they discover thick tire tracks which could only be of military vehicles. So, it becomes a race against time for them to rescue Eleven before the military could capture her. Eleven takes the decision to go to Hawkins to fight Vecna and is supported by Dr Owens but that displeases Dr Brenner. Brenner takes the actions into his own hands, he imprisons Dr Owens and sedates Eleven making her helpless. 
Stranger Things Season 4 Characters
Eleven
In terms of characters, let's begin with the main protagonist, Eleven. Eleven has to have the most amount of character development throughout the show. Her character was introduced as an innocent kid who doesn't know anything about the world. She was basically a toddler in terms of maturity and mental development. We see her character grow from that toddler to a teenager as the series goes forward. Her growth in season 1 was the most as she learns how to be in the normal world and survive with people unknown to her, out of the lab. Season 2 continues on the maturing as she finds her identity and comes to terms with her experiences. Season 3 is where she can be termed a normal life-living teenager.
Season 4 puts Eleven into an uncomfortable and again unknown location. With Hopper supposedly dead, Eleven has to find her comfort zone again living with Joyce and in a new school with new classmates. Eleven development as a person and as a character has never been the focus of the show but it was carried on simultaneously with the plot but that takes a slow pace in Season 4. For more than half of the season, Eleven is not at the centre and her being in the secret facility doesn't help in this particular department either. But where it shines is seeing young Eleven and her development in the lab. The recordings are for Eleven to remember and regain her power but along with that, the recordings act as a perfect vehicle for the audience to understand the beginning of her journey.
Will
The next character I want to talk about is Will. Will's character seems the least interesting among everyone. For the entire 1st season, he was missing in the upside-down which was the focus of the plot but that shunned his character from forming any such form of connection with the audience. The same continues into the second season as he is still under the influence of the entity. Season Three is where Will's character gets his first opportunity for not just some development but just to show his personality. A lot could have been done but again the opportunity goes in vain when his only character trait is missing his friendship with Mike and being left out. It is also seen in Season 4 when Mike visits them but Will is again left as a third wheel. I was pleased when the scene was set up between Will and Mike when they were alone out of no choice as Eleven was taken to juvenile, here was the opportunity to fleshout Will's thinking and present him as having a personality that the audience can relate to. But the conversation was small and unsatisfying, Mike puts his point, then Will follows, they patch up and it's done. It left me wanting more from Will, wanting to see more vulnerability from him.
The three plotlines of Season 4 make the Mike and Will plot even more unimportant than it already is and Will is again not given enough screentime to show his development. The painting storyline was very good in terms of showing us what Will is going through which was again wrapped up in just that single conversation. I believe that the painting plays an important role in Will's character development and if the creators intend on exploring it more in Part 2 or even in Season 5 then I am expecting much more than what I have seen till now. In the season it seems like Will was craving affection from Mike and it seemed like he is attracted to Mike but it created a bit of confusion as a viewer as there is not much that has been explored in his character till now.
Nancy, Jonathan and Steve
The storyline concerning Nancy and Jonathan takes a different turn this season which is very much unexpected. The long-distance between them created separation and working through these problems seems to talk a toll on their relationship. Nancy is busy with her newspaper in school and is expecting Jonathan to visit but Jonathan is expecting Nancy to come with Mike to California. They feel their expectation is justified but don't feel comfortable communicating that with each other which has caused a rift between them. They eventually get busy with solving the mystery and dealing with the new events that they face. As the plot is moving, the plotlines with Mike, Will and Jonathan has to conclude in Hawkins where they can get their closure.
Steve is going through a crisis of his own. Steve is craving a serious romantic relationship and the belongingness of someone who he can share his affection with but finds himself unable to attach to any of his dates or girlfriends. Robin tries to help him but she is going through her own dilemma. Steve is a womanizer and can get dates easily but cannot form that connection he needs and in the case of Robin, she knows who she wants to be with and has formed a connection to but her being gay and revealing it to her could be problematic considering the time period. This leaves both of them helpless.
The rift and the distance between Nancy and Jonathan leave Nancy doubting her relationship and it looks like the respective situations of Nancy and Jonathan fall perfectly into place. The little moments between them and Nancy revisiting the past kind of ignites her attraction towards Steve again. From Steve's perspective, he never actually got the closure and he had to move on from his relationship when Nancy and
Jonathan got with each other. Steve's character development has been the best among all the characters in the series and the audience has formed a bond with him. It makes the audience want to see Steve's storyline move forward but it has been stagnant all throughout the season. The way the plot is going, having one character achieve his conclusion is a satisfying way but the disregard for other doesn't feel right. Maybe the creators just created a conflict to resolve it in the end and add something to the story where it might have been stale and slow.
Max
The character of Max had the most different experience when compared to other and from the very beginning of the season, it is shown. She had to go through many changes in her life mentally and also in the physical world. Billy's death takes a major effect on her mother's marriage as she and her husband separate. Max and her mother move into a small trailer park home and Max distances herself from all her friends. It is justified that such an event will affect her mentally and she needs her space. 
In the seasons before, Max was never the main focus of any storyline but this season as she becomes somewhat of a victim of Vecna, the focus is shifted to her. Max gets a lot more screentime from the very first episode and her we see her vulnerable as she avoids the group. It seems like others don't bother themselves to understand what she is going through. With Lucas making himself busy with basketball and Eleven moving to California, Max feels alone. One of the ways for her to focus on herself becomes listening to music. When she is attacked by Vecna, the group obviously helps her and the music becomes her way to escape not only from Vecna but also from her reality.  Max needed her time to shine as a character which can somewhat be seen in this season.
Stranger Things Season 4 New Characters
With the original plot and villain having their initial conclusion and a new plot with new villains being introduced, the addition of new characters was evident. Season 2 introduced Max, Billy and Bob, Season 3 introduced Robin and Suzy and now Season 4 added Eddie Munson, Argyle and 001.
Eddie Munson plays an important as the series moves forward. He is introduced as a Dungeons and Dragons playing outcast and the leader of the Hellfire Club, who has failed to graduate for a few years now. The series shows how he is not the perfect guy so he fits perfectly into the group of kids and into helping them solve the mystery. He is shown as just another new character in the beginning and it cannot be guessed that he will be important. Then a few episodes in proving him innocent serves as the main driving force of the story and eventually with no fault of his own, he has to help them help him be proven innocent, so he becomes part of their team. Eddie Munson turns from just another new and unknown character who could be just there to be killed off  like Chrissy but turns into a likeable and significant part of the story.
Argyle's character feels like another typical typecasting, a guy who isn't serious about his life, or studies and just wants to smoke and get high all day long who gets dragged along the adventure just because. The actor playing Argyle is perfect in his casting and serves the character right. As is the pattern, he is another outcast who doesn't have any friends and people don't think much of him, so he was appropriate for the team. He still hasn't met the main group in Hawkins but he will be helpful in some way or another. Argyle's character doesn't have a major impact on the story and he isn't controversial in any way, so not liking him is rather difficult than liking him.
Another new character is Dmitri "Enzo" Antonov who along with Yuri plays their part in the third plotline with Hopper and Joyce. Yuri isn't that consequential other than his betrayal for more money. Enzo is a guard in the gulag in Kamchatka where Hopper has been imprisoned after he was captured by the Soviets. Hopper was found alive by the Soviets when he jumped to save himself from the explosion at the end of season 3.
Hopper was presumed dead by everyone in Hawkins but Joyce still believed and Enzo helps Hopper in trying to escape the gulag. Enzo, even though motivated by his selfish reason and greed forms a bond with Hopper and helps him in every way he could. Eventually, they all are betrayed by Yuri, so Hopper and Enzo are imprisoned together to be killed. Here Enzo has no option but to trust Hopper and now take his help for them to survive and fight the Demogorgon.
Stranger Things Season 4 Volume 2 Character Development
Dustin
Arguably Dustin is the most affable character in the show. He doesn't shy away from forming a bond with others outside their group of friends. This characteristics of his make him the most stand-out person in the show. Not only Dustin's likeable personality aids in his character development but it also sheds some light on those with whom he makes friends. In the first season, the group of kids were among themselves, they did get help from others elder than them but in the second season, we see Dustin blossom in a friendship with Steve. A bond with Dustin did make it possible for Steve to show his personality and made us as the audience understand who he really is. Dustin brought out the real Steve where we saw him vulnerable after his breakup with Nancy. Viewers saw the side of Steve that is charming and lovable and he was not made out to be just another popular bully in the high school. Steve's development also lead to the introduction of Robin and here Steve played the role that Dustin played towards him.
With Steve and Robin's dynamic flourishing in the third season and continuing into the fourth season, Dustin was paired with another new character, Eddie. At first glance, Eddie seemed like just another basic trope in high school shows and movies of a weird, wacky and kinda dumb guy who isn't taken seriously by anyone. But being put into a position of helplessness made the show have a deeper look into him. His formation of a bond with Dustin was just the cherry on top as Dustin helps in bringing out the best in others. I believe Dustin is the best character in the show and Mike might be the heart of the group but Dustin's personality maintains the group dynamic and expand them into new possibilities with new friends. In volume two, Dustin is there with Eddie during his final moments and because of their friendship, the scene is heavy and emotional. It speaks a lot about Dustin that we look at the humanity of Eddie through his eyes and even though Eddie was just for a single season, he could become such a beloved character.
Max and Lucas
In the volume one, Max is not at the best place mentally and is avoid confrontation with other and even with herself. She is using music as a way to distract herself from the reality that she has to face. This non-confrontational behavior and the desire to be left alone increased the distance between her and her friends. Lucas and Max had formed a romantic relationship but the consequences of the end of season three left them in an abrupt and unknown position. Here, Lucas is left confused and rightfully so as he felt that genuine connection with Max which was also reciprocated by her. This lets him focus somewhere else which is basketball. Lucas tries to be with the cool kids and fit in somewhere to discover who he wants to be. 
The conversation between them in the trailer puts things into perspective and Lucas can see what Max was going through. Their silenced interaction in the house with the notes was something that was needed, the small words of interaction are just something that can reignite the spark between them. Obviously, communication is required from both ends. Max understandably needs her space but no one is at fault here. Lucas deserved closure too. At the end of the day, both of them are kids and figuring out stuff and their feelings, so it will be interesting to see how the writers will approach their relationship ahead.
Will
In volume one, Will is very reclusive and avoids sharing his emotions and what he is going through. When come to think of it, after he was rescued in season one, he never ever talked about the trauma and his mental state. He seems to be an introvert, so finds it uncomfortable in expressing his feelings straight away. But there was a moment where he talks to Mike about how he wants things to be back to the way they were and Mike and Will can be best friends again but a small conversation didn't feel enough to justify what Will was feeling. In volume two, Will thought process is explored more when he talks to Mike to cheer him up and but there we see that he is again bottling his emotions up. His conversation with Jonathan later on about sharing everything the way he used when he was younger does put the point of taking a deeper look into Will, which could be explored in the next season. Will might not be the best at expressing his feelings but Noah Schnapp is phenomenal at showing it on his face to the audience. Right from the first season, Noah has been exceptional in his performance.
Mike
Mike has been the leader of the group from the very beginning and he was the one who took Eleven and made her feel safe. In the first two seasons, Mike as a character has shown the leadership to carry his group of friends into such grave danger but with such bravery. As Will says in this season, Mike is the heart of the group but somewhere his development and depth seem to have stunt. In the third season, Mike was not at the very centre when considering the group and it could be said that it was a good move for the show as the focus could be shifted to the other members. But that it is evident from the fourth season that Mike has become somewhat of a one-dimensional character. Mike and Will were in California and they were not the main plotline for this season but Will was written in a way that he was still able to shine through. Mike's character needs to explore more and make the audience care about him again. 
Stranger Things Season 4 Villain
Season 4 introduces a new villain which is very essential for unravelling the mystery of upside-down and Eleven. The villain is given the name "Vecna", which feeds on the sorrow of its victims and uses mutilate their body in order to kill them. Vecna is always in search of its new victim and it is later found that Max becomes one of her victims where they found a way to save her. On the cliffhanger that they ended on, Nancy also becomes the victim of Vecna.
Vecna's backstory is one of the layers of the story of the upside-down and the experiment on Eleven. The new character 001 and Vecna are one and the same as it comes to be known later in the series. The origin story of Vecna gives it importance and adds to the intensity of him as a villain. The way the origins come up and everything is put into place shows that this is the first sign of the reveal of what is upside-down and how did it start. Such questions regarding the upside-down and what are these entities had arisen in the mind as a viewer but before it never was the main or the most interesting part. But now that it is being revealed just like the layer of an onion, the question has come to the forefront and is definitely making us scratch our heads. With 001 being psychopathic and pure evil, his conversion into Vecna is definitely one of the best subplots of the whole series.
As it is mentioned in the series that Vecna is like the 5-star general, it can be assumed Demogorgans are the soldiers or the 1-star general. Mind flayer seems to be the main villain or the supreme evil entity controlling the all upside-down world. Could it be that the Vecna is controlling the mind flayer or Vecna is just the vessel for the mind flayer to open gates? 001 has to be enticed by something or some creature to take himself to the upside-down. So Vecna being the 5-star general and mind flayer is the main villain seems the most plausible.
Stranger Things Season 4 Time Travel
Now, talking about the most confusing plot of the season, Time travel or was it time travel? The gate at the bottom of the lake takes Steve, Nancy, Robin and Eddie to the
upside-down. In the Upside-down, the group plans to uncover Vecna's weakness and this reminds Nancy that she has a gun in her room. As they reach Nancy's home in the upside-down world, they find out that they all are in the past, on to the day Will was abducted.
The first assumption that comes to mind after seeing this is that they most probably went back in time. The next plausible scenario could be that time hasn't moved in the upside-down from the day Will was abducted. Now the second assumption isn't that sensible it raises many questions which could be answered but as a viewer, all questions do not seem to be answered according to the plot till now. So the best conclusion is that it was time travel, back in time. Time travel in movies and shows is very controversial as it can never be explained perfectly. Now that it seems like the duffer brothers have dabbled into time travel, just hope that they can explain it at least somewhat convincingly. The show is one of the best on Netflix and among the most popular but a stupid time travel plot could very well be the black spot on the show.
Stranger Things Season 4 Volume 1 Ending and Loose Ends Explained
Season 4 – Part 1 ends by concluding the mystery of the lab which was shown in the first episode and reveals 001 is the Vecna. The recordings and flashbacks showed that Eleven was not the one who killed everyone in the lab but it was 001. The altercation ends with Eleven facing 001 as she overpowers her and her powers open a gate to the upside-down, the first known gate to the upside-down which started it all. 001 gets overpowered by Eleven and turns into Vecna.
The episode ends on a cliffhanger where Nancy has come under the influence of  Vecna. As Nancy, Steve, Robin and Eddie are jumping through the gate in Eddie's home, Nancy gets possessed by Vecna exactly as she is trying to pass through the gate. The sad memory of Nancy that Vecna clings to the death of Barbara and her guilt as she thought that she could have saved Barbara only if she wasn't busy with Steve and had listened to her screams. This is one of the main plots that the show has to conclude in part 2.
Another loose end that has to be concluded is Time travel. Time travel is definitely the interesting subplot which didn't seem relevant to the plot till now but it definitely does play an essential part in Part 2 and I believe in Season 5. All three plotlines are left hanging, so it will be interesting to see how the Mike and Will plot gets together with the Hawkins plot. The third plot of Hopper and Joyce still has no relation to the things going on with the others. So first, they have to save Hopper and find a way back to the US and then meet them all in Hawkins to defeat Vecna. It could be that maybe they do not
defeat Vecna but close all the gates and he becomes one of the villains along with the mind flayer in season 5. It is known that season 5 is going to have a time jump where all the kids are presumably 18, so it will be around 5 years after the current events. So maybe they will come back together again for one last time to defeat the mind flayer just as it was in Stephen King's IT where the kids reunite to defeat Pennywise once and for all.
Stranger Things Season 4 Volume 2 Ending Explained
Season Four ends with everyone from all the three plotlines meeting back in Hawkins. Max is in the hospital and recovering, others are coming to terms with the consequences of Vecna's actions. Dustin tells Eddie's uncle about his death. The whole Hawkins is in damage control mode as they all believe it was an earthquake. Many leave the town and many are still there, unknown about their future. All while Hawkins is literally burning from the ground. The ground was cracked from many regions connecting the upside-down with the real world. 
In the end, it has been a couple of days since the supposed earthquake but still, no creature from the upside can be seen in the real world. So is the tearing of the ground a gateway to upside-down that is yet to know. And as all of them look over to Hawkins with smoke and fire everywhere, the episode ends. 
The loose ends from volume one are concluded the best they could have been with the time and number of episodes. The cliffhanger of Nancy under the influence of Vecna was concluded with ease by using her as a way of communication. The other plot of bringing them all together back to Hawkins was also good, as even though the other two plots could not exactly be merged with the main plot, they somehow found to way to help them. Eleven was even though not physically present but by using her telekinetic powers and the makeshift sensory deprivation tank, she was able to sustain Vecna. The others in the Soviet Union were able to figure out about the particles that make the creature of the upside-down powerful and destroy one of its sources to weaken Vecna. 
The particles that are formed from the upside-down are not explored much in this season and maybe they might be are might not be important in the next one. I hope they explain the whole particle dynamic and the show is going to reveal how and what is the upside-down in the fifth season. The time travel aspect in the upside-down was shown in an episode but what is its significance to the story is not revealed yet. That was one of the main aspects that were introduced in this season and left unattended in the volume two. Time travel is not the best concept to delve into if it is not completely though through and it needs to be addressed and concluded in the fifth season. I am not even sure if it is time travel, but that is the best guess at this moment, considering how little we know about that plot. It could be anything else and not time travel but what makes me curious is how the writers are going to tackle it. 
Stranger Things Season 5 Speculations 
In season five, the group is going to be older. There is going to be a time jump and my best guess is that it will their final year of high school, before they leave for college, so around 4 to 5 years ahead in time. The mind flayer seems to be the biggest villain and the one who controls the upside-down so defeating him has to be the main motive. The fourth season ends with Hawkins burning, so will it still be burning till the beginning of the fifth season, so many years later? The fifth season is going to be in Hawkins and many things like Will's sexuality, Nancy's relationship with Jonathan and whatever her dynamic with Steve is will be answered. 
Duffer brothers have said that they will start writing the fifth season in august and the shooting could start in 2023. So after all the writing, shooting and post-production are concluded, the fifth and the final season can be expected in the summer of 2024.
Stranger Things Season 4 Critical Reception
On Rotten Tomatoes, Season 1 has received a score of 97% based on 91 reviews, Season 2 secured a score of 94% based on 150 reviews, Season 3 has a score of 89% based on 140 reviews and Season 4 garnered a score of 89% based on 151 reviews. The show overall has an average Tomatometer rating of 91%.
On Metacritic, Season 1 got a normalized score of 76 out of 100 based on 34 reviews. Season 2 received a standard score of 78 out of 100 based on 33 reviews. Season 3 was given a total of 72 out of 100 based on 28 reviews and the Fourth Season achieved a score of 69 out of 100 based on 29 reviews. The show as a whole has a score of 74 out of 100 based on 124 critic reviews with generally favorable reviews.
Stranger Things Season 4 Volume 1 Playlists 
Separate Ways (Worlds Apart)
California Dreamin
Psycho Killer
Running Up That Hill (A Deal with God)
You Spin Me Round 
Chica Mejicanita
Play with Me
Detroit Rock City
I Was a Teenage Werewolf
Pass the Dutchie
Wipeout
Object of My Desire
Rock Me Amadeus
Travelin' Man
Tarzan Boy
Dream a Little Dream of Me
Stranger Things Season 4 Volume 2 Playlists 
Rock and Roll, Hoochie Koo
Fire and Rain
Spellbound
Master of Puppets
When It's Cold I'd Like to Die
Separate Ways (Worlds Apart)
The Movie Culture Synopsis
Stranger Things Season 1 and Season 2 were cohesive in terms of plot and it seemed like the show could be concluded after season 2. Season 3 had a difference with kids becoming teenagers and it was more of a coming of age type season where the story did not feel necessary but as the story goes on the show came back into its element. Still, Season 3 did not have the flair that Seasons 1 and 2 had. But now, Season 4 is completely in the element of Stranger Things, the reason the audience fell in love with the show. The three separate plotlines in different locations did give the show a new spark but made one plot feel way more important than the others. Season 4 – Part 2 has to bring it all together in the best way possible to give all the storylines justice. In terms of villains, now after Season 4, it looks like they introduced the main villain but the scale at which mind flayer could be powerful will truly be discovered in Season 5. Since it's quite some time until Season 5 comes out, check out some other amazing upcoming shows of 2022 on The Envoy Web streaming calender.
Season 4 – Volume 2 has two long episodes which concluded the subplots from volume one leaving behind the ultimate fight and the conclusion to the series. Season five will tell the audience everything about upside-down that to be known and solve the mystery of this weird and creepy world. Season 4 ends on a somewhat bittersweet note as they all find out that Hopper is alive and all of them are back in Hawkins but Vecna was successful in his plan which leaves Hawkins burning and damaged. This season made me feel that stranger things is again like was in its first season. The decision to complete within five seasons is also good in my opinion as it is better to finish on a high note rather than dragging it much as you can. Season three was something like that but as the story moved forward it all come together and season four was not disappointing in that regard.  
Stranger Things Season 4 – Volume 1 and Volume 2, both are available to watch on Netflix worldwide.