Supernova is a romance movie directed by Harry Macqueen. Based on a couple facing dementia, this slow moving road trip movie is equally calming and sad. 
Supernova Movie Cast
Stanley Tucci as Tusker
Colin Firth as Sam
Supernova Movie Plot
Supernova is about a homosexual couple and how dementia strikes one of them and changes both their lives forever. They move through countryside of Britain on their last trip together.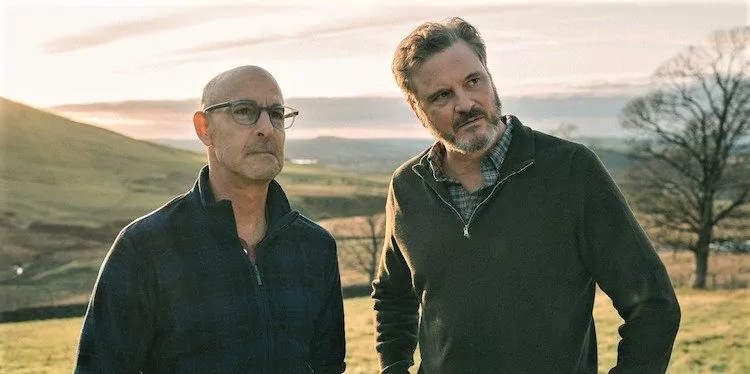 Supernova Movie Review
Supernova fiddles with your emotional strings and doesn't let go. It is definitely one of those films where you have to emotionally prepare yourself before going in because in the end, every viewer will be a different kind of sobbing mess.
Yet it also balances its harrowing subject matter with the beautiful affection that is present between the two protagonists. The plot is about two different perspectives of coping with a progressive disease while simultaneously loving each other.
And the way they both deal with it also reflects on the relationship that they have shared all these years. If you are in the mood to confront your emo side, Supernova is definitely going to fulfill your desire with its beautiful amalgam of cinematography and character moments.
Tusker (Played by Stanley Tucci) is a writer who is struck by dementia. He along with his husband Sam (Played by Colin Firth) go on a road trip in order to take their minds off of the ailment and spend some quality time. But the situation is only getting worse as Tusker slowly loses control over himself in the course of the movie.
Rather than portraying any time jump or any long gradual decline, the film focuses on a character who has gotten worse and this trip is probably going to be the last time he ever feels control over himself. Their relationship is fueled by compassion with Sam being the sentimental, emotionally fragile lover whereas Tusker is more level headed and logical in his personality. There's a clear difference in their characters and its portrayed with subtlety and nuance, which helps give a deeper insight into their relationship.
Supernova is heart-touching in its ability to flesh out a deeply personal relationship. The bonding that Sam and Tusker share has its silences but none of those silences indicate lost love. It becomes clear from the get go that their ability to cope with the illness and support each other during these trying times has improved significantly and even though we never really see how and when it actually began, we still form a very crystal clear idea of how they were as a couple before Tusker was struck with the disease.
And their yearning to latch to that same relationship dynamic after all this time is what drives the movie. No one wants to come face to face with the inevitable, yet ignoring it doesn't really make it better. And while they definitely don't ignore the disease, Sam is often more reluctant in bringing out the topic, whereas Tusker tries to constantly bring it into focus due to his own reasons which are revealed as we go further. 
Supernova Movie: The Last Road Trip
The road trip essense of Supernova is a serene and calming experience to absorb and even with such a heavy handed topic, there's an undeniable fluidity to the movie which is soothing. The chemistry between Colin Firth's and Stanley Tucci's character is the best part of this experience as the entire screenplay depends on it. And its hardly a bad thing, because in a way, thats all it really needed to do.
Nothing more, nothing less. Just a slow moving tale of tragedy fueled by romance is enough to engage and grip a viewer and anything more than that would have become unusually excessive. In its end, the fate of the characters are locked so the literal ending kind of leaves a lot of thing to obvious assumptions and it doesn't really lean in to make a tear jerker of an ending. On the contrary, its sad throughout and the ending plays off like a tribute. 
Supernova is, in its essence, very poignant in bringing out the hardships of any couple facing this and it respects and pays homage to their hardships in the most subtle and righteous manner. It has a very realized and matured homosexual relationship which it subtly uses to its advantage in order to transport the message across. I don't think there was anything striking and surprising about it and that's its biggest strength. 
Critical Reception
Supernova stands at 89% on Rotten Tomatoes. Its Metascore is 73.
The Movie Culture Synopsis
Supernova is a brilliant rendition of a relationship going through dementia together. Sad, heartfelt, dark and real, it is everything you expect from a tragic tale, done in a way which feels unbelievably subtle.
Stanley Tucci and Colin Firth make this movie their own and its a worthy addition to their careers.