DATE : 21ST OF JANUARY 2021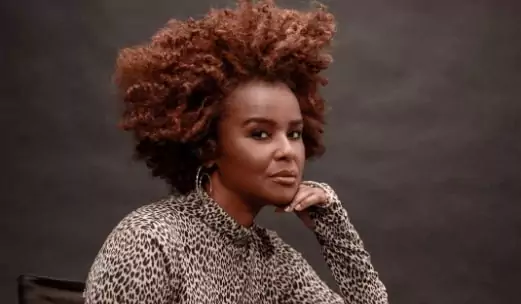 If Not Now, When? This ambitious project which in fact is getting great award circuit buzz is co-directed by Tamara Bass who also stars in the film. In this exclusive The Movie Culture Interview Bass talks about why it's such an important project and her decision to Direct as well as star in the film. We discuss Future Project and go behind the scenes to uncover the talent that is Tamara Bass.
Greetings Ms. Bass, we at The Movie Culture are thrilled to have you. We couldn't be more excited to see your work in If not now, When?
Q. We'd like to start off this interview by asking you about If Not Now, When? Could you tell us about the inspiration behind the film, and why now is such a significant time to release it? 
Tamara Bass: I wrote this film for a few reasons. The biggest one is wanting to pen a thank you letter to my friends, to acknowledge the love and support that they have shown me over the years. Secondly, I wanted us to create a place that showcases Black women and normalizes our narrative. There was a lack of representation of our stories in the slice of life/drama genre and I wanted to try to change that. As for the timing of the release, I have to credit God with that. We knew we wanted the movie out. We didn't know when it dropped so much of the conversation would be around Black Lives and in particular the stories of Black women.
Q. Could please tell us who you play in the film and what can we expect? 
Tamara Bass: I play Patrice. Patrice is the fighter of the group. She is fiercely protective which often leads to her being overly cautious. That cautiousness sometimes bleeds over into her romantic life. 
Q. As an Actor, what do you think before daunting on a project such as If Not Now, When? 
Tamara Bass: Before I do anything, I always ask myself "can I bring a level of authenticity to this?" If the answer is yes, then I dive in and figure out all the ways a character is parallel to me and what ways she is different. The rest, I rely on my training.
Q. If not now, when? Seems to be receiving great buzz leading up to its release. How do you feel about the critical reception? Do you pay attention to them? 
Tamara Bass: I try not to pay any attention to any of the buzz, good or bad. If I pay attention to one, I am going to have to give weight to the other. So I try to tell myself, that those who the movie is meant for will dig it and those that it's not, won't. That is okay. 
Q. Two Directors attached to the film. How was that experience in comparison to directing solo? 
Tamara Bass: It's a challenge, but it's a good challenge. Both of us have a vision of what this will be. So the fun is meshing those two visions and aligning them. A lot of preparation went into making sure we were always on the same page. 
Q. Don't Waste Your Pretty is another one of your projects coming up in 2021. What can you tell us about that? 
Tamara Bass: Don 't Waste Your Pretty is a movie I directed for TVOne that stars Keri Hilson, Deborah Joy Winans and Redaric Williams, based on the book of the same name by Demetria Lucas. It's a story about a group of friends and their various romantic quandaries. It was a blast. One of the most talented casts that I have ever worked with and I'm itching to work with them, and the producers, again. It will be released February 28th on TVOne.
Q. At this point of your career, what kind of movies do you want to work on going forward? Maybe a Tent-pole blockbuster? 
Tamara Bass: I love the Indie world. I am drawn to character-driven stories with a heart, so I'm not sure a tent-pole blockbuster is really for me. Although, I don't mind being proven wrong. I just want to create rich stories, that have universal storylines, that happen to star people of color. 
Q. What was the inspiration behind your taking up acting? Is there an Individual who inspired you or a film? 
Tamara Bass: I have wanted to be an actor since I was six years old, after watching "The Cosby Show". That was all I ever wanted. I discovered writing and directing in high school and knew my career path was set. 
Q. The Movie Culture is situated in India and since Bollywood is a hub of producing major films, we'd like to know have you watched any Bollywood films? 
Tamara Bass: I'm sad to say, I'm not very well-versed in Bollywood films, but I am obsessed with "Made In Heaven" on Amazon and am anxiously awaiting season two. 
Q. Do you have any future projects lined up in which you'd like to share with us and your fans? 
Tamara Bass: I am currently shopping a television show that I created that would star myself and Deborah Joy Winans, so I'm excited about that!
Q. There's a whole lot of competition in the industry, do you have any piece of advice which you'd like to share with talents reading this interview? 
Tamara Bass: My simple piece of advice is stay true to you and never compromise your integrity for anything or anyone. 
The Movie Culture Synopsis
One line advice she gave, but what an incredible amount of value does it hold. One who realises that certainly won't be under stress. On the fun side, it's a great piece of information that Bass loved Made in Heaven which is Prime India Original Series and just like her we are also waiting for a Season 2.
Through the interview Tamara Bass comes of a as a strong willed individual and certainly that's something a director should have. You can find her work in If Not Now, When? And Don't waste your Pretty which are upcoming 2021 Releases.
ImageCredits:-
Photographer: Sheri Angeles @sheriangeles    
Hair: DaRico Jackson
Makeup: Shannon Pezzetta
Stylist – Lisa Marie Cameron
Asst stylist – Anna Lownes